Testing the Marin Alpine Trail 8 on some of Australia's finest trails!
Tester: Mike Blewitt                                                                   Photographer: Tim Bardsley-Smith            
Marin are a brand steeped in mountain bike history – afterall Marin County in California is where the infamous Repack races were held, and the so-called godfathers of mountain biking started the sport. Marin bikes might conjure up images of slender-stayed hardtails with triple-butted tubing for those riders who grew up in the 90s. But their recent bikes speak more to the progressive shape of mountain biking, especially with the Mount Vision and Wolf Ridge models that use the R3ACT- 2 Play suspension system that provides gobs of travel with no pedal induced feedback.
The Marin Alpine Trail 8 is Marin's answer to the need for a big-travel, big-wheeled bike that can tackle big lines in big mountains. But unlike other brands who are bring out bikes with models that push well into five figures, the smart minds at Marin have specced an alloy frame with 150mm of travel and on point modern geometry. The parts list ticks the boxes with 4-pot brakes, burly suspension, wheels with 29mm inner widths, a 12-speed drivetrain, dropper post, great cockpit setup and short cranks. Marin state that the Alpine Trail is for the 'all-day enduro rider that earns their downhill fun."
Considering this is a booming part of the mountain bike market, going up against the likes of the Specialized Enduro Comp 29, Norco Range A1, Trek Slash 8, Whyte S-150 and more – does this great value bike come out swinging in the big stuff?

Initial Impressions
The Marin Alpine Trail 8 has a full aluminium construction, with just about all the features you would want in an all-mountain or enduro bike. From room for a bottle cage, internal routing for the cable housing and hydraulic hose, a dropped top tube for standover height, a short head tube to keep the bars at the right height, threaded bottom bracket shell, a bridgeless seatstay for mud clearance, Trunnion mounts for the shockBoost hub spacing and ISCG-05 mounts for a chain device.
The whole bike looks really impressive, and comes out of the box just about ready to ride. Marin b ikes come from Bicycles Online, so bikes are shipped to your door. I only had to fit the bars, front wheel and dropper post along with some minor adjustments (and of course pedals) to get riding.
The colour scheme pops and not in a bad way at all – but looking over the bike what really stood out was the spec. Despite it not being the highest end components from any of the brands, the functionality was there. Whether it's the Fox DPX2 shock, or using an XD driver so the SRAM NX Eagle drivetrain can use the GX 10-50 cassette for a full Eagle range. Or the own brand rims with 29mm internal width to keep the 2.6" tyres stable. The Deity bars and stem and KS Lev Integra were further nice touches.
In the spirit of long, low and slack, the medium Marin Alpine Trail 8 has a 440m reach and 65 degree head angle. I would have been more comfortable on the large as I'm right on the fence between sizes – but tend to move up due to lanky arms. That said, while I did have a spare 50mm stem on my work bench I never ended up fitting it to get a little more reach. With a steep 76 degree seat angle the geometry keeps you forward when you do need to go up, and the short 430mm chainstays help keep the rear wheel tucked under you when climbing or switching lines on the trail.
Tester: Mike Blewitt
Riding Experience: AMB Editor, riding and racing a range of bikes for quite some time.
Generally Rides: Norco Revolver 29 full-suspension and hardtail.
Height: 179cm
Weight: 72kg
Bike Test Track: Maydena Bike Park and Blue Derby, Tasmania
As far as first impressions go though, I was seriously impressed with the spec and look of this bike once I had it built up. With shock pressures set for about 30% sag, and tyres run on the firmer side I was set to hit the trails.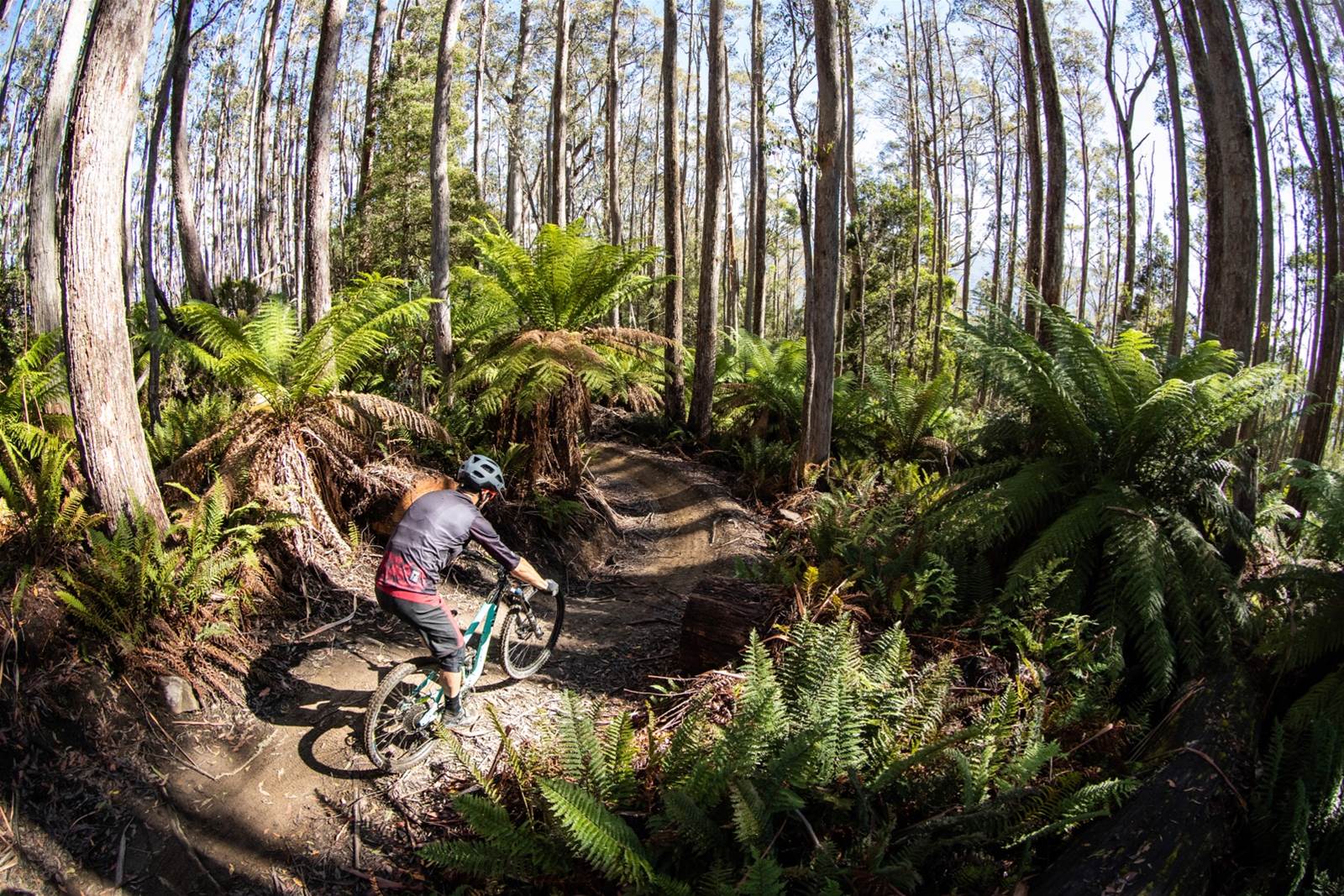 On The Trail
My first ride was on some local trails, with about half a dozen trails running off a ridge that has a few different fire trails to access the top, it really suits pedaling up and bombing down. And that's exactly what Marin state the Alpine Trail 8 is designed to do.
With the Fox Float DPX2 in the climb position, and the fork left open as I tend to run the front firmer, it was just a case of sitting and spinning. Traction was fine from the big tyres, the position was a bit short as expected given I should ride a large, and the gear range was there. But a 15kg bike does mean you're using the range of SRAM Eagle pretty quickly! These dry weather runs were a good chance to bed the TRP brakes in and tune the cockpit a little. The bike offered no surprises on a couple of descents, although it did skip around a little when hard under brakes into corners. Next stop – Maydena Bike Park.
Maydena Bike Park is unlike any other trail system in Australia as the hill is so big (820m drop) and wild (it's in southern Tasmania!). As we drove there in late March, snow was falling at the top and the wind was blowing. We rode the next day, tackling the climbing trail and the Wilderness Trail, before a mix of trails the following day.
The Marin Alpine Trail 8 was eating it all up. The bike held lines better than I did thanks to a stuff chassis and smart suspension spec. But thanks to the quick input through the cockpit and direct feel to the back, changes of lines were a breeze – the bike actually feels quite light on the trail when it comes to changes of line choice. The MultiTrac suspension is a linkage driven single pivot, thanks to the dropout pivot sitting on the seatstay. It was active when descending and climbed really well, even without the Fox DPX2 in the fully firm setting. The middle setting was actually super fun to ride on on easy traversing trails as it felt like the bike had a little more pop and wouldn't bog down in its travel.
Testing a bike at Maydena is demanding, the trails can make a solid trail bike feel like an XC rig. Maydena is steep, and even the easy trails have sharp corners that can be harder to navigate a big bike through. But the wide Deity bars and short stem meant steering input was immediate, and the shorter back end mean that weighting the outside foot pretty heavily with a good lean brought the back around quite quickly – and often with a slide.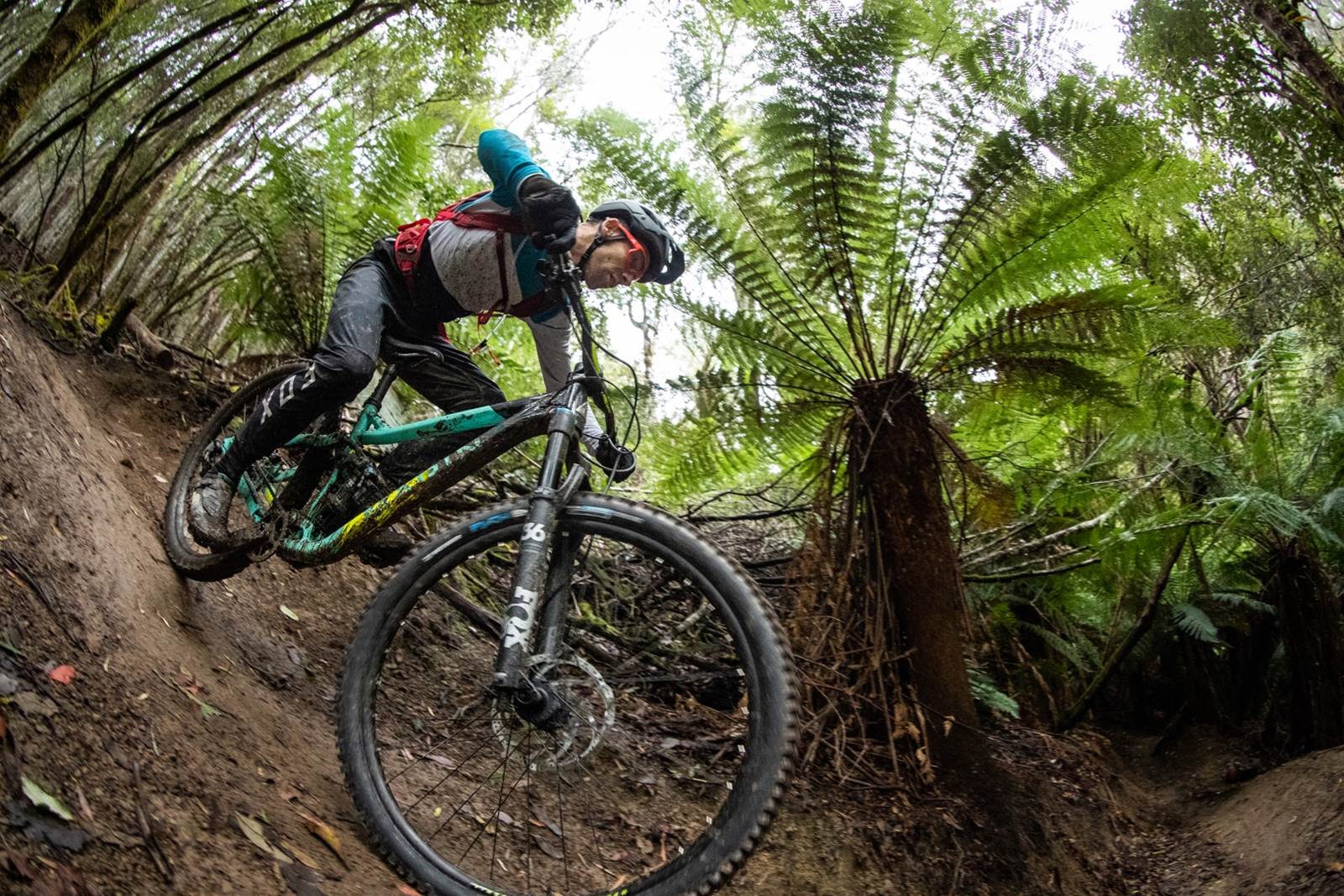 And that tyre sliding is something I ended up getting used to as we moved on to Blue Derby as well. The Vee Tire Flow Snap has the big tread blocks of popular tyres like a Maxxis Minion, but the performance window is a bit narrower. At times there was gobs of traction, like in loose dry conditions. But on wet and slippery conditions like wet roots, or even hard conditions like the buffed, hard berms of some trails at Blue Derby – they slid all over the place.
The funny thing is, their dual compound and open tread does work really well at times. The off-camber, loose and dusty section in the middle of the 1st EWS stage at Blue Derby was a breeze on the Flow Snap. Wet, rooty roll overs at Maydena Bike Park were fearsome. Tyres are always a personal choice and I think these could work well in many conditions – but if they don't work for you swap them out for something you know and trust.
While a long travel bike is often about getting back and holding on, when the trails are tighter with more transitions the ability to shift, brake, hit the dropper and get your weight in the right place on the bike is essential. And this is where a few niggles came up. One was the brakes – while their strength was ok, the main problem was placement. They need to run a long way inboard, but the lever doesn't sit flush with the SRAM bar clamp, so I had to compromise with my levers more outboard than I would like so I could hit the shifter when I needed to. This is a personal thing and may not be an inconvenience for you. The KS Southpaw lever is hugely adjustable, and was just plain awesome.
2019 Marin Alpine Trail - Tech Edit from Marin Bikes on Vimeo.
The other thing I noticed was some pedal strikes, both going up and transitioning on rocky terrain. I'm pretty happy to put this down to riding a different bike and getting used to it, but the bottom bracket height is ever so slightly lower than some of its competition, like the Specialized Stumpjumper Enduro Comp 29, or Trek Slash 8. But it is about on par with a Norco Range A1 when you consider that bike has 10mm more fork travel.
It is worth remembering that a lower bottom bracket helps drop the whole centre of gravity of a bike and rider, and is a big part of stable cornering. Some bikes have flip chips to allow for slightly higher and steeper positions which suit different riders and certainly flatter or rockier terrain. The Marin Alpine Trail did hug corners when the tyres were digging in – but there were some pedal strikes on rockier trails that needed more pedal input. 
Our Take
The Marin Alpine Trail 8 comes straight to your door with minimal fuss thanks to the Australian base of Bicycles Online. This frame was seen under at least two riders in the EWS in Tasmania, and the geometry is up to date for anyone wanting a long travel 29er to ride. So many companies put post of their development into top-shelf carbon bikes. But Marin wanted to bring out a bike that was going to suit riders who wanted to be out in big hills all day, earning their gnarly descents. And while $4199 isn't a small amount of money, this bike offers awesome value for the features on offer.
While I had some nitpicking over a few parts for my preferences and the conditions I rode the bike in, it says a lot about how well a bike performs when really tyres and a personal cockpit setup are the only gripes a bike tester has. Compared to similar offerings from big brands like Trek and Specialized, the Marin Alpine Trail 8 sneaks through keeping some money in your pocket and with arguably a better suspension setup. If you're after a bike that will hold its own on big days in the hills both up and down, with all the features you would want from a modern enduro bike – these are well worth a look and I would happily recommend it. And if your budget is tight, the $2999 Marin Alpine Trail 7 shares the same frame with a slightly more basic spec.
Brand                                                              Marin
Model                                                              Alpine Trail 8
RRP                                                                 $4199
Weight                                                            14.9kg (as tested, no pedals)
From                                                               bicyclesonline.com.au
 
Available Sizes                                               S, M (tested), L, XL
Frame Material                                                6061 aluminium
Fork                                                                 Fox 36 Performance, 160mm, 51mm offset
Shock                                                              Fox Float DPX2 Performance, 150mm
 
Shifters                                                            SRAM NX Eagle, 12sp bar mount
Derailleur                                                         SRAM NX Eagle
Crank                                                               SRAM Descendant 6k Aluminium, DUB, Direct mount 32t, 170mm
Bottom bracket                                               BSA sealed
Chain                                                               SRAM NX Eagle
Cassette                                                          SRAM XG-1275 12sp, 10-50
 
Hubs                                                                Forged Alloy, Boost, 6 bolt, 32H     
Spokes                                                            14g Stainless, black
Rims                                                                Marin, pinned aluminium, tubeless ready 29mm inner
Tyres                                                               Vee Tire Flow Snap, 29x2.6", 72tpi single ply
 
Brakes                                                             TRP Slate T4, 180mm rotors
Stem                                                                Deity Copperhead, 35mm
Handlebars                                                     Deity Blacklabel, 800mm, 25mm rise
Seatpost                                                         KS Lev Integra with Southpaw lever, 150mm drop
Saddle                                                             WTB Volt Race
Australian Mountain Bike