Testing the Marin Alpine Trail 8 on some of Australia's finest trails!
Tester: Mike Blewitt                                                                   Photographer: Tim Bardsley-Smith            
Marin are a brand steeped in mountain bike history – afterall Marin County in California is where the infamous Repack races were held, and the so-called godfathers of mountain biking started the sport. Marin bikes might conjure up images of slender-stayed hardtails with triple-butted tubing for those riders who grew up in the 90s. But their recent bikes speak more to the progressive shape of mountain biking, especially with the Mount Vision and Wolf Ridge models that use the R3ACT- 2 Play suspension system that provides gobs of travel with no pedal induced feedback.
The Marin Alpine Trail 8 is Marin's answer to the need for a big-travel, big-wheeled bike that can tackle big lines in big mountains. But unlike other brands who are bring out bikes with models that push well into five figures, the smart minds at Marin have specced an alloy frame with 150mm of travel and on point modern geometry. The parts list ticks the boxes with 4-pot brakes, burly suspension, wheels with 29mm inner widths, a 12-speed drivetrain, dropper post, great cockpit setup and short cranks. Marin state that the Alpine Trail is for the 'all-day enduro rider that earns their downhill fun."
Considering this is a booming part of the mountain bike market, going up against the likes of the Specialized Enduro Comp 29, Norco Range A1, Trek Slash 8, Whyte S-150 and more – does this great value bike come out swinging in the big stuff?

Initial Impressions
The Marin Alpine Trail 8 has a full aluminium construction, with just about all the features you would want in an all-mountain or enduro bike. From room for a bottle cage, internal routing for the cable housing and hydraulic hose, a dropped top tube for standover height, a short head tube to keep the bars at the right height, threaded bottom bracket shell, a bridgeless seatstay for mud clearance, Trunnion mounts for the shockBoost hub spacing and ISCG-05 mounts for a chain device.
The whole bike looks really impressive, and comes out of the box just about ready to ride. Marin b ikes come from Bicycles Online, so bikes are shipped to your door. I only had to fit the bars, front wheel and dropper post along with some minor adjustments (and of course pedals) to get riding.
The colour scheme pops and not in a bad way at all – but looking over the bike what really stood out was the spec. Despite it not being the highest end components from any of the brands, the functionality was there. Whether it's the Fox DPX2 shock, or using an XD driver so the SRAM NX Eagle drivetrain can use the GX 10-50 cassette for a full Eagle range. Or the own brand rims with 29mm internal width to keep the 2.6" tyres stable. The Deity bars and stem and KS Lev Integra were further nice touches.
In the spirit of long, low and slack, the medium Marin Alpine Trail 8 has a 440m reach and 65 degree head angle. I would have been more comfortable on the large as I'm right on the fence between sizes – but tend to move up due to lanky arms. That said, while I did have a spare 50mm stem on my work bench I never ended up fitting it to get a little more reach. With a steep 76 degree seat angle the geometry keeps you forward when you do need to go up, and the short 430mm chainstays help keep the rear wheel tucked under you when climbing or switching lines on the trail.
Tester: Mike Blewitt
Riding Experience: AMB Editor, riding and racing a range of bikes for quite some time.
Generally Rides: Norco Revolver 29 full-suspension and hardtail.
Height: 179cm
Weight: 72kg
Bike Test Track: Maydena Bike Park and Blue Derby, Tasmania
As far as first impressions go though, I was seriously impressed with the spec and look of this bike once I had it built up. With shock pressures set for about 30% sag, and tyres run on the firmer side I was set to hit the trails.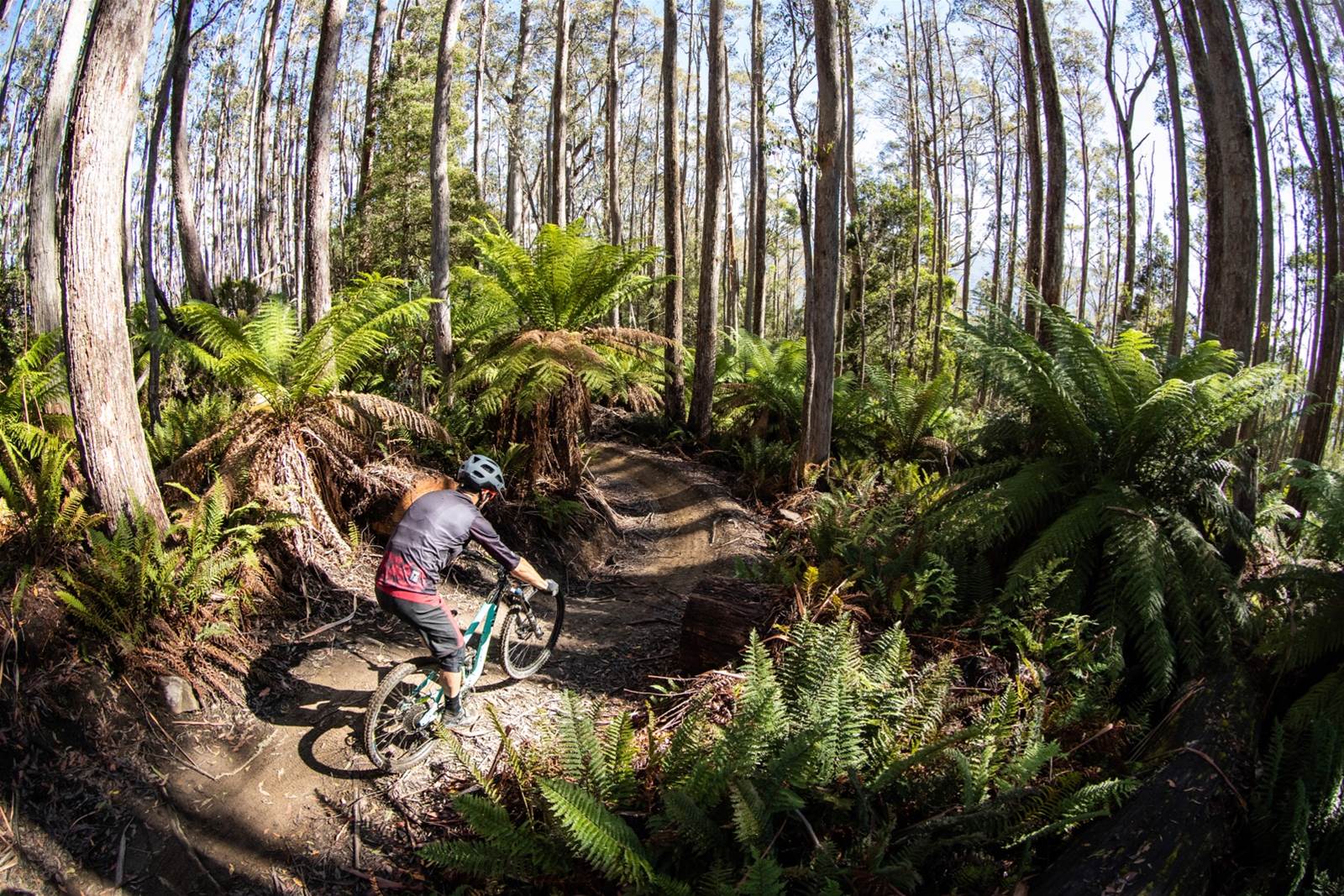 Australian Mountain Bike