Testing the 2019 Giant Trance Advanced Pro 1 29er and its Maestro suspension on Aussie trails!
On the trail
It's been a few years now since I've ridden a Trance 29er, but, what sticks in my mind about the last big wheeled iteration of this bike, is how boring it was to ride. There was nothing wrong with the old-timey Trance 29er; it just lacked the pizzazz of other short travel trail bikes of the time.
Just as the brand has spun a 180 with its opinion of big wheels, the latest iteration of the Trance 29er is anything but boring.
My testing ground for the Trance was varied, with everything from the rocky trails of Nerang, to the hand-cut and extremely technical Mount Beauty and manicured berms at Falls Creek. Through wide-ranging terrain, I struggled to find an area where it didn't excel.
The bike is extremely well behaved when the trail points uphill, although with the 74.5-degree seat angle, I did feel like I was a touch too far over the rear wheel and dipping into the travel a bit with the power down and the shock open. DPX2 offered enough support to prevent wallowing too deep as I pedaled and it stays very active providing plenty of traction when things get techy. The shock ramps up well through the stroke and takes quite a bit of work to find the bottom — a good thing in my book. Despite the relatively short 115mm of travel, it does a pretty good job eating up the small stuff, so your body doesn't have to.
Fox's Float 34 Performance fork is plenty supple, absorbing trail chatter well and the GRIP damper offers plenty of low-speed compression control, though I ran it open most of the time. While wheel and tyre combination can also play a major role in torsional stiffness at the front end in addition to the fork, in this combination, there's no noticeable flex, vagueness or imprecise steering, or braking feedback.
Make no mistake this is not a point and pray trail sled, it's a bike that requires a bit of finesse and still needs to be ridden on top of the trail, but there's still enough squish to get you out of trouble.
The stumpy 35mm stem and 800mm wide handlebars provide for oodles of leverage; just watch out for narrow trees. Combine this with the relatively slack angles, 435mm chainstays, and 44mm fork offset the handling is predictable; it's a nimble machine that's quick in an out of corners and over the top of trail features, yet doesn't give you the heebie-jeebies when things get a bit rowdy. The Minion DHR/DHF II on wide rims and 180mm rotors don't hurt either.
In spite of the Trance Advanced Pro 29er 1 sitting quite high in the Giant's range, I was surprised to see it come out of the box with carbon wheels. With minimal rotational weight, these hoops are snappy and spin up to speed with minimal effort, but are not so stiff they make the bike feel harsh. With a 30mm internal width, they spread the 2.3" Maxxis Minion casing nicely and even wearing a heavy camera backpack I was able to run tyre pressures in the low 20s without burping or rim checks. The rear wheel has taken some slams through my test period and it's still running true as the day it came out of the box.
As droppers are so often the pitfall of a bike's reliability, so far the Contact Switch S has been just about flawless. The front shifter style remote sees plenty of lever throw, meaning minimal effort to actuate seat height. There is a minor lateral rocking, but it's really only noticeable if you look for it.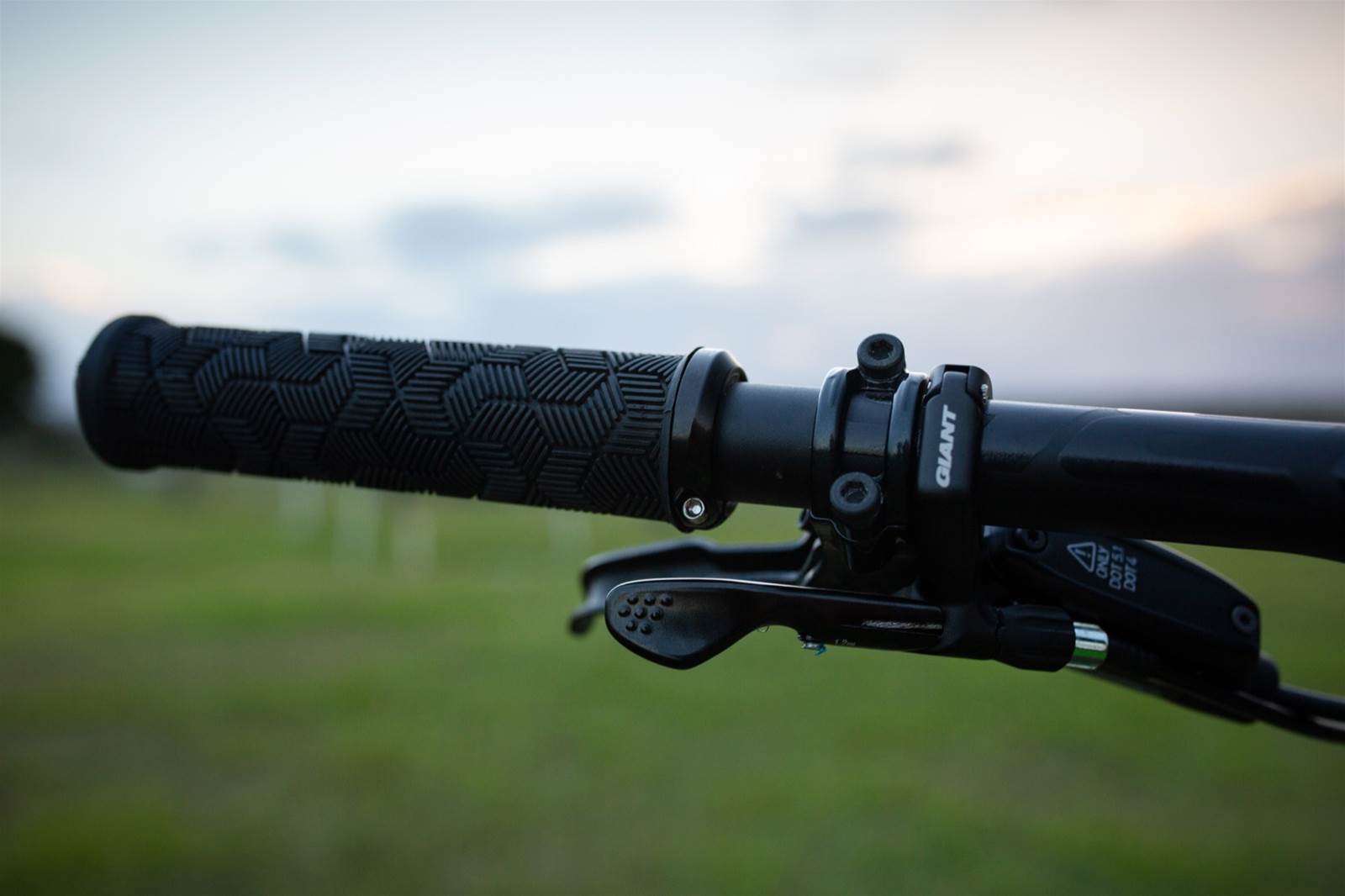 My only real sore spot when it comes to the Trance Advanced Pro 1 29er is the saddle. It caused major pain in my butt, and I had to swap it for a known quantity — in my case an Astute Mudline VT. While saddles are incredibly personal, I do have the feeling many will end up doing the same as it's quite hard.
Our take
When Giant launched the Anthem 29er a few years back, they reduced the rear travel from 100mm to 90mm, claiming a quality over quantity design philosophy, and many (myself included) were more than a bit skeptical. Then I rode one, and discovered the geometry and Maestro suspension didn't have you missing the extra stroke. It seems to me, they've applied the same ethos to the new Trance 29er — and done it well.
Even though the travel numbers may be slightly reduced compared to the short travel trail bikes from Specialized, Trek and basically every other brand, it never felt under gunned. It rides big, it climbs well and it can confidently handle a surprising amount of terrain. And that's the beauty of this bike, if you want to chase your XC friends around their favorite climbing loops, the Trance can handle it. Or, if you're up for a day of shuttles, you're bound to have a fun day. Yes, it has its limits, but it's a versatile bike I'd happily ride just about anywhere.

Brand: Giant
Model: Trance Advanced Pro 29er 1
RRP: $6299
Weight: 12.6kg (as tested)
Available Sizes: S, M (tested), L, XL
Frame Material: Carbon
Fork: Fox 34 Float Performance, GRIP Damper, 130mm
Shock: Fox Float DPX2 Performance, Trunnion mount, 115mm
Shifter: SRAM GX Eagle, 12sp
Derailleur: SRAM GX Eagle, 12sp
Crank: Truvativ Descendant Eagle, Dub, 30T
Bottom bracket: SRAM GPX Dub press fit
Chain: SRAM GPX Eagle
Cassette: SRAM XG1275 Eagle 10-50T, 12spd
Wheels: Giant TRX 1 28H
Tyres: Maxxis Minion DHF/DHR II, TR, 3C, EXO, Folding, 29x2.3"
Brakes: SRAM Guide T 180/180mm
Stem: Giant Contact SL, 35mm, 8 degree
Handlebars: Giant Contact SL trail rise, 35mm, 800mmm
Seatpost: Giant Contact Switch S dropper, 30.9mm
Saddle: Giant Contact SL, Neutral
Australian Mountain Bike