The market is flooded with carbon wheels - but Ben Morrison found some that he thinks tick every box.
Words: Ben Morrison | Photos: Nick Waygood
---
It's quite possible that the TRSr SL wheels from e*thirteen might get overlooked for all the wrong reasons. Simply, there are so many carbon wheel options available right now, all being driven forward with a boot load of marketing hype coming out of every spoke hole. When creating the TRSr SL wheel set e*thirteen didn't set out to revolutionise the world or create new game changing standards; they set out to build a great set of carbon wheels using tried and true standards that have worked for many years now.
The TRSr SL front wheel is available in all the more recent rim sizes and hub spacings and the same can also be said for the rear wheel; this also applies to the free hub – giving you the option for SRAM XD or SRAM/Shimano 11-speed cassettes (and you can certainly bet that the new Shimano free hub will be offered soon too). Just pausing for a quick moment - while on the subject of the free hub – the TRSr SL uses three double-toothed pawls that engage with the 60 teeth in the hub shell to create a quick six degrees between engagement points. Nothing crazy new in this system - but it works great! It's also solid and sounds really sweet coasting into a large jump or smashing though a gnarly rock garden.
A closer look
Coming off these lovely crafted yet understated basic black 7075 alloy hubs are 28 J-bend spokes front and rear laced up in a three-cross pattern. No proprietary spoke wrench and no need to remove the tyre in order to true the wheel, just 28 spokes laced a normal way that you can buy at any bike shop. Now, if that doesn't make you smile, e*thirteen supplying a few spares with each wheel will surely make that grin happen!
However, e*thirteen didn't stop there while creating the TRSr SL wheels. When it comes to the rim they included hookless rims measuring 2.5mm thick on the lip and a shallow rim bed to help install all the most stubborn tyres out there. You're new TRSr SL wheels also come already setup tubeless with some white rim tape and some very high flowing tubeless vales – Woo! Again, while all of these features appear to not be anything out of the ordinary – the way e*thirteen have combined them so well together is what counts, it helps inflate a tyre with ease, even when a tubeless pump was not available.
The wheels weigh in at 1650g total for this Boost spaced 27.5" wheel set. The 29er wheels weigh 1733g.
Other features of this understated wheel set are a 28mm internal rim diameter (e*thirteen say this is optimised for tyres from 2.3-2.4 but we had no issues using 2.5 Maxxis Minions) which is listed on a small sticker found on the side of each rim. The sticker also lists the spoke count, maximum tyre pressure and wheels ERD if you ever need it.
If the loud free hub and all of these normal and easy-to-use features don't get you excited and thinking about a set of TRSr SL wheels, then perhaps this will... e*thirteen are offering what is perhaps one of the best lifetime warranties on wheels currently going around.
---
Rims on complete e*thirteen wheels
Under 1 year old: When a rim failure occurs, the original purchaser will be sent a complete new wheel and call tag to return the wheel with the failed rim to e*thirteen or its appropriate distributor.
Over 1 year old: When a rim failure occurs, the original purchaser will be sent a replacement rim and call tag to return the failed rim to e*thirteen or its distributor. The cost of the rebuild is the responsibility of the rider.
e*thirteen carbon rims built on non-e*thirteen hubs:
When a rim failure occurs, the original purchaser will be sent a replacement rim and call tag to return the failed rim to e*thirteen or its appropriate distributor. The cost of the wheel rebuild is the responsibility of the rider.
---
What e*thirteen have done is create a wheel set without any new standards or any crazy manufacturing processes; in fact, they have done the opposite and the result is a practically bombproof set of wheels with an outstanding warranty that you might not ever even need to use. It's all this normalness in a hectic proprietary world that mean the TRSr SL are one of our favourite carbon wheel sets on the market right now.
It can be said that in today's world there is an enormous number of brands all skinning the same cat 10 different ways (poor cat!). What is really refreshing is to have a brand that simply gets you onside right from the moment you open the first box. As we stated earlier and upon opening the box, you will find all kinds of spare parts including some grease for the free hub in the rear wheels box ! TICK TICK TICK !
Already in a good mood from our first impressions, we stayed on a high as we started to install with some already-used Maxxis tyres. The shallow rim bed helps with this making things a breeze installing used and new tyres alike. Match this with the large volume valves we mentioned earlier and the sound of a tyre popping into place is music to the ears. Something that should be of note, we managed to inflate tyres using a normal track pump not a special high-volume pump.
It might not be a big thing for many of you out there but we have to say that the TRSr SL does have that same loud buzz that you hear coming from Aaron Gwin's bike when you are watching the World Cup rounds and for us – it sure is music. It's also a sign of the fast engagement, or pick up, that these wheels have. This fast engagement really helps you transfer power into moving forward when going up tight technical climbs. It also helps you power out of a turn or grab that extra bit of speed and acceleration before hitting a jump.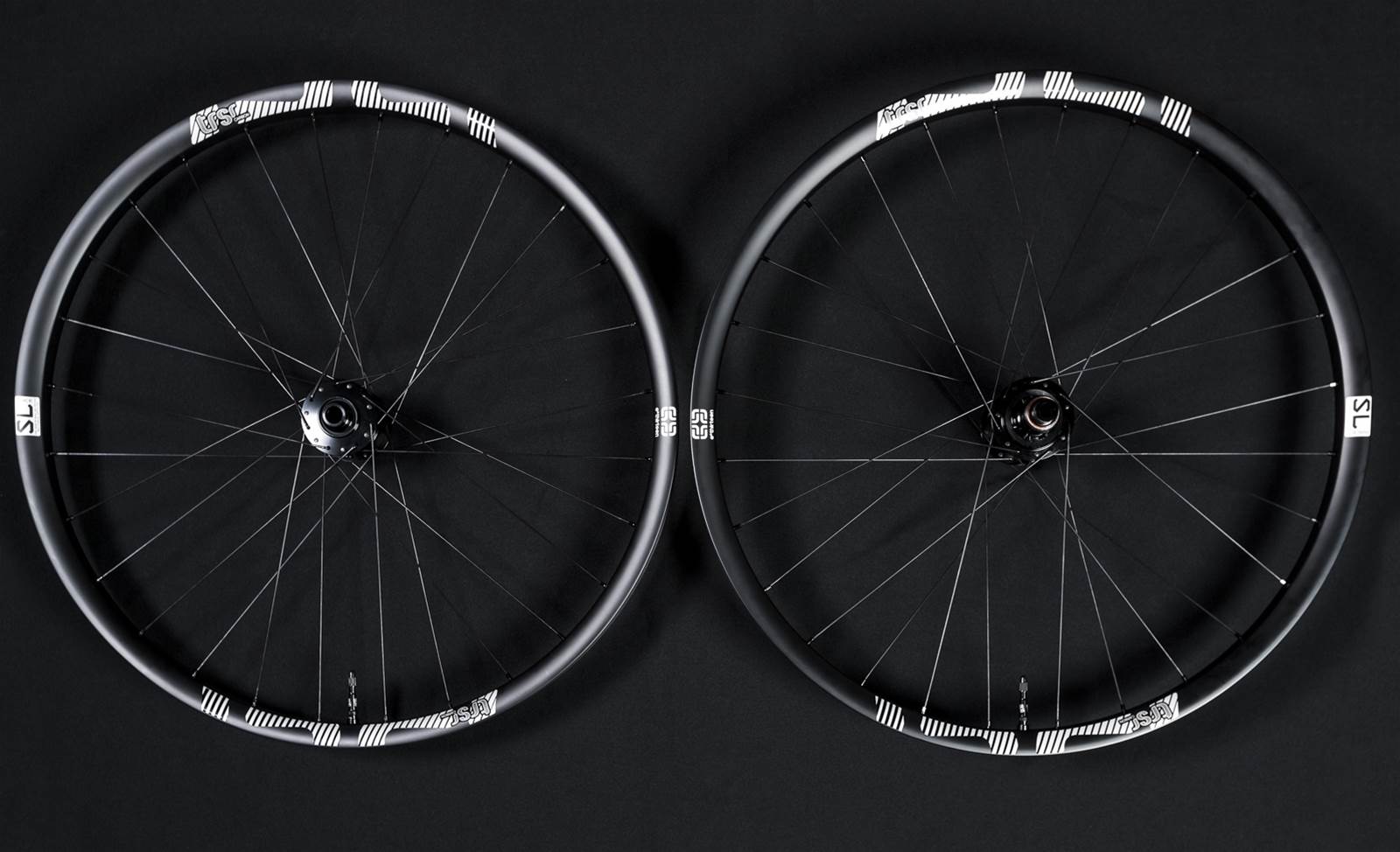 Besides saving a bit of weight which will help your bike roll faster and carry speed, carbon wheels can offer you a controlled amount of stiffness that you simply cannot get from an alloy wheel of the same weight. It's prevalent in other e*thirteen products we have used that when they make a product they make it with purpose; not just to say they have one in their line-up. The TRSr SL carries that trend by being one of the best carbon wheels we have used to date, especially considering the lack of proprietary marketing and construction involved. Never have we used a carbon wheel designed to take such a beating that actually delivers a noticeable affect across very small chattery bumps out on the trails.
The TRSr SL wheel set was truly a pleasure to use and they are just plain impressive. Even with what would be considered to now be on the small side of rim width, we found little to-no tyre roll when pushing our bike deep into corners. We even feel that the compliance the TRSr SL offers contributes to grip allowing you to use a semi-slick rear tyre with no issues when cornering – even cornering under brakes. This engineered compliance and can also be contributed to the springy feeling you get when a nice set of carbon wheels almost propel you through and out of a corner.
If you are look for a carbon wheel set, then the TRSr SL should be seriously considered if you're looking to upgrade or build a new bike with some flashy carbon wheels – especially considering that these are most definitely not the most expensive wheels on the market and they very well may come with one of (if not the best) warranty and after sales services programs on the market today.
---
Hits:
- No proprietary standards
- Easy inflation
- Smooth rolling and fast engaging hubs
- Great ride feel
Misses:
- Not 30mm internal?
- Carbon is always a considerable investment
RRP: $2159.99
From: e13 Australia
Australian Mountain Bike