We test the offerings from DMR including Death Grips, V-Twin pedals and Brendog Vault pedals!
Words: Ben Morrison                                                                            Photos: Nick Waygood
DMR Deathgrip Grips
DMR's Deathgrip range was born out of a collaboration with Brendan Fairclough, the range itself isn't entirely new but it has definitely grown over the years, now covering almost every colour you can think of with a few multi-colour marbled looking models too. You now also get the choice of thick, thin, flange, no flange, soft, hard or Race Day which leaves an absolutely amazing range of combinations to pick from.
All of the models have the same grip design, with three-quarters of the surface covered with a knurled pattern with a waffle print on the underside. The inner quarter of the grip has a ribbed pattern for extra thumb and forefinger comfort which could actually be the best part. We also see a single clamp lock-on design, with a tapered internal plastic core for additional security against slippage on those big hits.
There isn't a lot to installing a grip. Slide it on, twist it to where it feels good in your hand and off you go. But with DMR they use a that internal tapered core for a tight fit. The best bet is to grab a rubber or soft mallet and give the grip a good few taps. Once fully on you will still be able to give it a big hard twist if you need to adjust it, but once you do up the clamp blots they are not moving anywhere.
After playing around with all models and thicknesses, I would have to say that the thick soft would be our go to as an overall best buy for glove-free riding. Both thicknesses performed well in all conditions but the thick (which isn't super think) just gave a little less feedback from the trail. However I we never had to never pay for grips again hands down the Race Day would be the pick. They aren't noticeably softer than the other grips but offer an even greater feel in your hand even in wet conditions, they may not be for everyone as the rubber feels like it moves around a little as it's so soft.
RRP: $24.95
DMR V-Twin Pedals
DMR's V-Twin pedal is something that will likely get over-looked by most of us unless you are looking for the safety of Shimano's reliability and ease of use with a little colour mixed in.
The height of that platform can be fine-tuned by adding or removing thin steel shims (supplied) that sit underneath the two nylon bumpers found on each side of the pedal. Inside each V-Twin is a cartridge bearing and a bushing, which rotate around a 4140 chromoly axle. The V-Twin is available in eight different anodised colours: black, blue, gold, magenta, lemon lime, grey, orange, red.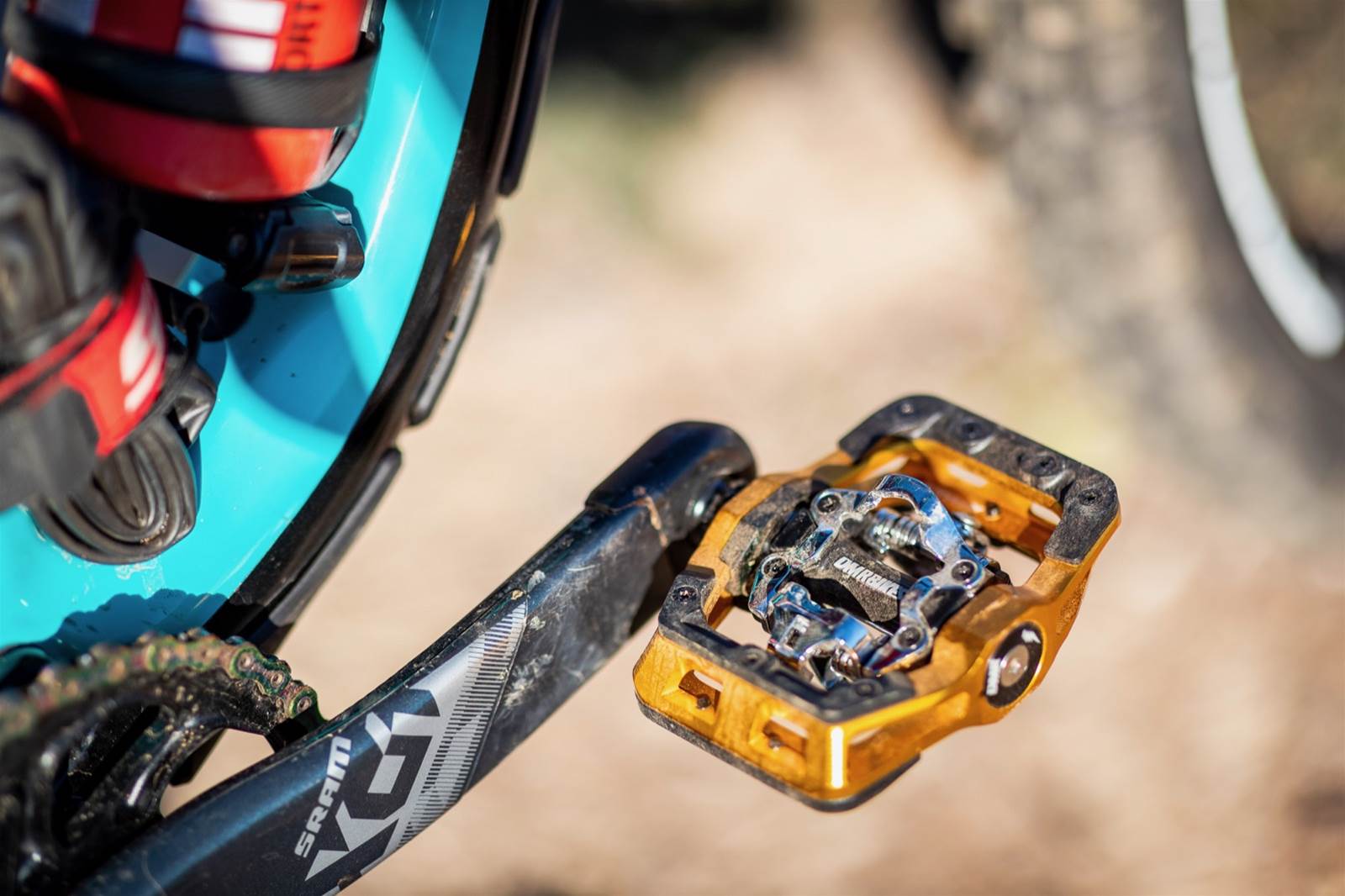 Something that might make the transition a little easier from your trusty old Shimano pedals to your gold big pimping DMR V-Twins is that although they come with their own cleat you can just use your current Shimano cleats (please replace your cleats once a year for safety) with no issues at all.
It's really hard to find anything wrong with the V-Twins, they tick almost every box. Perhaps a little hefty coming in at 560 grams (pair) but really that's about all we could find wrong with them. Right out of the box using a pair of Specialized 2FO shoes with a Shimano cleat everything just worked as it was supposed to. The tension is very easy to adjust and keep track of with little notches to show you where your tension is at.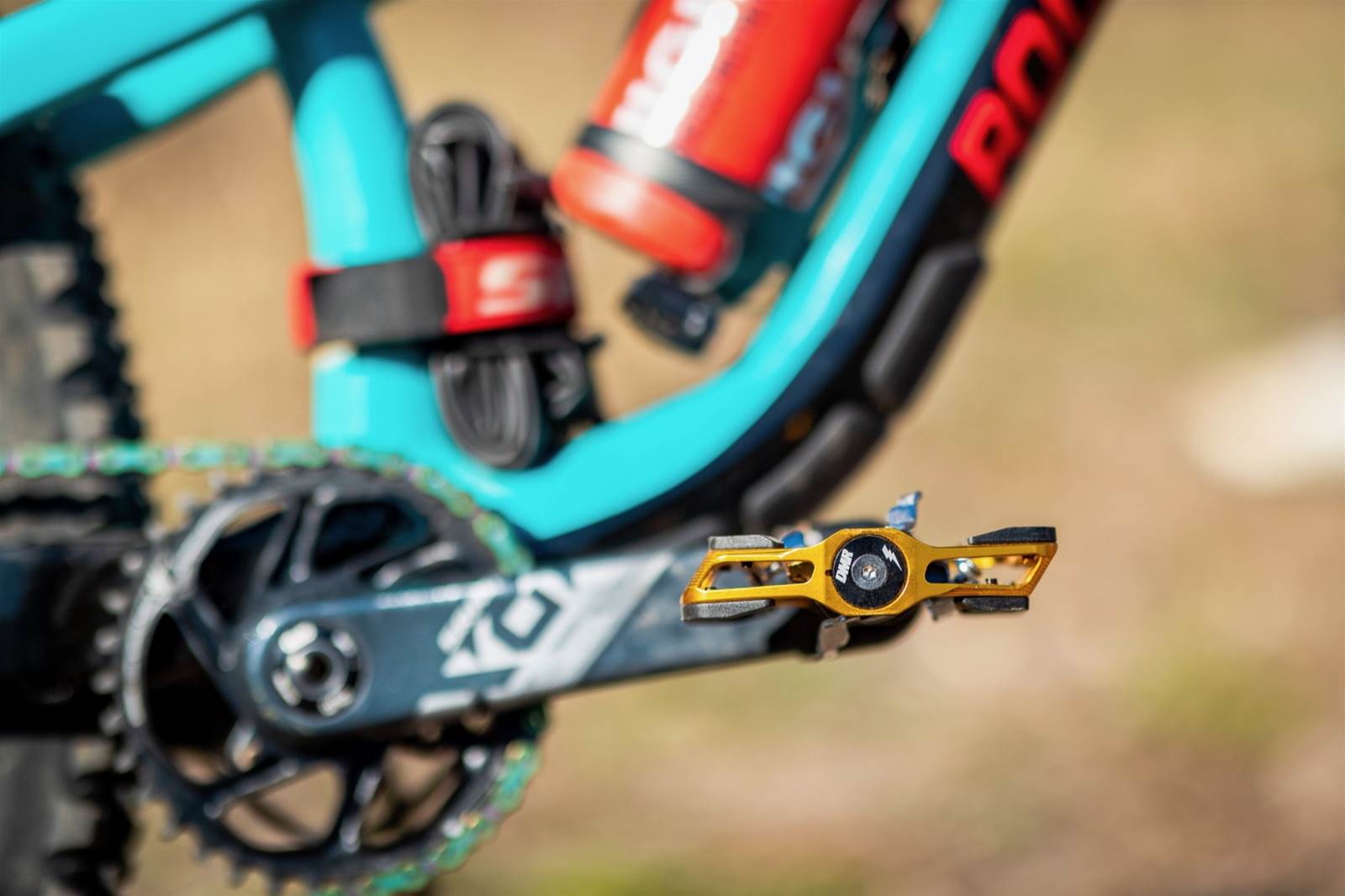 All in all these are a great pedal from the people who are better known for their extremely large range of high end flat pedals. If DMR made V-Twin with a smaller platform to go head to head with Shimano's Trail pedals we could start to see more and more colours popping up on people's bikes.
 
RRP: $179.95
DMR Vault Pedals
The DMR Vault Brendog signature model just look classy even still in the box. Right away you know they mean business… they were designed by someone that actually rides them, as you have long pins installed out of the box. I have always hated having to fiddle around replacing the pins from super short ones to long ones before your first ride. As far as tech on flat pedals go the Vault ticks the boxes. With an extruded 6061 Aluminium body and 4140 Chromoly axles (9/16"), 17mm concave foot bed measuring approximately 105mm*115mm and high load DU bushing and cartridge bearing, oh and a few different size pins if you're using these for dirt jumping or don't like the feel of the longer pins.
I used a set of Etnies Marana that use a Michelin sole. While not your traditional riding shoe you would go to, this shoe is designed for good grip and high impact. The fact that a non-cycling specific flat pedal shoe felt so at home of the Vaults is testament to their profile and design qualities. You won't be disappointed with a set of Vaults as they have great feel and should stand the test of time, you also get to colour choices being flat black and flat grey in the Brendog range.
RRP: $179.95
Australian Mountain Bike