Testing the latest men's shorts and jersey from Aussie brand DHaRCO!
Words: Mike Blewitt                                                                        Photos: Tim Bardsley-Smith
 
About five years ago we first dropped into the Northern Beaches office of DHaRCO and slipped into some of their surf-culture inspired trail threads. Every brand has a catch line and for DHaRCO it is "no ordinary life". What does it mean exactly, and how does that relate to clothing?
 
As I see it it's simple – the riders behind DHaRCO have had their lives enriched by mountain biking. Mountain biking builds friends, relationships, experiences and makes great memories. Mountain biking is a platform for adventure and a way to blow off steam. Mountain biking can be just about anything you want it to be – and that will be far from ordinary.
 
The original DHaRCO items had bold colours, were comfortably fitted, and hid highly technical materials in a really casual look. In essence – little has changed. DHaRCO has expanded their range, updated colour and pattern options to suit trends, and refined their fit a little.
 
Men's ¾ Sleeve Jersey
 
This item is a bit of a trail riding classic now. The ¾ sleeves help prevent ridiculous t-shirt or jersey tans, and the lightweight material copes really well in the Australian climate. The sides are mesh to really help you keep your cool, while the rest is a little stronger for getting up close with our flora. It's fitted enough to not snag on things, and loose enough that you can use a set of bibshorts with pockets underneath if that's your thing.

The jersey has a small zippered pocket on the left hip – perfect for a credit card, car key, or some cash for post ride refreshments. A jersey like this should be a staple in just about any mountain bikers wardrobe. But if you prefer short sleeves or long sleeves – they make those as well.
Compared to the original, the fit has become a tiny bit more relaxed. I still wear the same size as in 2014, but you can't see what I have eaten for lunch. I tested the Voodoo colour scheme, which went really well with the matching shorts. But DHaRCO have a few other colours that look great. I only recently passed on the similar jerseys I had from 2014. They weren't worn out – but I had worn them enough and a friend new to riding needed some kit. The fact they were still great to wear is testament to the quality of construction and materials that DHaRCO use.
 
Men's Gravity Shorts
 
One of the things I liked the most about the originals was the 4-way stretch material, and how well they repelled water. That hasn't changed, but with a change in the panels the cut is a little better on the legs, and the sizing is a tiny bit more generous, the shorts fit a little more true to size, and not a bit small like some found.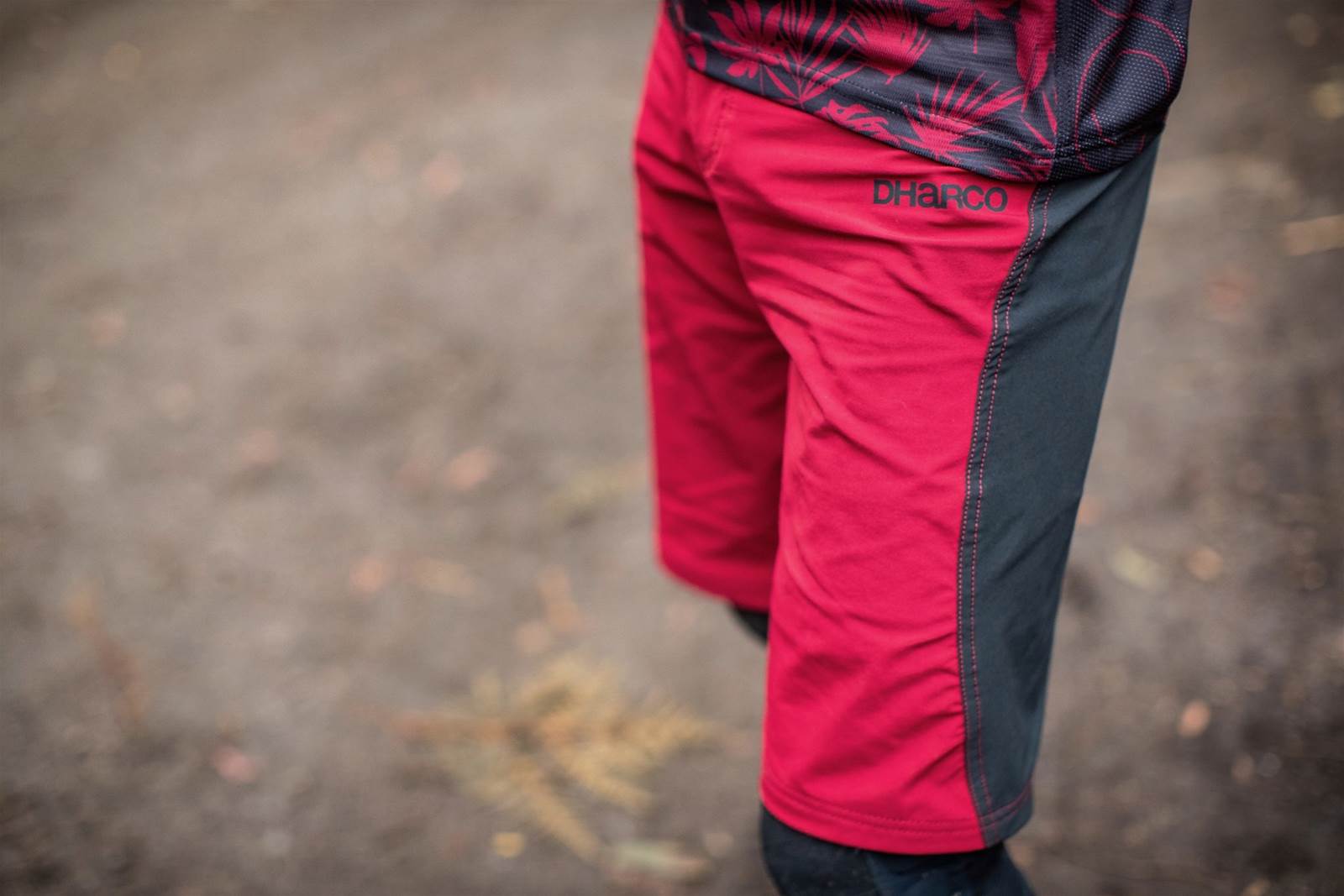 They have a zip pocket on the small of your back, and one on the right. Neither are massive, as really riding with things in your pockets isn't awesome. But it's perfect for small items, especially once you're off the bike. The cut is long enough that you are unlikely to get a silly gap between the shorts and a kneeguard, and they're high enough at the back that a plumbers crack is also very unlikely. There are velcro cinch tabs to help make the fit exactly what it needs to be.
 
Thanks to the 4-way stretch material, they are not restrictive. And the gusseted crotch means the shorts don't catch on the nose of your saddle. When you see riders using these for trail riding, enduro racing or even downhill, you can see just how versatile they are.
 
All in all, these two items are core pieces of any mountain bike wardrobe, and just a glimpse of what DHaRCO has to offer. Best of all, we hear there is even more to come from the DHaRCO crew.
 
RRP:
 ¾ Jersey: $69.95
Gravity Shorts: $125
 
From: dharco.com
 
Hits:
–     Australian design
–     Comfortable fit and materials
–     Suits our climate
 
Misses:
- No deal breakers!
Australian Mountain Bike