Will giant pully wheels help you pedal faster?
In the wide world of performance upgrades to your bike, the spectrum of cheap to expensive is vast. Improving your mountain bike's performance can be as simple as regular maintenance and keeping your drivetrain clean. And there is so much to be gained about getting your tyre pressure right for your riding and trails. And of course don't forget about suspension! Yes you can invest in better suspension, but it is free to spend the time to get what you have set correctly for your weight, position and riding style.
Of course at the other end of the spectrum you can spend a lot of money chasing grams, increased stiffness, increased adjustability and less rolling resistance. And there are plenty of brands who are happy to take your money for your performance journey with your bike.
Now, if you have already upgraded your suspension to the most adjustable, stiffest, lightest, springiest model in the brightest colour with custom graphics, you are probably looking elsewhere. What about your drivetrain. Have you got 12 gears? Are they really good ones? Do you even use cables for your shifting and dropper post? How many of your parts are tuned with Ti bolt kits? And is there more aerospace tech on your frame than a NASA Shuttle?
One of the last places for some people to pay attention to is what our bikes roll on – the bearings. No one sees the upgrades so a lot of riders looking for flash parts might ignore paying attention to what is inside their bottom bracket, hubs or even jockey wheels. The data fiends out there will be familiar with outfits who can test the increased or decreased resistance from different types of bearings, and of course different kinds of chain lube as well. Unfortunately, without an actual AMB labratory we don't undertake those tests. And from experience testing tyres and wheels and hub bearings, even testing on set routes with a power meter to gauge effort, creating worthwhile data is difficult in a real off-road environment. There are far too many variables, especially when you're trying to create a larger sample size, and fatigue comes in.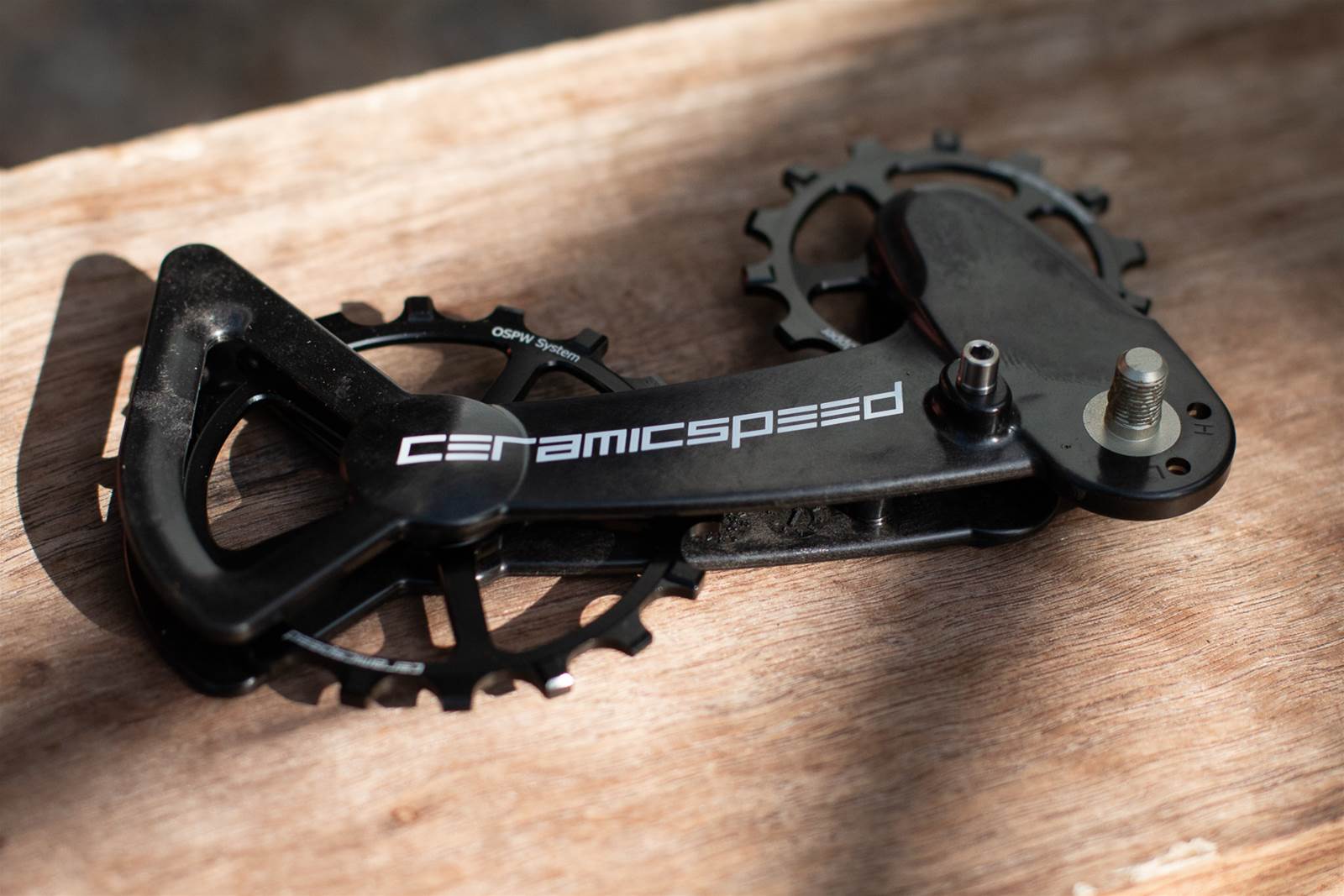 What we have on test is CeramicSpeed's Oversized Pulley Wheel System (OSPW X) for Shimano Deore XT and XTR 12-speed. It's a bit more than just some big fidget spinners for your chain to wrap around. The OSPW X have metal 14t upper and 18t lower pulley wheels and a carbon cage to keep weight down. They spin on CeramicSpeed bearings, which we tested in 2018, and come in their regular models or the fancy coated option which we were sent to test. The larger sized jockey wheels in unison with a stiff cage and high quality bearings is said to reduce friction by 35-40% compared to stock fittings. Shimano XTR jockey wheels already run on high-quality sealed bearings, so this upgrade really is looking at finding marginal gains.
So where will the lower resistance on the OSPW X come from you ask? Lots of places. It is to do with the bearings, light seals on the bearings, light lubrication of the bearings, and then less chain articulation (or the angle it wraps around) on the larger circumference jockey wheel. Lower articulation has your chain working at less of an angle for greater efficiency, and it's one of the benefits of larger chain rings and sprockets. Of course, that guide pulley at the top of your derailleur is a certain size for a reason, and especially on 12-speed mountain bike drivetrains, messing with that B-tension gap can be asking for trouble.
Fitting the OSPW X
I'm a try first, read instructions later sort of guy. But with an expensive, new Shimano XTR M9100 derailleur in one hand, and the CeramicSpeed OSPW X kit in the other, I happily referred to their instructional video. It was easy to follow and all up a relatively simple process. And as they stated, I didn't even need to change the chain length!
If you're familiar with Shimano's 12-speed equipment, you'll know about B-tension adjustment via the guide on the back of the cage. It is very convenient, as most 12-speed systems need precise setup to shift as smoothly as intended. When you go and replace that cage with the CeramicSpeed OSPW X system, the guide is gone. I did wind the B-tension screw in a little to accommodate the larger 14t (instead of 13t stock) top jockey wheel, and did a lot of shifting of single and multiple gears through the cassette in the stand. It didn't take long, but it is worth getting it right.
On the trail
Well, it felt smoother. I have run stock Shimano XTR M9100 drivetrains for a bit over 12 months now, and fitted the OSPW X system up to a new derailleur on a bike build mixing Deore XT M8100 and XTR M9100. So while it all felt lovely when new, the drivetrain still spins very smoothly after a long period of testing, and cleaning. And it is the second part that is worthwhile remembering.
Riding along, I didn't notice it. My bike didn't shift any differently, and the alloy jockey wheels sounded a tiny bit louder in the stand but good luck hearing that on the trail! I had concerns that the cage would be hanging low and catching on things, but Shimano's Shadow Plus design keeps rear derailleurs tucked out of the way anyway, and there are no marks on the cage suggesting I hit anything.
So – is there less resistance?
One of the biggest factors for resistance in your drivetrain is how dirty or worn it is. So maintenance on your drivetrain, and running the right chain lube for your conditions, really pays dividends. Plus it makes all those expensive bits last longer! CeramicSpeed provide their pulley oil with the OSPW X system, and the cage has ports to drop some into the bearing on the back. They suggest doing this after wet rides or washing your bike, and it was easy enough to do.
CeramicSpeed also sent their UFO Chain Cleaner over which I used throughout the test. It has a different feel to others, but the result is the same – a clean drivetrain. While it is intended to thoroughly clean a chain and drivetrain for their own UFO chain lubrication, that same ability to dissolve wax and chain lube from inside the rollers is useful for any proper clean. It is a biodegradable product which was a nice touch.
Now if you have a drivetrain with a clutch rear derailleur, put your bike in a stand and feel the shifting with the clutch on, and off. And feel what it's like to pedal through the gears as well. It's quite noticeable, right? Keeping your drivetrain clean and lubed, and running a lighter clutch tension (without dropping chains) will likely net you a greater saving in drivetrain efficiency than the CeramicSpeed OSPW X system does. And, those things will only cost you time and some cleaners and lubricants.
However, if we look back at the spectrum of performance upgrades, the OSPW X system still has a place, but it's right on one end, up there with CeramicSpeed's bearing upgrade kits ($899) and custom valved suspension. That end of the spectrum will still deliver improvements, but at a higher cost. They're not for everyone, but if you are looking for an upgrade, and one that will last a long time with the right maintenance, then CeramicSpeed's OSPW X system is just like their other products – thoroughly engineered and made for marginal gains, and backed with a 6 year warranty.
RRP: From $820
From: ceramicspeed.com
Hits:
- A marginal gains upgrade
- Long life product
- Increased drivetrain efficiency
Misses:

- Incredible cost
- A marginal gains upgrade
Looking for more in depth reviewers like this? Sign up for a subscription to AMB mag and they will be delivered to your mailbox in ever issue
Australian Mountain Bike