Bontrager's latest carbon mountain bike wheels claim to have the strongest rim they have ever tested.
Photos: Colin Levitch
---
Bontrager's Line Pro 30 Trail and Enduro wheel set received a thorough update earlier this year, with Bontrager releasing new Line Pro and Line Elite carbon wheels. At first glance the wheels look completely the same, albeit a lot stealthier with an all-black aesthetic, with black decals on the carbon rims. The 29mm internal width is about right on the sweet spot for rim width to support a higher volume trail or enduro tyre. And the changes for the 2021 model wheels are with the rim design and construction to enhance vertical compliance and provide a stronger wheel that is less likely to damage your tyre in the event of a rim strike.
Both new Line 30 wheel sets use the same rim design and shape, although the Pro has a stronger carbon used in the rim to assist with greater strength and lower weight. The Pro has the lighter straight pull hubs and DT Swiss Competition Race spokes with Alpina Alloy nipples, while the Elite model has J-bend spokes built with Grand Forza spokes and alloy nipples. The Elite wheel set sells for about $1500, and the Pro which we have tested sells for about $2000. Both wheels are available in either 27.5" or 29" sizes, but only in Boost hub spacing.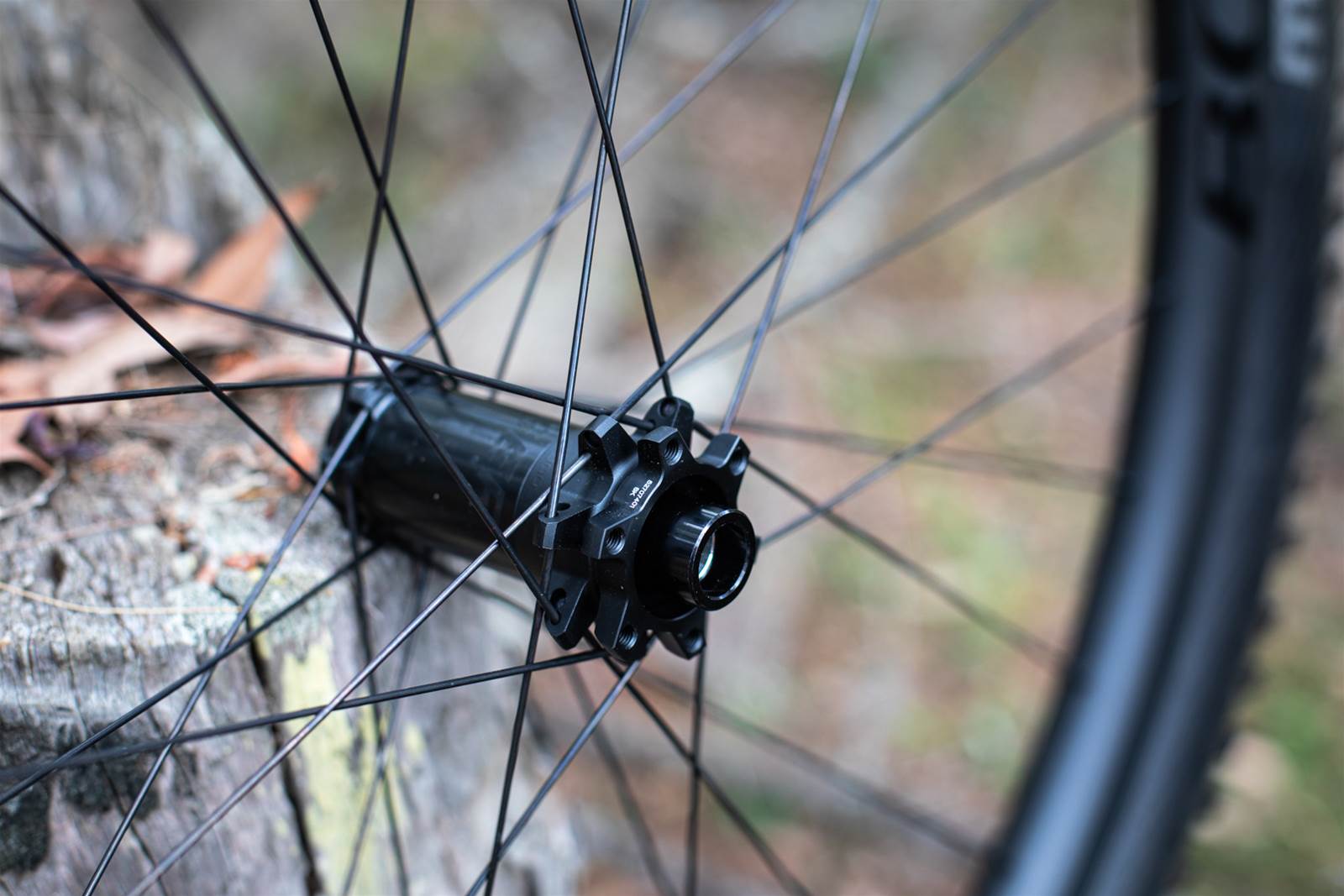 The Line Pro 30 wheels roll on Bontrager's own hubs with 108 engagement points via 6 independently spring pawls. That means it's only just over 3 degrees of rotation before the hub engages when you get on the gas. This is great for technical climbs where you may need to ease up and then start pedalling quickly again before losing vital momentum. You can get SRAM XD drivers, HG spline or Microspline freehubs, and they are easy to change without tools. The hubs use a 6 bolt rotor attachment.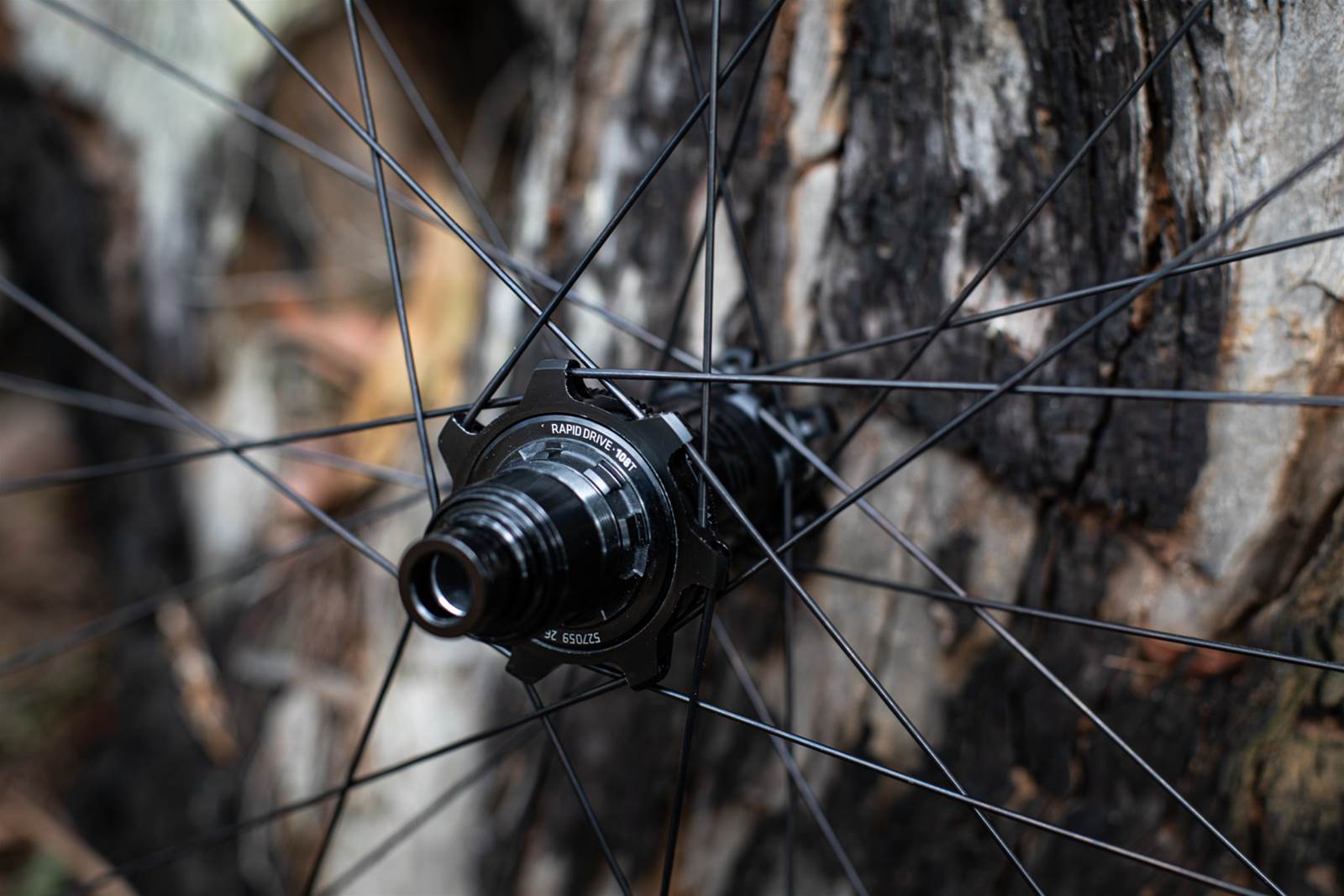 With claimed weights of 1760g for the wheel set, our test pair came in ready for tyres at 873g for the front and 1011g for the rear, with Bontrager's tubeless rim strips and valves fitted. The strips are a nice addition with Bontrager wheels as they win over tape for durability and they create a perfect seal. As the rims are actually still designed with a rim hook, this lip does create room for the rubber strip to sit, which is partly why the strip makes such a good tubeless seal. Thicker tyre casings might be hard to fit evenly with the rim strip, and you could always replace it with tape if that was the case for you. You'd save a little weight as well.
Bontrager offer a lifetime warranty called Carbon Care for the original purchaser of the Line Pro 30 wheels, which is always reassuring when you are laying out a chunk of cash. They don't have a rider weight limit either, unlike some carbon wheels. Bontrager will replace or rebuild a damaged wheel for the first two years of service – and offer some deep discounts beyond that.
More about those rims
Bontrager obviously weren't satisfied with their old rims and felt there were gains to be made to cope with and improve the ride on modern trail bikes. Bikes are being ridden more aggressively in wilder terrain, and components need to keep up! Two of the biggest changes have been to make the rim profile shallower, now 27mm, to improve vertical compliance, and also to increase the rim wall thickness to 4.6mm to increase the strength and durability of the rim. The extra thickness here will also make it much harder to damage your tyre in the event of the inevitable rim strike, as the combination of rim edge, tyre and ground is being impacted across a larger area – and hopefully not cutting the tyre in the same way that can happen when you hit the rim.
That larger area and the shallower profile will also work to protect the rim itself, and Bontrager developed new torture tests for their rims and claim that these rims are the strongest in their class they have ever tested – both from their own rims and the competition.
On the trail
With Schwalbe Magic Mary and Hans Dampf 29 x 2.35" tyres fitted up, the Bontrager Line Pro 30s looked the business. Despite not being a huge width via printed numbers, the Schwalbe 2.35" tyres have a healthy bag size, more so on the Bontrager wheels than on the stock NoTubes Arch S1 that they came off.
Off the bat the wheels felt responsive – in no small part from their rapid pick up in the freehub. The high-quality sealed cartridge bearings spin very smoothly, and they have a sense of rolling 'fast'. Moving the bike through corners and over features on some shallow climbing trails did exhibit a taut feel and the reasonably low weight. These aren't cross-country weight wheels by any means, but this wheel and tyre combination came in about 500g lighter than the Shimano WH-M8120 TL wheels with Minions also being tested – and it was really noticeable.
Handling was confident with great tyre stability from the 29mm internal width. While we have spoken about rim width a lot over the past few years, the growing rim thickness is also something to take notice of, as so much strength can be gained in this area. Even some very light wheels on the market are bumping up to 3.5mm rim edges, and the 4.6mm is a healthy bit of carbon on the edge of the rim.
Having ridden a number of early generation carbon wheels, from very stiff models through to wheels that took steering input as a suggestion, I was very impressed with how the Line Pro 30s held their line through rougher terrain. Of course, this is always a combination of wheels, fork, bars, stem, frame and nerve, but the wheel set was sure-footed and had no feedback that I could describe as harsh. They were a very muted ride, which is what you want. Stiff is nice, but having a wheel that doesn't rattle you apart or flick off line is better.
While comparing them to the Shimano WH-M8120 TL wheels, there were a lot of similarities including rim width, wheel compliance and how smooth the bearings are. The Bontrager hubs do have faster engagement and are substantially lighter. The stock wheels from the Norco Optic C3, on which I was testing these wheels, are a similar weight to the Line Pro 30, but with a narrower rim width.
So running the same tyres I could be reminded again why that extra stability from a wider rim is worthwhile. I did run slightly lower pressure on the Bontrager wheels – but nothing crazy. I had stuck to the recommended pressures via the Norco Ride Aligned software on the stock build, but ended up dropping this about 1.5psi per end on the Bontrager wheels, with the same handling characteristics. The 29mm internal width is ideal for tyres between 2.3-2.6 inches wide, which is where you'll find almost all trail and enduro tyre models currently. The wheels do feel more planted than the stock wheels as well. Whether that is down to the shallower rim absorbing forces more, or the tyre being a little more compliant at a slightly lower pressure is difficult to say. But the result is the same – more traction and more control. And once you have that, you can go faster as well.
I did put a reasonable sized hole into the rear tyre during testing, on some rockier trails. As I tend to ride carbon rims on all my mountain bikes, I'm used to shutting it down pretty quick when I hear a hiss and feel the spray of sealant on the back of my leg. The tear was about where the transitions knobs are on the Nobby Nic, and may well have been from a rim strike, or just a cut. It was within a local enduro race so I can't really say if it was one or the other. The rim was totally fine, and I also appreciated that the bead didn't break, so the tyre stayed in place even though it had no air in it. This was useful for rolling gently to the fire trail and not finishing the stage, and then rolling to the event centre as well.
With a fresh tyre fitted, the Line Pro 30s have continued to impress, and have been a great performance upgrade to the Norco Optic they were tested on.
Final thoughts
Carbon wheels will always split groups of mountain bikers. Some will avoid carbon due to past experiences, or the costs. While others might have had great experiences and appreciate the lower weights. I'm in the latter camp, and enjoy the ride quality and lower weight, no matter the type of bike sporting carbon wheels.
I personally believe the way to get the most out of your wheels is to avoid the rim contacting the ground. Whether that is via tyre pressure, or tyre pressure and an insert of your choice will be determined by you, your riding style and other preferences. While testing the Bontrager Line Pro 30 wheels I had no issues with the rim's impact strength, but benefitted from the lower weight and better tyre support offered by the wheels, which really enhanced the ride of my trail bike. Given the Carbon Care program that Bontrager has, they're backing the updated Line 30 wheels and that should offer assurance for any buyer.
RRP: $2000
From: trekbikes.com/au/en_AU/
Hits:
High quality hub and wheel build
Reliable tubeless set up
Good ride quality and weight
Good warranty program
Misses:
Still use a rim hook?
Some warranty programs are better
Australian Mountain Bike