Choosing the right saddle is no laughing matter, and Kath Bicknell learnt plenty about ;picking the right one with the Bontrager Ajna Pro Carbon.
Words: Kath Bicknell
Photos: Kath BIcknell and Tim Bardsley-Smith
---
"Your arse doesn't have eyeballs," said Matt Gehling, Trek USA's Precision Fit Product Manager, when talking about saddles. In Gehling's view, the pelvis just cares about how it's supported on the bike. It's not his line, but a favourite quote from cycling coach, bike fitter and performance analyst, Paraic McGlynn.
Pelvises, and the tissue around them, are quite a personal thing, which makes reviewing a saddle a bit of a challenge. What works for one rider (me) could be horrible for another (you). Fortunately, over the last few years, pressure mapping technology has made visible what used to be invisible: how the saddle distributes pressure in relation to movement, bike set up and each individual body. This has meant radical shifts in product design, and that prototypes can be tested in real time. Individual bike set ups can be adjusted in this way too.
This research has changed the way the industry talks about saddles. Sit bone width and riding position are now seen as the two most important factors in finding the right one. This is evident in the (Trek owned) Bontrager range.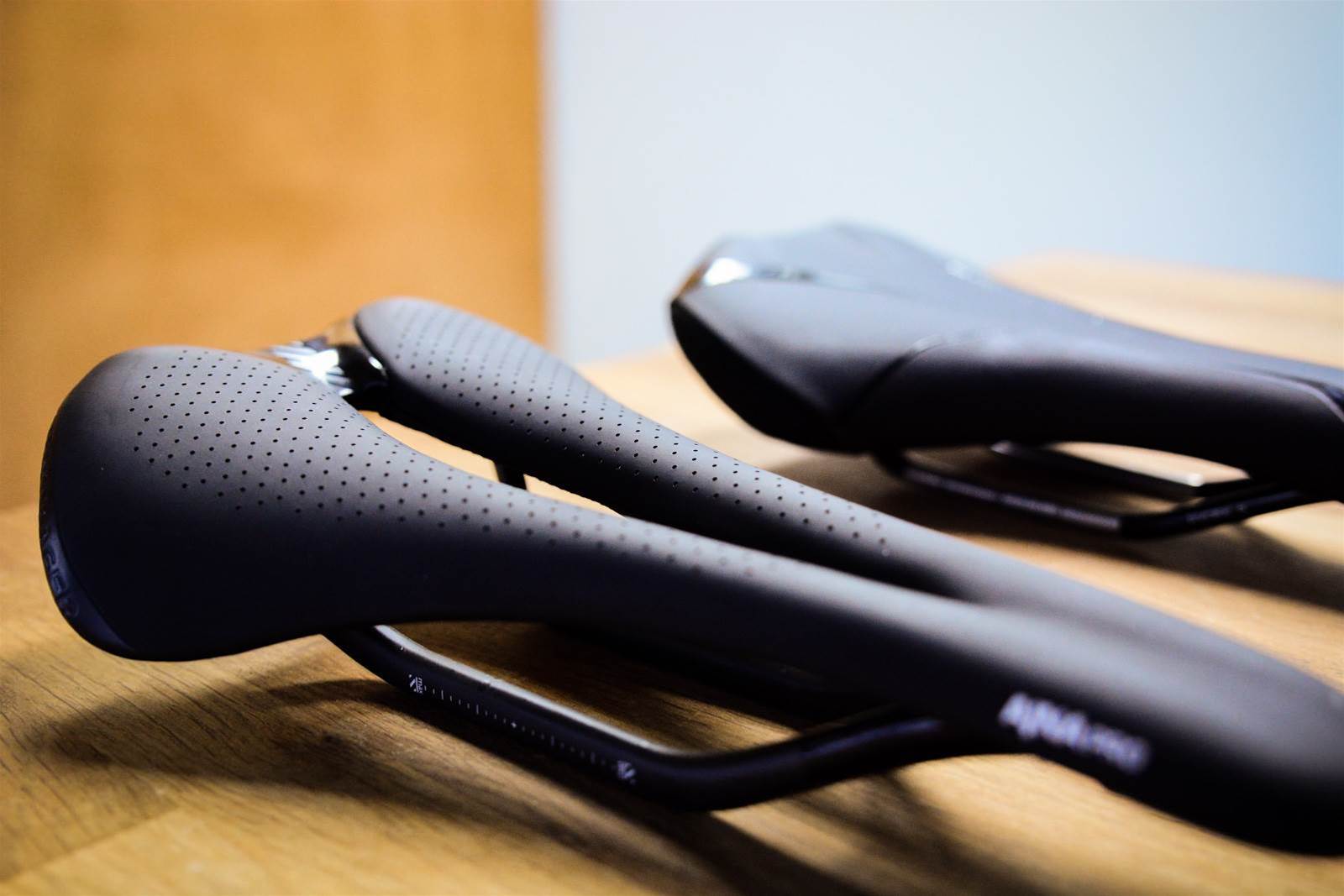 The Bontrager Ajna Pro Carbon saddle (pronounced 'arj-na', with a soft 'j') is a result of this research and development process and one I was particularly curious to test out. It's marketed at women for road and mountain biking but is also proving popular with some men. In fact, it looks a lot like the Specialized (men's) Romin. While women's soft tissue benefits from the carefully designed cut out, what we now know is that ladies need this relief sooner than men as they rotate forward on the saddle. In some cases, men and women, therefore, benefit from the same design.
Available in a Ti railed Elite model ($169) and a more basic Comp model ($89.95), the reasonably priced Ajna Pro Carbon ($249) is the raciest of the three. It shares a carbon shell with the Elite model, but has oversized, suspended carbon rails for a little less weight and a little more compliance. It's available in three widths (144, 154, 164) and, while the padding is minimal, there's enough there to provide some welcome cushioning and support without feeling bulky or spongey.
The Ajna is designed for riders with an aggressive riding position, rather than an upright one, and supports the pelvis in a position that is rotated forwards. There is good support on the nose of the saddle and the back end still offers enough space to move around. One drawback of the oversized rails is that they won't fit all seat clamps, so check with shop staff before buying one if this is something you're not sure about.
I tested Ajna on the Trek Remedy 9.8 test bike I reviewed in the current issue of AMB. After initially trying the medium width model, I learned through a bike fit that the discomfort I initially felt was due to my sit bones sitting slightly off the side of the saddle, so I scaled up to the 164. This width immediately felt more comfortable and supportive.
Paired with a dropper post, I was glad to be able to pedal comfortably on the uphills and get it out of way when things got steep. Without a dropper, I'd notice the width more when riding technical terrain, but would be happy to accommodate it given the importance of a good fit. I've also learned to be a little sceptical of V-shaped cut-outs at the rear of a mountain bike saddle, but this one is small, curved and has rounded edges. As such, it never got caught on my shorts or the straps of my pack. The Ajna proved durable throughout the test period, didn't hold on to mud and didn't require a breaking in period.
While there's no one saddle that will fit everyone, there are a couple things that make this one worth seeking out. Firstly, alongside the more affordable options, the Ajna is available in a high end, light weight, minimal padding offering, something that is still surprisingly hard to find for female mountain bikers. As far as personal preference goes, it was so much more comfortable than the very minimal saddle I've been using on my road bike I want to order a second one for the tarmac, which is the highest praise I can give.
Secondly, and taking a lead from Specialized, the performance, research and construction of the Ajna shows that Bontrager has really lifted their game when it comes to saddle development and fitting riders to bikes. This is a product that will bring people into Trek stores for a closer look at this, and other accessories, regardless of the brand of steed they ride. If you take the time to get set up properly, you might be surprised how your own riding experience could change too.
---
Hits:
Pressure mapping R+D process has led to an effective saddle design and less trial and error for consumers
Three widths
Durable despite heaps of mud
Misses:
Pro model not compatible with all seat posts
How do you say that word again?
RRP: $249.00 
From: trekbikes.com/au
Australian Mountain Bike