After over 20 years of racing, Gunn-Rita Dahle Flesjaa is still at the top of her game, and one of the best mountain bikers of all time.
Gunn-Rita Dahle Flejså will line up in Sella Ronda, Italy this weekend targeting her sixth Marathon World Championships victory. Whatever her result, the Norwegian legend is unlikely to upset her position as the greatest female mountain biker of all time.
In a career spanning 20 years (and counting), and broken only by the birth of her son in 2009, she has claimed 18 Olympic, World and European Championship medals, along with four XC World Cup titles and 29 individual XC World Cup wins. Fiercely competitive and consistent, she continues to display power that belie her 42 years.
Australian Mountain Bike spoke to the 42-year-old in Albstadt, Germany, a day after claiming her second second-place finish of this season's UCI World Cup series. It is clear that her steely focus remains as strong as ever, however it's a true passion for cycling that really drives her.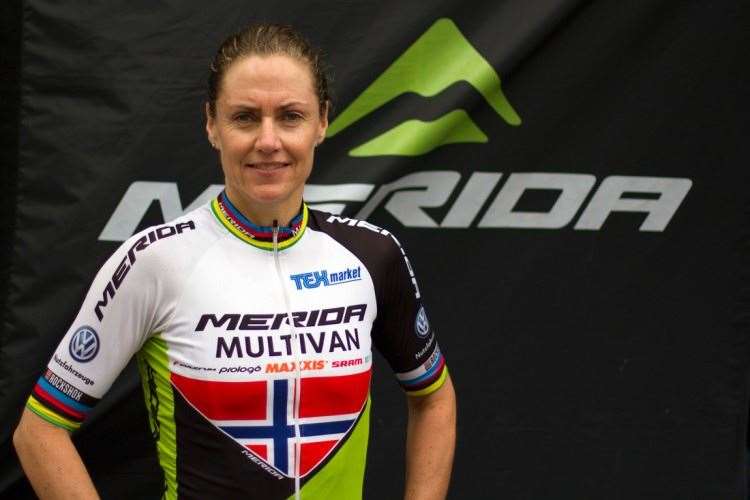 AMB: Will you stop?
Gunn-Rita: "I will probably be involved with cycling for the rest of my life. But racing on this level, I take it one season at a time. I really have nothing to prove any more. It's not a case of 'I have to win this or do this', I can say when I'll stop. I know that when I don't have the motivation anymore, it's time to stop. For now, it looks like we'll do next year, and maybe the year after that, mainly on the road for the [Road] World Championships in Bergen [, Norway].
"The bottom line is I love being on my bike. Being out, on my bike in the forest it's still just an amazing feeling. But I think, for me, it's also the fact that I started racing quite late. I started racing at 22, so I did a lot of other stuff before that; I haven't missed things. On top of all that, I do this together with my whole family, so they're always with me. There is nothing else I want to be, or want to do, so that helps a lot of course.
"My husband, Kenneth, being my coach, my soigneur, and the training partner, that also helps a lot."
AMB: Your son must be almost old enough to give you training advice?
Gunn-Rita: "Haha. We sometimes look at him on his bike and it's amazing how relaxed he is. We can also learn from the kids. The bike's going everywhere, and he's just sitting there, relaxed and just happy to be on his bike."
AMB: You've proved how strong you can be in marathons. Where does marathon racing fit into your plans?
Gunn-Rita: "I wish I could do more marathons, because I feel we need more people passionate about marathon racing. You tend to get a lot of people there to ride at the festivals, but here [at the World Cup], sure, you have people riding, but you have people here who are just enthusiastic about simply watching the race.
"I'd love to do more marathons, but when your goal is to score a top result in the overall World Cup and go for medals in World Championships, I mainly only get to do the Marathon Worlds, and this year the Cape Epic. It's just a matter of time. There's only so many weekends, I know what to do in between. It's not simply a case of racing more, it's not that easy."
AMB: How much of a focus is the XCM World Championships?
Gunn-Rita: "It's eight days before Lenzerheide, the next World Cup round. A lot of people will say it's hard to recover from the [Marathon] Worlds, but you should be in the best form of your season then, so it should be possible. So for me it's perfect. We're heading for an altitude training camp in Livigno to prepare for the Worlds. That should be great for Lenzerheide too, I think.
"Personally, I need a lot of training camps, where you can do the best work and you have the right focus on everything."
AMB: There's obviously a great atmosphere within the Merida-Multivan team…
Gunn-Rita: "We're one of the biggest teams, both in terms of the number of riders, as well as budget and the whole setup. It really is top of the league in mountain biking. I'm really happy here. And I've been here for many years. I have such a strong connection with Merida, and the company in Taiwan. I've won so many races on Merida and I'm so strongly connected, I feel that."
AMB: When you do eventually retire from racing, can you see yourself actually enjoying turning up and riding at big events like bike festivals?
Gunn-Rita: "Yeah, I think so. I loved the Cape Epic, even though I wasn't there going for overall. It's suffering on the bike for six hours each day, but I loved it. We came home and we just said, "we have to go back". Maybe not next year. We'll see how this season goes, and how dates and important dates line up. We will see."
AMB: The Olympics are coming up next year. They'll obviously be a focus, is there anyone else challenging you for a spot?
"There's no one else for Norway, and there won't be for next year. It's a shame, it's a tough sport, and it can be hard to find the time to be speaking with riders back home, motivating them and telling your story. We know how extremely hard we have to work to perform on this level. It's hard too to make it a living. I've had my ups and down, but okay, amazing success. It's one of the best sports in the world, in my opinion. But it is hard, and you have to be prepared to make a lot of sacrifices if you want to go all the way."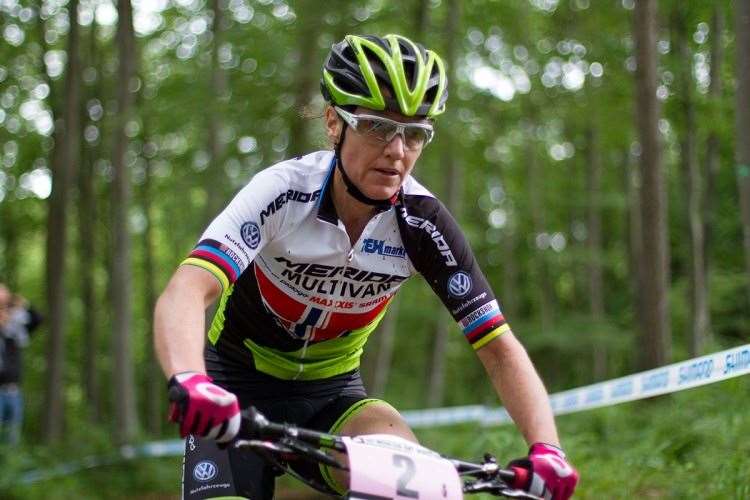 AMB: Lots of people are asking you about your age. Given how strong you remain, it seems irrelevant…
Gunn-Rita: "For me it doesn't matter. It's just a lot of questions about it. The focus should be on what I have to do to remain competitive at my age, not my age itself. It's the same in Norway, it's almost as if I'm doing something that is not allowed; that I should have stopped a long time ago. The questions never seem to be 'How are you doing this?' it's more 'When are you stopping this, you're getting old!'
"My base training philosophy remains the same as it has for the past 10 years, but you have to change some things mainly due to changes in the races themselves. [XC] Courses are shorter, and the race times are shorter. So from that perspective, you have to look closer at the condition you lose easier and also the explosivity you have to work specifically on.
"The distance has never been a problem for me. I've done road races like the Tour de Feminine and the women's Giro. So stage races and the length of anything has never been a problem."
AMB: Speaking of the road. You mentioned the 2017 Road World Championships in Bergen, in your home country. How much of a focus will that become? 
Gunn-Rita: "Road racing will be a big focus, especially on the time trial bike. I'll have to do more road racing, hopefully some World Cups and stage races. I'll hopefully do some stage races next year, but I've done those sorts of races already to prepare for mountain biking. It will be good to do some road racing for my mountain bike season, but that will also make it easier to switch back then after Rio.
"In 2017 I'll still race on the mountain bike, but that will probably be the most fun of the season! I probably won't do the World Cups, and pick races that will fit in with the lead up to the Road World Championships. I'll still race Championship events, like the marathon Worlds."
AMB: You touched on changes that have taken place in the XC format. What's your opinion of the current crop of riders such as Yolanda Neff and Bec Henderson coming through?
Gunn-Rita: "I think the picture would have looked a little bit different if we had the more traditional course length. If you go back 7 or 8 years the courses were longer and you had longer competition time, longer climbs. Coming from Junior to Senior, these days the difference is less pronounced. In the past we had some races that were even up to 3 hours, so that has benefited the younger riders.
"I think technical skills on the more handmade type courses also benefit the younger generation. For my age, or riders 32-plus, they've never done jumping on a bike. It's different if you've come from BMX, but that's only a handful. Even so, you still see older riders still up there. For sure, there's been some really strong riders come through in recent years, but the changes in the sport that have made it easier."
AMB: How've you adapted?
Gunn-Rita: "I've had to focus and work hard on those technical skills. The past two winters, we've dedicated at least two training sessions just to honing those technical skills. If you miss a week, you feel straight away just now nervous you become, so you have to be in touch with those elements all the time. I've never been a bad technical rider, that's been a strength for most of my career. When I came back after giving birth a lot of people said 'oh, if you've lost the technical skills it'll be really difficult', but we found it was more the engine that effects this. If you're full gas and full of lactate, your skills drop.
"It was really hard when I came back [from giving birth]. It took a long time. I literally didn't have the strength to ride off-road. What surprised me most was how long it took to build up the stabilising muscles all throughout the body, that caught me by surprise. But I think we took a sensible approach, we need to take time, and build up gradually, now we're back to the sort of form I had in 2007."
For more details on the XCM World Championships head here.
Australian Mountain Bike