Find out about Maydena Bike Park's Wilderness Trail in Tasmania.
Words: Mike Blewitt, Colin Levitch
Photos: Tim Bardsley-Smith, Colin Levitch, Nick Waygood
---
The first time you drive to Maydena Bike Park, the sense of moving into a wild environment is immense. As you edge closer to the town of Maydena through the Derwent Valley, the heights of Mt Field National Park rise on your right, with peaks that could easily house hanging glaciers. The valley is broad, and the winding road is so close to the foot of the hills on your left that you have no sense of the scale of what lies above — beyond the occasional house or small farm — the bush looks near impenetrable. Pine forests do give the game away that not everything is in its original packaging, but viewed a little romantically it harks to a setting that might be beyond our shores and in the northern hemisphere.
Maydena Bike Park is not a mountain bike network that has been signed off as a generic trail network. It's a mountain bike park built to a world standard of gravity riding; the trail builders are free to cut steeper, rougher and more challenging runs designed to push riders and their bikes to the ragged edge.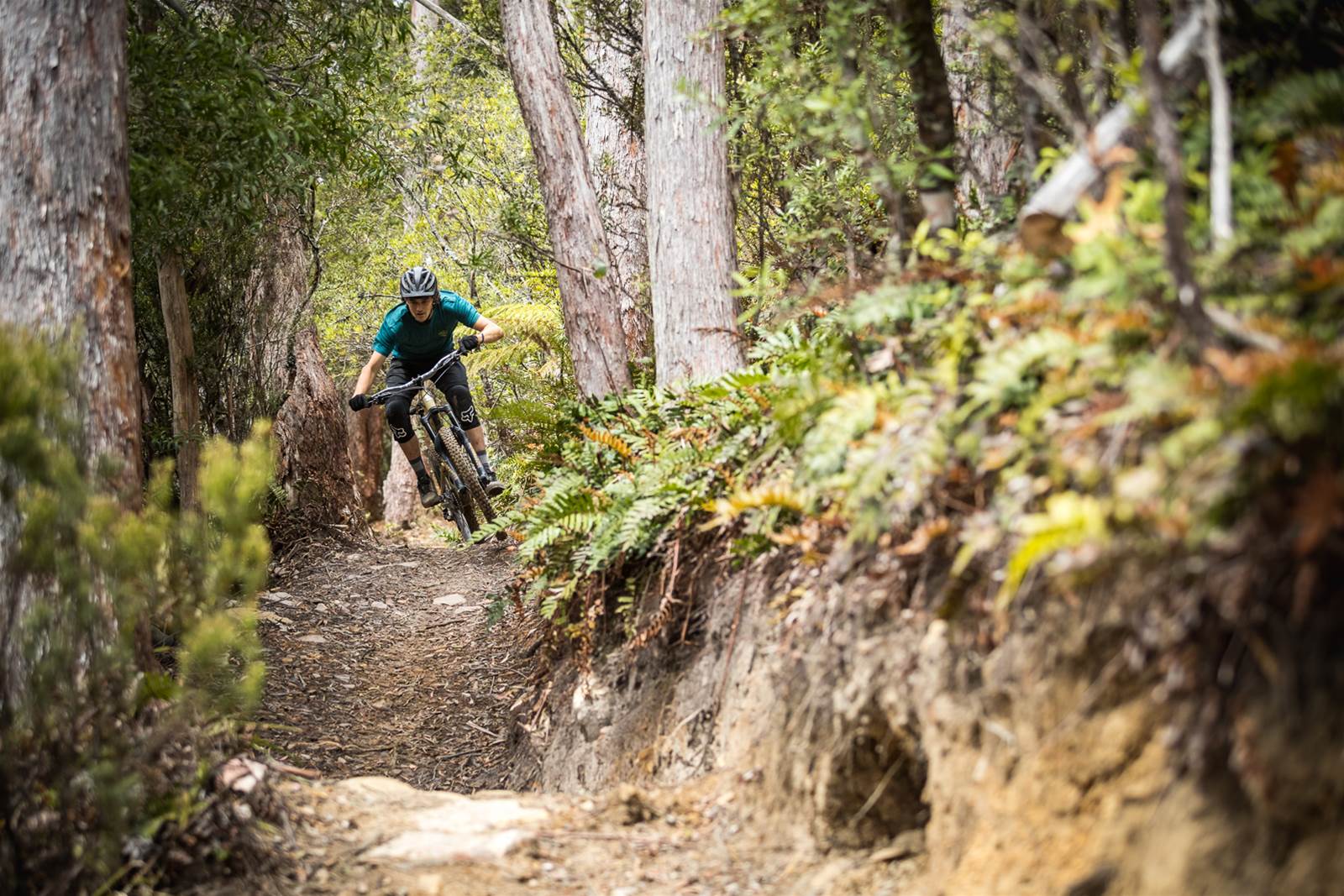 Since opening in January 2018, Maydena Bike Park has continued to grow and diversify. After establishing itself as the destination for gravity riding in Australia, Simon French and the team at Dirt Art (one of Australia's most acclaimed trail building companies) have embarked on the next phase of development focused on trails with a broader appeal. The Wilderness Trail which was a big part of that, is now complete and open to ride.
Unlike other bike park runs, the Wilderness Trail is an outlier, descending almost the entire 820m of vertical drop the mountain has to offer, with only three trail crossings on the way down. The shuttle drops you off 1100m above sea level at the summit of Mt Abbott, and a short roll down Skyline guides you to Vista, and the entrance to the Maydena side-country.
The Wilderness Trail kicks off with a couple of short and sharp climbs — a rarity for Maydena — so don't blaze through the entrance spinning your 10-tooth cog, because you'll run out of steam faster than a one-legged man at a butt-kicking competition. After a few tight switchbacks, the gradient relaxes, and gravity can take over.
The trail plays peak-a boo-with the bike park boundary, snaking through a towering regnans eucalyptus forest at the top, but as you descend further, the trail becomes deeper and darker. As Vista traverses back towards civilization, there is a short liaison down Green Room where you're greeted with a flowing mountain spring — we would never recommend drinking untreated water — before you arrive at the second section of the Wilderness trail.
Zipping through low hanging giant man ferns, riding Middle Earth is a bit like taking a step back in time, your surrounds feel pristine and untouched, save for the trail itself — you'd never guess there is a bike park only a few hundred metres away. The trail feels woolly, hand-cut and maybe even a bit overgrown. But in the same way that you don't go camping expecting a five-star resort experience, you don't ride out into the wilderness expecting to emerge on the other side fern-burn free.
Middle Earth continues right onto Outer Limits, previously known as the lower Wilderness Trail which has been open for almost a year. Here the rainforest becomes thick, the moss a vibrant green and the soil extra loamy. It starts with a few steep and tight corners, but as you make your way down, the trail opens up allowing you to lay off the brakes and flow through the undergrowth at speed. There is a short kick at the end requiring some time spent in the granny gear, but the payoff comes as you emerge from the trees to a sweeping vista with views of Tyenna Peak, Florentine Peak and Mount Field on the other side of the valley.
Even with the Wilderness Trail bookended with short climbs make no mistake — this is a descending trail that offers almost 5.5km of uninterrupted riding, with fewer trail crossings than fingers you have on one hand. Without needing to say, 'where to next,' all you need to think about are line choices and outdoing your buddy. Unlike other wilderness trails that take the better part of a day to ride, the Wilderness Trail at Maydena will have you back before lunch with enough gas in the tank to ride it again.
With the Wilderness Trail nearly being a top to bottom run, hopping onto a shuttle to the summit is a no brainer. While you're up there, stop into Eagles Eyrie, it offers 360-degree views across the Styx Valley and Mount Field National Park, and a place to warm up with a hot drink in the cool Tasmania climate.

GETTING THERE:

From Hobart expect to drive a little over an hour. Take the A1 past Glenorchy. New Norfolk is a good spot for any grocery shopping on the way. There's excellent food at Maydena Bike Park - but chances are you'll stay more than one day, and it's handy to have some groceries on hand.
 
TECHNICAL NATURE:

World class, for the park. But for the Wilderness Trail, intermediate. There are a couple of gaps on the main lines but there are B-lines around them. The technicality increases in the wet, especially carrying mud on your tyres onto the roots.
 
YOU'LL NEED:
Take some knee-shin guards, and most riders at Maydena wear a full face helmet – although that's not really necessary for trails like the Wilderness Trail. The bike park has everything you need but it's a big hill – carry spares, a phone for emergencies, and a jacket because it's Tasmania. Don't forget to book your shuttle passes (and a hire bike if needed) online before you go - and drop in to sign your waiver when you arrive.

 
LOCAL KNOWLEDGE:
Some sides of the hill deal with wetter conditions better than others. If you're not sure on any trail conditions just speak to the staff, or even check their Instagram profile (@maydenabikepark) for updates before booking your shuttle ticket.
 
BEST TIME OF YEAR:
Winter is cold and wet. Summer can also be cold and wet on a bad day. But September through to late May is typically the best.

 
WHILE IN THE AREA:
There is lots to do. Whether you take a trip down to Lake Pedder and go canoeing, go for a drive (or ride!) up to Mt Field National Park, or just take a day off to let your arms recover, there are a number of ways to enjoy the surrounding areas in the Derwent Valley.
 
COSTS:
 
A day of shuttling costs $80 for an adult, and buses stop at 4pm. There are discounts for multi-day visits and children and seniors. If you just want access to the park to use the climbing trail, it's just $15 for the day. You can access every trail from Midline down. Check out the pass options HERE.
 
ACCOMMODATION:
 
There are lots of mountain bike specific options in Maydena that are available to book line, but Left of Field Caravan Park is just down the road in National Park, right next to the pub. It's quirky, has piping hot showers and an outdoor bath tub, and is a good spot to park a campervan or pitch a tent.
 
LOCAL BIKE SHOPS:
 
The shop and workshop at Maydena Bike Park will keep you going. If you have any boutique parts – take your own spares. Maydena is hard on brake pads and wheels, so pack accordingly.

FACILITIES 
Toilets: Yes
Drinking Water: Yes
Parking: Yes
Trails Signposted:  Yes, trail maps at major junctions.
Mobile Reception: Telstra and Optus
Shelter: At the bottom and the top.
BBQ Facilities: Not in the bike park, but they do hold events with a BBQ now and then. 
Accommodation: Plenty in Maydena.
 
Wilderness Trail ratings:
Technicality 3/5
Fitness level 3/5
X-country 2/5 
Trail 5/5 
All/mtn 4/5
Downhill 3/5
Jump 2/5  
---
Thank you to Tourism Tasmania for supporting our visit to Maydena Bike Park.
---
Love what we do but need more? Why not subscribe?
Australian Mountain Bike