La Larr Ba Gauwa - or Harcourts mountain bike park, is open in Victoria offering plenty of rocky trails for locals and those keen for new trails.
By: Bron Willis. Photos: DELWP and Tread
---
La Larr Ba Gauwa | Harcourt mountain bike park
Nestled into the foothills of Central Victoria's Mount Alexander lie 34km of newly constructed singletrack that offer mountain bike riders something unique: purpose-built trail that transforms the beauty of the granite countryside into a technically challenging ride, with sweeping views, all within easy driving distance from Melbourne.
This is La Larr Ba Gauwa Harcourt mountain bike park, meaning "stones and mountain" in Dja Dja Wurrung language, a description that cuts to the chase for the style of riding in this dry granite country. The trailmarkers remind you that as well as being a playground for riders, this place is a cultural landscape that carries Dja Dja Wurrung stories: large chunks of granite carrying the trail names stand guard as you embark upon each track.
And it's not just the rock surrounding and forming the trails that make this place special: the trailbuilders have created both art and sport from the granite in the rockwork of the track itself in places.
Speaking of sport, La Larr Ba Gauwa is not just a roll in the hills. The slopes of Mount Alexander will settle for nothing less than dripping sweat as currency for the views – on many of the tracks at least. It's hard to find more challenging ascents than those on the southern end of the park anywhere in Victoria.
Unlike many Victorian mountain-bike offerings, La Larr Ba Gauwa is beautifully ridable through winter and spring. The dry that makes it dusty in summer, comes to its own in winter – you'll be unlucky to find mud or snow here.
The March 2018 opening of this long-awaited park (funded by DELWP and constructed by trailbuilders DirtArt, of Maydena fame) also offers something new to Central Victorians. Used to trails that were born unofficially and grew organically, local riders can now pack in more features, views and challenges into a one-hour ride that they might have hoped for in a day's ride – until now.
Get your bike on and get to La Larr Ba Gauwa – you won't be disappointed.
FACILITIES
Toilets: available near the trailhead.
Water: none (nearest is in Harcourt, 2km away)
Parking: Park at the signed carpark at the northern end of Harcourt and ride the 1.5km off-road path along Market St – don't park near the trailhead since safety is a concern at the junction near the park.
Trail signage: Excellent, with beautiful granite stonework marking each trail
Mobile reception: not bad on Telstra, patchy or non-existent on other networks
Shelter: Yes
BBQ: No
Accommodation: Tread Harcourt offers cycling-centric accommodation; there are B&Bs in Harcourt and surrounds, and plenty of options in nearby Castlemaine
GETTING THERE
Harcourt is 130km north of Melbourne on the Calder Highway, 30km south of Bendigo and 12km north-east of Castlemaine. Drive 90 minutes from Melbourne or catch a V-Line to Castlemaine and ride from there if you're fooling yourself that you'll have anything left in your legs after your ride.
TECHNICAL NATURE
The 11 purpose-built singletrack trails of La Larr Ba Gauwa pack a serious punch of a reasonably technical nature but the rewards are great. The park's location on the flanks of Mt Alexander means lungbusting and technical ascents but the downhills (although sometimes knuckle-whitening) offer flowing rides, sweeping views and plenty of berms. The granitic countryside provides natural features like rock gardens, boulder descents and drop-offs and the trailbuilders have added plenty more: table top jumps, berms and chutes.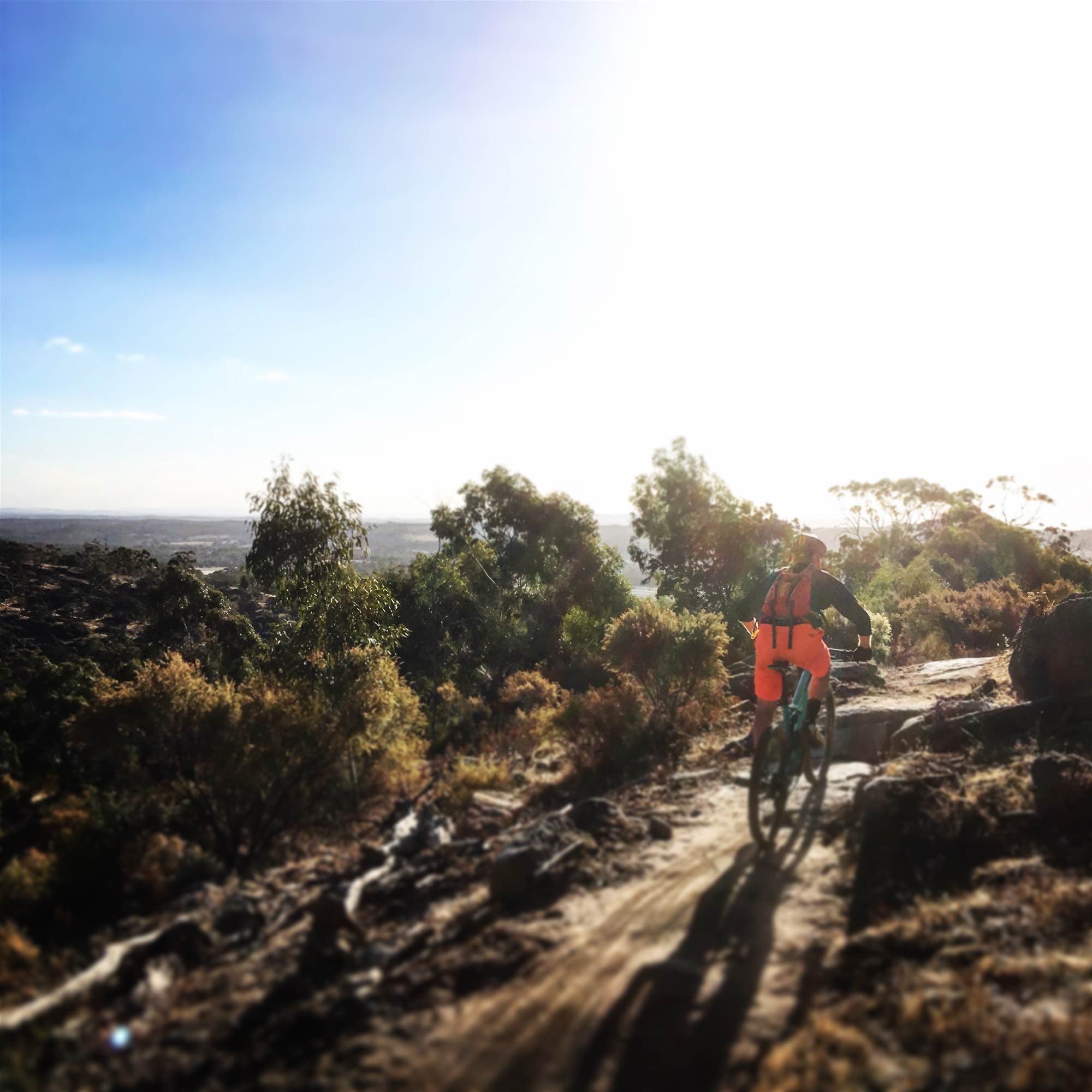 Although the green loop is great for beginners or kids, there is more here for medium to advanced riders with plenty of puff.
At the end of a dry summer and by late Autumn, the trails can get very dry, dusty and skiddy – take care and you'll avoid grazes – or go hard and take home a trophy to show for your troubles.
YOU'LL NEED 
The trailhead is located about 2km from the carpark, so bring everything including water – there is none in the park. The trails are fairly exposed and you'll be working hard, so dress light in warmer months and sunscreen up.
DISTANCES
There are 34km of trails at Harcourt and most riders take more than a day to ride them all, due to their steep and technical nature.
Most of the 11 trails here are relatively short, with Trail number seven (Gart-Gart) being the longest at five kilometres. Most are around the 2–3.5km mark, but don't be deceived, that doesn't mean they're quick!
LOCAL KNOWLEDGE
The Oak Forest, within the park (you'll see signs from the trailhead and will likely ride around it during your ride), is a beautiful place to picnic with the family – or for kids to play hide-and-seek while you ride. The oaks, reminiscent of English countryside, are a pleasant surprise against the harsh beauty of the Australian bush.
BEST TIME OF YEAR
La Larr is beautifully rideable three seasons of the year (and even in summer if you're out early). Autumn is the pick though: it's a beautiful time of year in Harcourt and a glorious time to ride with crisp, cool mornings quickly giving way to blue skies and sunshine. Conditions can get dry and dusty by late Autumn however, if the season has been dry. Although riding in winter and spring involves very cold starts, these trails are well suited to cooler conditions – you'll warm up quickly and the ground has a bit of moisture in it, but doesn't get muddy like the wetter areas of Victoria. Central Victoria experiences hot, dry summers, and the expansive views mean that the trails are relatively exposed. If you're riding in summer, especially in January or early Feb, bring plenty of water and take breaks in the shade.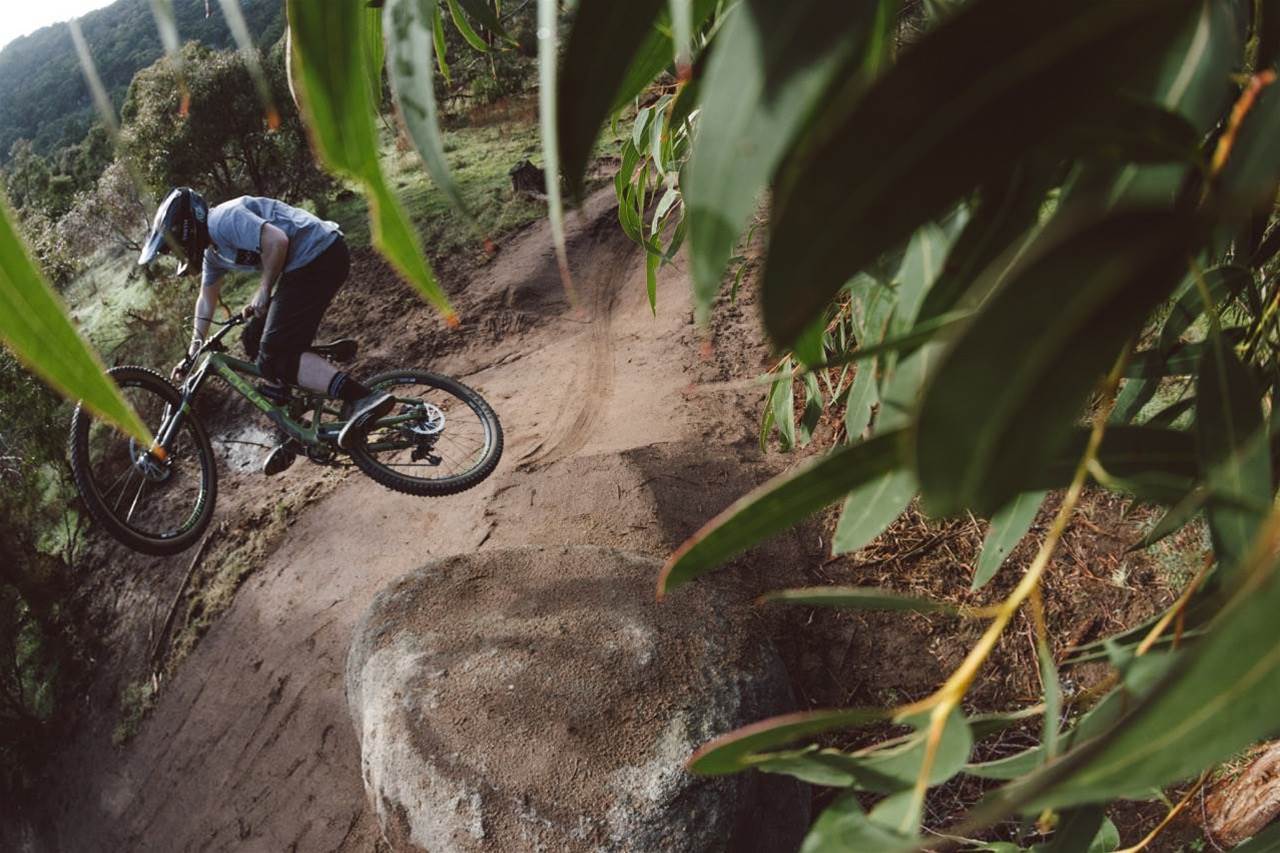 WHILE IN THE AREA
The Goldfields Track Café in Harcourt is humming on weekends, with locals and riders of all kinds enjoying friendly service and great coffee, snacks and meals, including dinner on Fri/Sat nights.
Three wineries (Harcourt Valley, Bress and Black Jack) as well as a cidery (Henry's of Harcourt) offer good drinking, beautiful settings – and some (Bress and Harcourt Valley) – offer lunch on weekends, seasonally.
Harcourt is known as the apple centre of Victoria, so if you're here in apple season (autumn) go for a drive and appreciate the Harcourt valley orchards.
Mountain biking is not the only kind of cycling in Harcourt. The Goldfields Track is a 210km off-road ride from Ballarat to Bendigo, and Harcourt is en route. There are also plenty of road rides around Harcourt, which is a regular location for road championship events.
Castlemaine is only ten minutes' drive away for more cultural activities including gardens, an art gallery and a beautiful old cinema.
A miniature railway is well on its way to welcoming train enthusiasts young and old and is due to open in 2018/2019.
LOCAL BIKE SHOPS
Located in Castlemaine, ten minutes drive away, The Bike Vault and Cycle Concepts both offer friendly, helpful service but are closed by 3.30pm on Saturdays and on Sundays.
LOCAL CLUB CONTACTS
Castlemaine and Harcourt is home to a vibrant mountain bike club, the Castlemaine Rocky Riders.
REGULAR EVENTS
La Larr Ba Gauwa was opened in March 2018 and will be a great destination for mountain bike events in the future. Watch this space!
RATINGS
Technicality: 4/5
Fitness level: 4/5
X-country: 4/5
Trail: 4/5
All-mountain: 2/5
Downhill 2/5
Jump 2/5
Australian Mountain Bike