Boomerang Bike Park is paradise for riders that like their airtime.
Words and Photos: Gerard Lagana
---
At the base of the Gold Coast Hinterland in South East Queensland's rainforest sits a hidden gem to the mountain bike scene. Boomerang Farm Bike Park, (known as Boomers to locals) is located at the rear of Boomerang Farm Golf Course and has been operating and progressing their trails since 2014 with Bike Park Manager and head trail builder Shane Flower.

Boomers is primarily a gravity orientated bike park operating on a shuttle service, although you can pay for just park entry and pedal your own way to the top, this is a good eMTB option. But I would highly recommend a shuttle pass, as you will get so much more riding in there is not yet a designated climbing trail. So the ride up can get a bit steep and dusty on some sections of the shuttle road.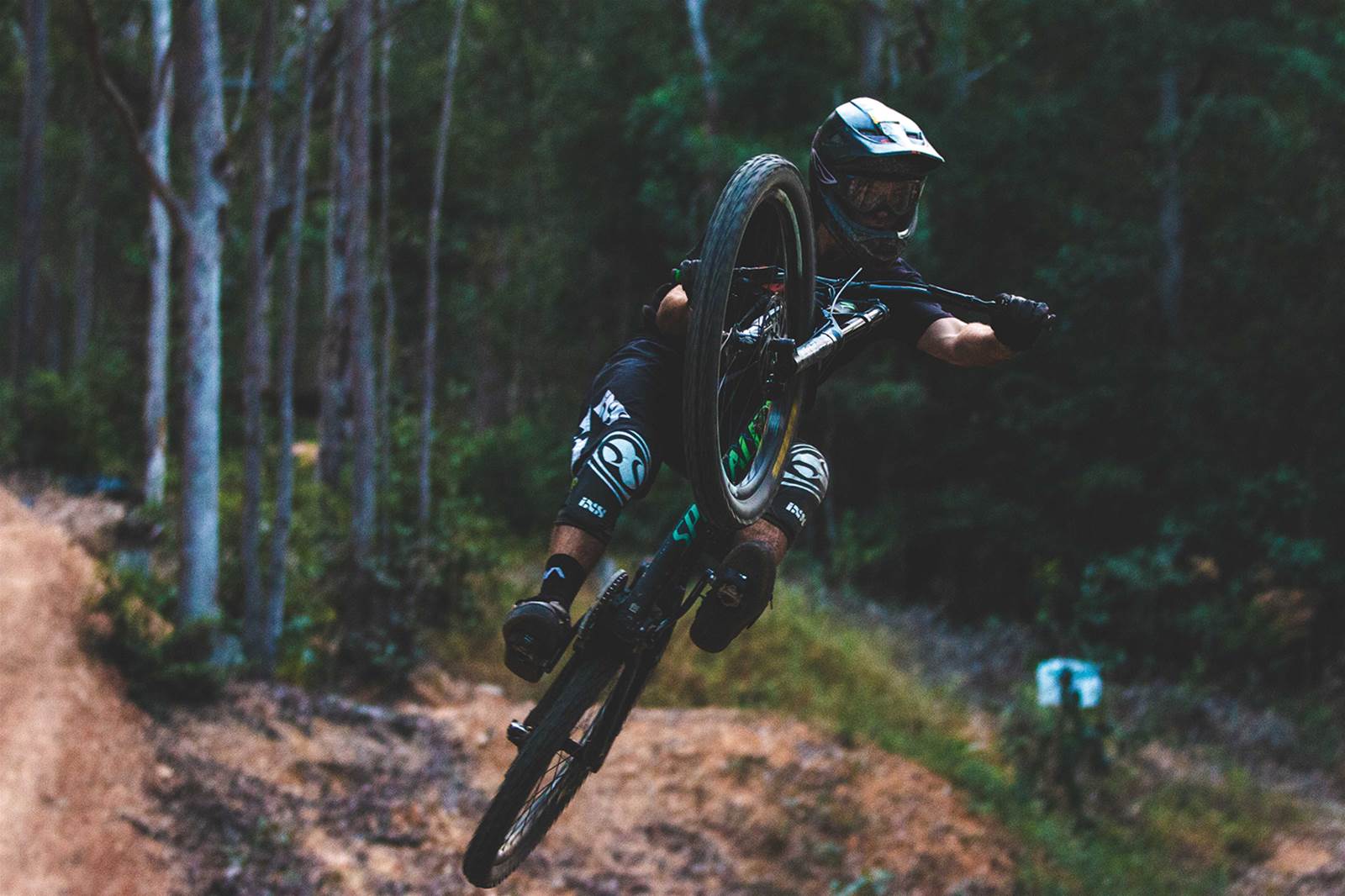 Boomers is all about the descending!
With 150m of vert and 14 trails to chose from you will have more than a days worth of trails and features to conquer. The trails range from green, easy trails to double black and pro jump trails, two dirt jump lines and a dirt pump track. It is safe to say that Boomers offer trails for all disciplines from novice to professional riders.
Boomers' 150m elevation doesn't make your ears prick up compared to other favourite Australian gravity destinations. Thredbo has 600m of lifted vertical and Maydena boasts a huge 820m. But by focusing on quality over quantity, it's safe to Boomerang Bike Park have created just that – and the turnaround time for shuttling is really quick as well.

Taking the shuttle up the hill you can see the different trails duck and weave through the lush rainforest at the bottom and even over the shuttle road at some points. As you reach the top you end up at the starting trailhead with 5 different trail options.
As always, ease into a new riding destination but definitely take care when starting to ride at Boomers. The ride smart rule applies: Pre-Ride, Re-Ride and Free-Ride. Boomerang Farm Bike Park is very free ride orientated Bike Park so once you start entering the more difficult trails there are lots of technical features including gap jumps, shark fins, wall rides and wooden drops. There are more features than your average riding destination so always scope out trails before licking the stamp! (That is, before you send it!) More often than not there are B lines around the drops and jumps but once you move to the Double Black jump trails there tends to be no B lines – you need to be committed and on a trail that suits your skill level.
Boomers is littered with features.
My recommended warm up lap is Mr Green into Medicare which is a nice mellow gradient Green to Blue run down the hill with flowing corners and a few rollers that you are able to double once up to speed. With no trail junctions like other bike parks, once you drop into a trail you will mostly likely be riding that trail to the bottom where eventually all the trails filter into one of two finishes.
Although Boomers has a lot of jumps on offer, if jumping isn't quite your groove trails like Riccos or Rodney's will give you your downhill fix. Riccos starts at the top trail head and drops off to the north side of the hill onto the steepest part of the bike park. The trail starts off with some steep technical drops into tight corners before entering a steep rocky chute. After a tight fast traverse around the hill you finish on a fast off camber exposed section of a slope which can test the nerves.
For a change of pace you can roll over to the dirt jump and pump track area which is located about 1/3 of the way up the hill located off Enduropedia or Medicare. The Pro DJ line isn't always open and you may want to check in with the Boomerang Farm Facebook page if you want to ride them.
If you're confident on a dirt jumper Boomers is a great place to ride.
Boomerang Farm Bike Park is at 55 Johns Road Mudgeeraba, QLD and easily accessible by car. It is about 1hr from Brisbane or a half that from Gold Coast airport.
Technical nature:
The gap jumps and features are really what make Boomers so intimidating but it also offers great trails for progression to build up to those bigger more technical features.
Boomers is a great place to work on your jumping skills.
You'll need:
Shuttles for the day will cost you $55. Bring a full face helmet and the protective gear you'll need if you're riding the bigger lines and features.
Distances:
The Bike Park has an elevation of 150m and ranging from 1km to 2km in trail length depending on your adventure chosen.
Local knowledge:
The Bike Park is open Friday to Monday 8am to 3pm. It's not mandatory but I would highly recommend a full face helmet. A small travel trail bike will be fine riding the flow trails but once you start progressing towards the more technical trails and bigger jumps an Enduro and Downhill bike will be more comfortable.
Best time of year:
The bike park operates all year round but summer time does get a little hot and sweaty some days!
While in the area:
A short drive up the range into Springbrook National Park rewards with some spectacular views and waterfalls. Or head the opposite direction to the beach for a swim.
Boomers is located in the Gold Coast Hinterland.
Local bike shops:
There are minimal supplies available at the Boomerang hut shop so bring spares to get you out of trouble. Otherwise there are a number of local bike shops which are a 20 minute drive from the bike park: Just Ride, Giant Nerang, 99 Bikes Burleigh.
Regular events:
Boomerang Farm are no strangers to holding a round of the local DH and Enduro series.
Keen to check out more places that rock? Click here. 
Australian Mountain Bike