How come there's no mountain biking on the events list for the 2026 Commonwealth Games?
On Tuesday, the Commonwealth Games Federation (CGF) announced that the 2026 games will be held in regional Victoria; the first to be held in across both regional hubs and central Melbourne locations. The March 2026 event is set to feature Geelong, Bendigo, Ballarat and Gippsland, so the question for us is, where will the Cross-Country Olympic mountain bike race be held?
Insert record scratch…
Diving deeper into the CGF website, the list of sports features Triathlon and Para-triathlon (Geelong), Cycling (Gippsland to Bendigo), and….that's it. There is no explicit mention of Mountain Bike, or even Track Cycling as disciplines in the 2026 games.
Could it be an oversight? Initially we thought it was perhaps a 'TBC', or fell under the umbrella of Cycling, however sources have tipped AMB that this isn't the case, and cross-country mountain bike indeed hasn't been included in the proposed sports for 2026's games.
The deliberately vague statement associated with the press release from CGF states, 'There will be a phased approach in creating the sports programme for Victoria 2026. An initial 16 sports have been put forward for the Games, with further sports to be added later this year'.
We have reached out to the Commonwealth Games Foundation in the wake of the news release, but as yet have had no response. Upon seeking comment from AusCycling, however, it seems that our suspicions have been confirmed. CEO of AusCycling, Marne Fechner, offers this statement;
'We are delighted that the Commonwealth Games are coming to Victoria, they are always a wonderful celebration of sport and community.'
'We are, however, disappointed that Mountain Bike hasn't been included in the first phase of sports. The recent Victorian Mountain Bike Strategy provided compelling evidence of the popularity, community impact and economic benefit that the sport delivers.''
''The Games present rich opportunities for Victorian regions to become the destination of choice for Australian and international MTB riders and fans, and we are committed to working with the UCI, Commonwealth Games and Government to realise the opportunities.''
''Our job across the next months and years is to give our current elite and academy MTB athletes every chance to represent Australia while providing inspiration for the growing number of juniors embracing the sport.'
Victoria is no stranger to the Commonwealth Games, hosting them in 2006, with the XCO held at Lysterfield Mountain Bike park, South East of Melbourne. That alone should be an indication of the viability of mountain biking for the games, however casting a broader net into regional Victoria offers a multitude of trail network options that offer the technical challenges, climbing and descending demands that modern day XCO requires. In fact, you could argue that Victoria is one of the few real hotspots for mountain biking within Australia that have a multitude of location options; they host the Victorian Mountain Bike (XCO) series and have numerous options with the list below being non-exhaustive:
You Yangs (Geelong): features technical rock shelfs and multiple course options, hosted national series races many times previously.
Mt Buller, Falls Creek, Bright (High Country): Multiple options showcasing the Victorian High Country with all sorts of appropriate trail options to fulfil the UCI criteria. Notably, Bright has hosted numerous National Championships and is a popular choice amongst riders.
Warburton (Yarra Ranges, TBC): Proposed world-class trail network.
Buxton (90mins north east of Melbourne): Well loved trails that have hosted social events and state series XCO.
Eildon (2hr15min north east of Melbourne): Previous host of XCO Nationals in the 2000s.
Lysterfield (south east of Melbourne): prior Commonwealth Games XCO track
Red Hill (Mornington Penninsula): has hosted state XCO and set to deliver Gravity Enduro National Championships 2022.
The Future of Sport in Australia
In fact, reading further through the CGF press release, it references the paper "SPORT POWERING AUSTRALIA'S FUTURE (10+10) Submission from the Australian Olympic Committee and Commonwealth Games Australia to support the development of the Federal Government's 2021 Intergenerational Report" which seeks to understands sports' role and benefits within broader society, Australia's declining success on the world stage, and what initiatives are vital to future sporting success.
One limiter that was identified was "International sporting success supports a 'virtuous circle of sport' in which international success provides a platform to inspire the nation and build a sense of national pride, driving participation and increase the talent pool"(1).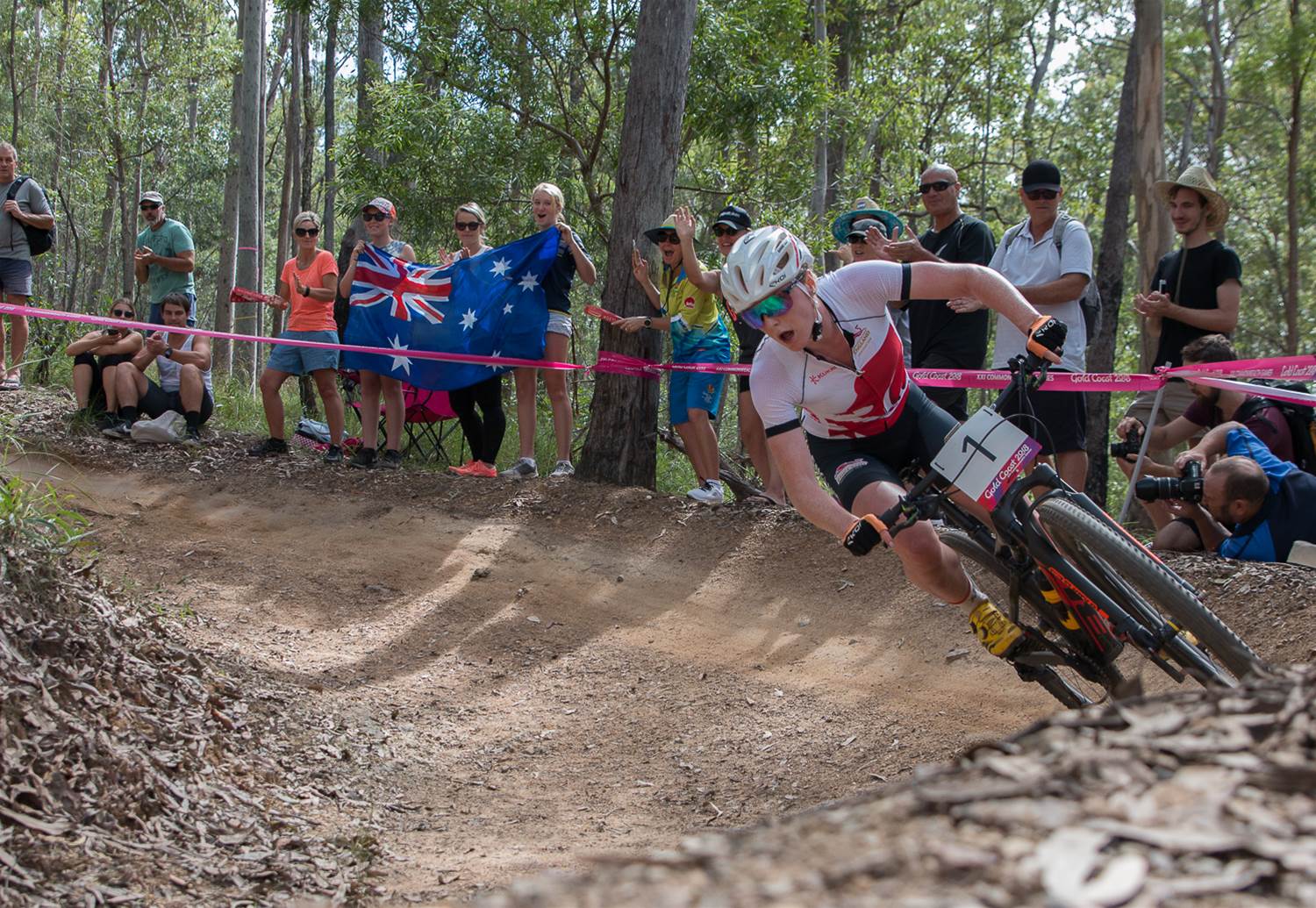 This reinforces the important role of international competition such as Commonwealth Games for athletes; not only are we showcasing our sport and inspiring future generations, it's allowing our riders and emerging powerhouses a platform on which they can perform that is leading to Olympic performances, and with smaller fields (than events such as World Cup events) allows a greater chance of success.
The paper continues, "The Commonwealth Games has always provided an opportunity for Australian elite and emerging athletes to represent Australia on the international stage. Given the smaller magnitude of the Commonwealth Games and that in some instances the opposition can be less competitive than in the Olympics, they are, for many sports, a valuable pathway for an athlete's development".
---
RECAP: 2018 Commonwealth Games on the Gold Coast
---
But it's not just a pathway for up and coming athletes to participate and get a 'taste' of competition, Australian mountain bikers have had success at the games as well: Bec McConnell and Dan McConnell both took home Bronze in the 2014 games, and Mary Grigson won Bronze in the 2002 event. With Bec recently taking her first World Cup win in Brazil, and multiple contenders rising through the ranks, omitting the games would mean robbing these athletes of the chance to race and prove themselves on the world stage.
The Games also should consider the current performers in cross-country globally: Great Britain's Evie Richards is the current World Champion, and Tom Pidcock as reigning Olympic Champion (and Cyclocross world champion). Denying these rockstars of our sport a chance to compete and influence Australian kids and emerging athletes is directly at odds with the "SPORT POWERING AUSTRALIA'S FUTURE" paper, especially with a sport that is as accessible and and with such rapid growth we have seen in mountain biking in recent years.
We can only speculate the reasons as to this decision being made by the CGF. Cycling is one of the 'optional' sports for the Games, of which mountain biking has been included in 2002, 2006, 2014 and more recently in Nerang at the 2018 Gold Coast edition of the games. 2010, however, saw the games in Delhi and the omission of Mountain Bike as an event.
Certainly, delivering a mountain bike event in a location in Delhi could understandably raise some challenges, but holding an XCO event in Victoria isn't afflicted from a lack of venues options, or lack of community support for the event. Could there be concerns about the difficulty delivering the cross-country broadcast? After all, a 4-6km course requires a lot of cameras and infrastructure to support live streaming. Is it political? Funding based?
We are not sure, but we await comment from CGF to try and understand this decision more fully.
1 Australian Olympic Committee and Commonwealth Games Australia, May 2021, "SPORT POWERING AUSTRALIA'S FUTURE (10+10) Submission from the Australian Olympic Committee and Commonwealth Games Australia to support the development of the Federal Government's 2021 Intergenerational Report" accessed from https://commonwealthgames.com.au/commonwealth-games-australia-and-australian-olympic-committee-unveil-their-1010-roadmap-for-the-future-of-sport/
Australian Mountain Bike