What do you know about Sri Lanka? Our Ed tackled the Rumble in the Jungle MTB race to learn more.
Photos: Etienne van Rensburg, Igor Schifris, Mike Blewitt
---
What do you know about Sri Lanka? I knew very little, save for seeing photos from friends who had been riding there for the Rumble in the Jungle mountain bike event, and the fact that it produced a lot of tea. That's it. But as an honest believer that one of the best ways to learn more about a country is from the seat of a bicycle, I found myself signing up for the 2018 Rumble in the Jungle – to race, to ride and to discover the island that's had many roles through history.
What's a Rumble in the Jungle?
The Sri Lankan Airlines Rumble in the Jungle is a 5-day stage race that is run by MTB Worldwide, the same event team who run The Yak Attack, and Pokhora IV. Their events are known as challenging and adventurous, and draw mountain bikers from across the globe. These events are very different to many of the events we have in Australia, as the courses move away from the manicured trails of mountain bike parks and club trails, and the routes traverse mountain ranges and cross valleys, using trails made by animals, early explorers, or the people who have lived in the area for centuries. Some people sign up to tackle the race and aim for the top step or a personal best – but others use it as a way to explore a new country.
Accommodation is in nice hotels with breakfast and dinner provided, routes are GPS plotted so you can have your GPS device guide you (although the routes are marked), and there are feed zones, bike mechanics and a masseur. In this regard it's just like any other mountain bike event – but Rumble in the Jungle is in a country that you might not know a whole lot about. And that was one of the big motivators when I signed up – I wanted to experience somewhere new.
Getting ready to Rumble
Getting to Sri Lanka was actually very easy, with direct flights with Sri Lankan Airlines from Melbourne to Colombo, followed by a short cab ride to the beachside town of Negombo where the event head quarters is.
Waking up after arriving at the Catamaran Hotel lead to bumping into friends from other events, getting my bike together and going for a ride down the coast. There's nothing quite like getting onto your bike and even just going out for a road ride after getting off a plane. With other riders everything was discussed. Immunisations, expectations, what to eat, where to get coffee, gearing for the climbs, and whether anyone had read the wild elephant protocol.
Ajay picking up his race plate.
The race starts away from the coast, and the event entry includes coach transfers to the start and finish – and the coach rides give you a box seat to the colour and life of Sri Lanka. In fact once the race begins, your entry fee covers just about everything except lunch, massage and drinks.
Into the highlands
"Beep."
My shifter reminds me that I'm already in my lowest gear. It's a useful function but right now I would have rather heard the chain move to an easier gear instead of hearing the electronics tell me I was already there. It's hot, humid, and the hardpack climb out of the jungle is taxing.
Stage 1 had started about an hour earlier, with a fast pace as we left Kuda Oya along dirt tracks and back roads, before diving into tight singletrack through the jungle – this immediately split up the race. Yuki Ikeda from Japan shot away, with Dutch rider Albert Kikstra on his wheel. Roan Tamang and Narayan Gopal Maharajan from Nepal were in pursuit while I was trying to see if I could get them back into sight after dabbing in a rocky V-ditch.
The fast pace of the flat trails, and the dark and technical trails in the jungle are gone, now it's time to climb. And as this tiny hardpack track starts to get ever higher, I'm reminded by the advice from Race Director Phil Evans that any trail that could possibly have a 3-wheeled tuk-tuk on it, probably will. As if sensing my thoughts, a tuk-tuk with music blaring comes around the corner, we both move enough to not collide, and both carry on what we are doing. This would be the first of many similar encounters over the coming days.
We rode from down there, to up here.
Our route continues over the hill, down into a valley and across a river shrouded in trees with impossible canopies over the water. The climb to Haputale starts in e rubber tree plantation, and finishes about a 1000m higher in tea plantations, after crossing various types of forest. From the town of Haputale you could see until you weren't sure what was horizon and what was sky. At our feet lay tended grounds, with banana or tea plantations, while the town spread up around us, seemingly with each building built on top of the other, or with floors added as funds and need dictate.
And after the stage - clean up.
This first stage captured so much about my experience at Rumble in the Jungle. We rode and raced through everyday life, seeing villages going about their daily business. Idle dogs watched us ride by, village stall owners cheered us on, children waved at us from the front gates of their schools, and works in the plantations watched us with curiosity.
Unlike riding a mountain bike event in a flash vineyard in the south west of Australia, or within the buffed out trails of a mountain bike park, the routes of Rumble in the Jungle took all the riders right up close to the people, the terrain, and the lifestyle through which the race passed.
The following days in the hill country had us tackling climbs that wrapped around the hillsides from below waterfalls to above them. We passed through mountain communities, through sub-alpine national parks, along singletrack with just about the perfect gradient so you barely touched your brakes through rhododendron forests, and past streams that spilled fresh water down into the valleys below.
Riding as discovery
There are few times I have travelled to ride or race my bike where I haven't been able to expand my personal horizons. In Sri Lanka, I was surrounded by people who have a passion for mountain biking and travel. The riders in the event came from close to 20 different countries, and even before the racing started I felt like I knew many of them well.
Passing through new landscapes at the pace of a bicycle allows for a lot more observation and understanding than many people would think. Your sense of smell and sight are higher, and you are often on high alert for changes around you. You notice so much more than if you were coddled in a bus or car. Still, it leaves questions unanswered. I knew we were riding in tea plantations, but only after looking into Sri Lanka's history some more did I find out tea was planted in the 1860s after a coffee blight wiped out all the coffee trees about the same time. The rocky paths we were riding on were predominantly built by the Dutch, who had used Sri Lanka (or Ceylon as it was known) for cinnamon production. Time with Wikipedia or Google or even a guidebook after a stage answers many questions! Although the race organisers and logisitics crew helped just as much.
With tea trees planted in the 'contour method', where rows are aligned with the contours of the land, it is easy to have your eye drawn from the trail in front of you to the random but at the same time very organised pattern of tea plants, access paths and small roads that drape over the hillsides. It also means that although the hills are really big, quite often you're riding on a pretty steady grade going up or down, making the climbs manageable and the descents a little more predictable – which allows for a whole lot of speed.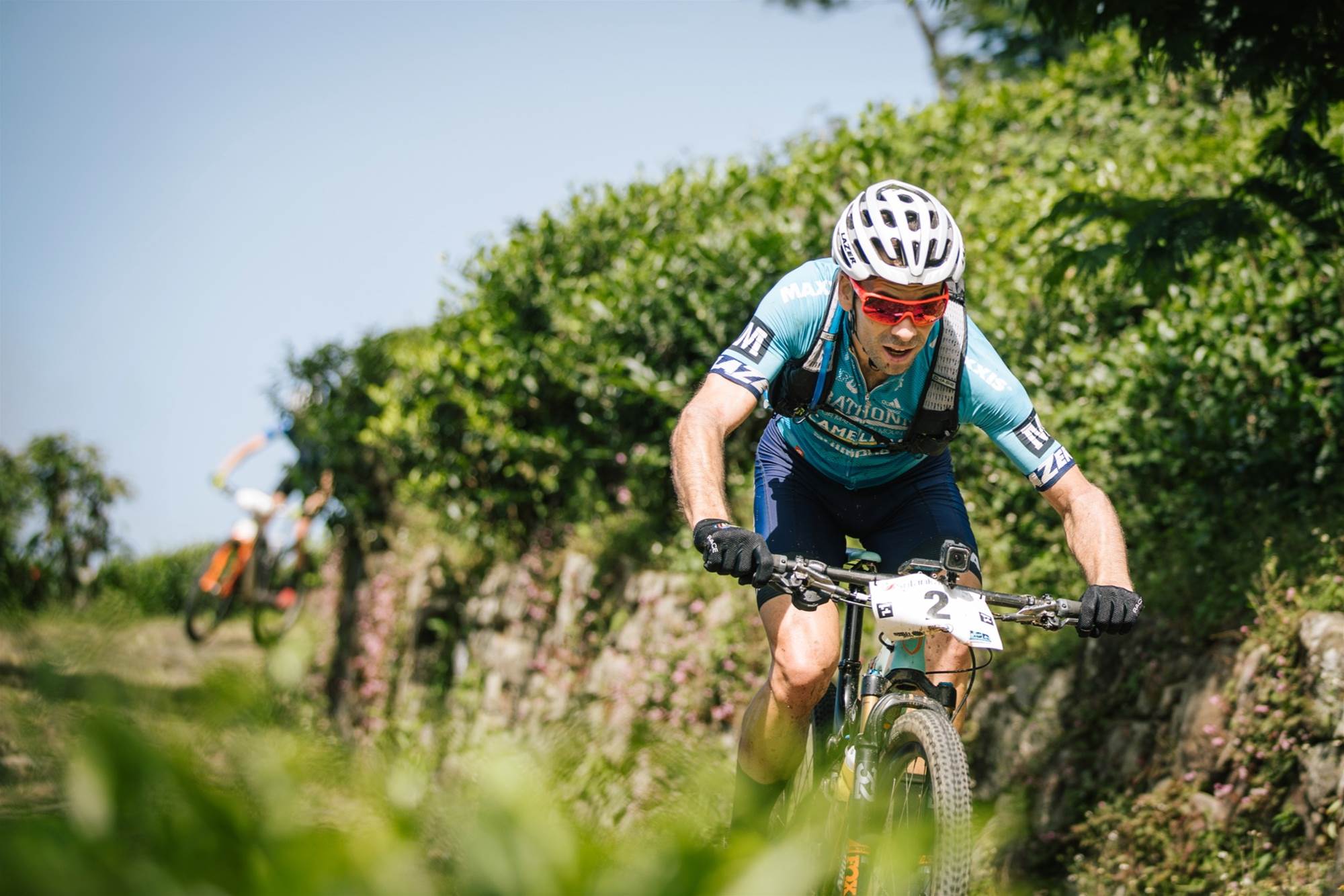 We all ride for different reasons, but at the finish of every stage each one of us would break into conversation about what we had seen or experienced as we were greeted on each finish line with hot and sweet tea.
"Did you see that hidden valley after the first descent!
"How friendly were the school kids that came out to cheer?!"
"Did you almost run over that dog that was asleep on the road?"
"I can't believe that descent went on for so long!"
"Did you see the painted messages in the tea plantation?"
The sense of excitement was unlike any other event I have been to, where riders are instead quick to analyse their performance, or that of their competitors. While those winning the stages are high-level athletes, more often than not most people were more engaged by what everyone had experienced that day, and what they wanted to share about their own experiences.
Each day ended with snacks, maybe some dahl, and probably a beverage or three.
Unfortunately, this edition of the Sri Lankan Airlines Rumble in the Jungle was cut short, when a rider slipped off a causeway. A search and rescue effort was launched immediately. The event was cancelled, and the rider was found downstream.
---
I've come home from Sri Lanka with tired legs, new friends, and an appreciation and understanding of a country and culture that I didn't have before. But the overwhelming feeling is that I left too soon. Sri Lanka was a very welcoming country, and I only just started to see some of it before leaving. With such a network of paths and roads across the hill country I'm eager to go back again – most likely for the Sri Lankan Airlines Rumble in the Jungle, so I can discover more about the island in the company of like-minded people.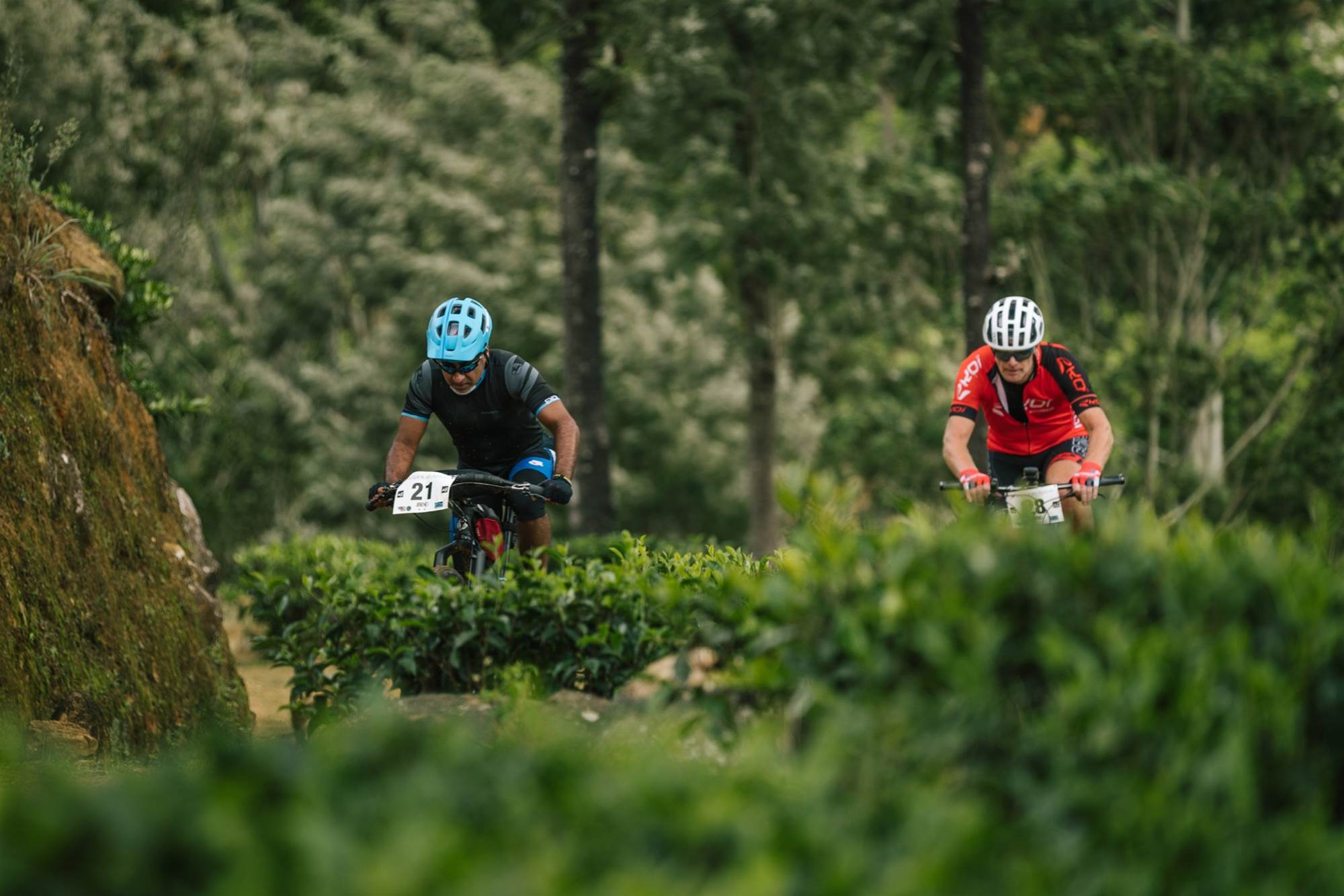 Sri Lankan know how 
Currency
The local currency is the rupee. There are plenty of ATMs to withdraw local cash, and most shops accept cards. $1 is about 115 rupees. Many costs are cheaper than at home, but better hotels will have food and drinks priced about the same as in Australia.
Food
You'll need to love a good curry and dhal. But there is plenty of fresh fruit as well, and in the bigger towns you should be able to find just about whatever you like. Rice, curry and dhal is a great meal when you're doing a stage race, with plenty of carbohydrate, protein and not as much fibre as pasta. Plus, it's likely to be better than anything you've had at home!
Culture
Sri Lanka's culture dates back close to 3000 years, and is based on Sinhalese and Tamil, with influence from the British colonial rule. Buddhism and Hinduism have some of the biggest influence. There is a rich culture of literature that dates back two millennia, and more recently a national love of cricket.
Riding
Sri Lanka is a developing country, so first world luxuries like million dollar mountain bike parks don't exist. What does exist is singletrack in the jungle made by countless feet passing over it for centuries. There are access trails all through the tea plantations, and old roads built of stone that climb and traverse the ranges and valleys. What you will ride will continually change. When you're in the highlands you might be on climbs, or descents that have 1000m of elevation gain or loss.
Weather
You're in the tropics! And if you're travelling from anywhere south of Brisbane you will enjoy the change from early winter. Expect temperatures up to about 30 degrees with high humidity when at lower elevations, and closer to 20 degrees with less humidity on the highlands. But, it does cool down up there at night, so warm clothes in the evenings, and even a light windproof jacket for riding will be handy.
Civil War
There was a civil war from 1983 until 2009, between the Sri Lankan government and the Tamil Tigers who wanted an independent state in the north and east of the country. The Sri Lankan government has control over the whole country.
Australian Mountain Bike