E-MTBs are becoming hugely popular. And Merida Australia might be the best place to start looking at one.
There is probably only one topic more controversial than dual citizenship for parliamentarians right now - and it's E-MTBs. Pedal-assist mountain bikes (not throttle actuated) are a big thing in many other countries, and the mountain bike industry has really hit its stride with what is being offered. In our current issue, photo guy Tim Bardsley-Smith threw a leg over the Merida E160 900E. And he didn't want to give it back. 
I want a new Merida - but not pedal-assist... Check out the new One-Forty then!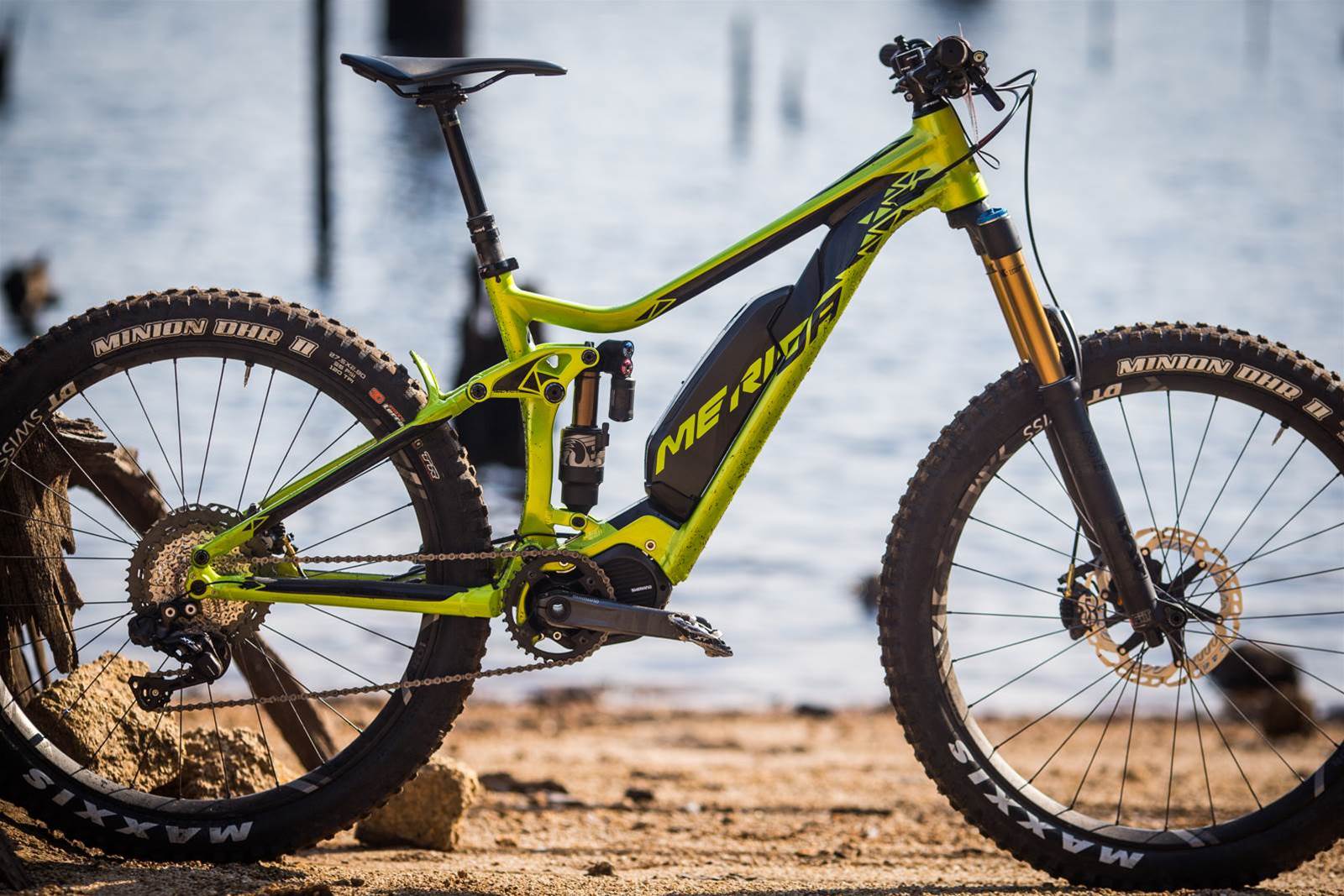 The Merida wOne-Sixty 900E has got to be one of the raddest bikes we have ridden. And it's pedal-assist.
This bike has been hugely popular on the trails too - and according to Merida Australia, demand outstripped supply very early on. According to Brand Manager Mark Rycroft, they had to order 10x as many of this model alone, and they still sold out.
E-MTBs won't ruin mountain biking - here's why.
"More people are coming back into mountain biking, and they're seeing pedal-assist bikes as a great option' said Rycroft. "E-MTBs are a big focus for us, but we just keep coming up short of the market demand." Merida Australia have had lots of demand for their E-MTBs off the back of the E160 - and their 2018 range suggests that's not going to slow down.
All of Merida's E-MTBs use the Shimano STEPS system.
The irresistable Merida eOne-Sixty
This is the poster child for Merida's range, and the eOne-Sixty 900e that we tested sells for $6999. Considering the bike comes with a Shimano XT Di2 group set, Fox Factory 36 forks and Facotry Float X2 shock, plus Dt Swiss XM1501 wheels and  RockShox Reverb Stealth post... this is stunning value when it has a Shimano STePS E8000 system attached too!
The E8000 systems push up to 75Nm of torque, and like any pedal-assist bike they max out at 250W of assistance, or stop helping above 25km/h. On the trail, this means you're moving quicker uphill, but you're hardly a motorbike on the downhill and flats.
And that's where bikes with 160/150mm of travel, like this one, sit. It's your shuttle rig and all-mountain/enduro bike rolled into one.
The Merida eONE-Sixty 800e
Merida also have the eONe-Sixty 800, which uses the same frame but runs a RockSHox Yari RC, and RockShox Super Deluxe R shock, plus a switch to an XT/SLX mechanical combo to trim $1000 off the price. Still, coming in at $5999 (not a small chunk of change!) this is incredible value for a hard-hitting pedal-assist bike.
The Shimano E8000 STePS head unit looks just like a Di2 head unit - which also means it's more discreet than many on the market.
 The control for the three modes with Shimano STePS is just like a Di2 shifter. It does sit pretty close to the dropper post lever. But given you'll use that more than the adjuster - maybe you can set up your cockpit to suit.
Shimano STePS is midmount, and really compact.
If you're not sure about pedal-assist bikes, you should keep an eye out for a demo day. Try one, then judge. 
The Merida eOne-Twenty 800
Ride the trail with the Merida eOne-Twenty
While the Merida One-Twenty is an awesome trail bike, the eOne-Twenty range allows a bit more oomph. Merida Australia will bring in both the 800 (pictured, at $5699) and the 500 ($5299) models, and both have the same Shimano STePS E8000 motor and 500Wh as the eOne-Sixty models. Do note that's Watt hours, so how long the battery lasts, not the max output which is still capped at 250W.
With 130mm of travel on their Boost spaced forks (RockShox Yari RC and Revelation respecitively) and 120mm out back by RockShox Super deluxe shocks, with Maxxis 2.8" tyres in a DHR/Rekon combo and 439mm chainstays (medium) these should be a blast!
The Shimano drivetrain runs a wide range 1x11 group set.
With the same motor, but a little less travel, this bike is probably perfect for riders less likely to send it off big drops and ride EWS style trails. That is - most of us! It should be really popular, and eOne-Twenty models are already making their way into hire fleets at trail centres like Hidden Vale Adventure Park 
Bash guard!
Get more details on the bikes on the Merida Australia website. 
The Merida eBig-Nine XT
The Merida eBig-Nine - pedal-assist hardtails.
We tested a Merida Big Nine E-Lite 650 last year, and the XT Edition sees a few key upgrades - mostly to a far wider gear range with an 11-46 cassette, and a move fom Bosch to Shimano STePS with the E6000 motor. But at $3999 it's really good value for the versatility.
This is likely going to suit the commuter-cum-mountain biker. But I have seen people on very similar bikes on the old forestry trails way above Brisbane. And they have readily admitted they wouldn't be doing those rides without the pedal-assistance. Pedal-assist bikes are getting more people out, more often.
Interestingly, all the hardtails that are pedal-assist from Merida use the Shiman STePS E6000 motor (save for the top level Big Nine 600, at $4299). However the XT Edition and the 500 model still use the 500Wh battery. So with a motor that delivers less torque (really only an issue on super steep inclines, like 30%, where the E8000 kicks in for more torque) you get a unit that lasts longer. This makes a lot of sense for riders wanting to go further.
There are far more details online, but we really recommend dropping in to a Merida dealer for precise details.
Here at AMB we're convinced that pedal-assist bikes are a great way to expand the sport of mountain biking. We totally understand it's not for everyone. But for some people it's a good way to get back into the sport, for others it's a way to ride the trails they want to without reliance on shutle companies. But what's your view? Write in an let us know - or comment below.
Australian Mountain Bike