Check out the stories behind ten of Matt Rousu's best photos of 2019!
One of our regular photographers for the AMB magazine and website, Matt Rousu, has put together his ten best photos and the stories behind the shots. Check them out below to see which ones made the pick and why they were so special. Thanks for your work Matt!
---
Words and Photos: Matt Rousu
2019 was a really great year for me, I was able to travel around Australia, Canada and the USA to capture images of the best mountain bikers on the planet, It's my 3rd year in a row in the b-zone and I've made some great friends on the side of dusty trails and in slimy mud holes, however it is slowly becoming clear that the tight knit world of mountain bike photography is getting smaller and harder to manage. That's not to say I'll stop anytime soon, there's nowhere that I feel more alive than 4 days into a World Cup with 6 hours sleep under my belt, immediate deadlines (I could live without these to be honest), wet socks, sore feet with some foreign version of Redbull to keep me going. I love it.
 
This year I've narrowed down some of my favourite shots of the year, most have interesting stories behind them but some are just plan rad! You can see a full collection of my work in the slideshow which also has some narrative thrown in thanks to the amazing season that was 2019. You'll notice that it has a heavy Aussie focus, It was one of the best years for us it's only proper they get the attention they deserve.
 
Amaury Pierron sprinting for the line

We can all agree that the climax of the Snowshoe DH World Cup was one of highlight events of 2019, the points race was as close as it's ever been and the effort it takes to be at the pointy end is written all over Amaury's face in this photograph. 6 months of hard work all comes down to one last 3 minute effort and I'm super happy I was on this last corner to capture it.
 
Laurie Greenland - Lost in the Crowd

I've been to the last 3 World Cup/champs at Mont Sainte Anne and this years World Champs easily had the biggest crowd. It's hard to come up with new angles at the iconic venue which has been on the circuit for nearly 30 years but I love this shot of Laurie Greenland flying over the last jump while the crowd watches on. I particularly like how he is in the sunshine contrasting the crowd in the shade.
 
Luke Meier-Smith - Rainman

You can be guaranteed that it will rain at Mont Sainte-Anne at some stage and it's not just a light shower either. I learnt back in 2017 (when Gwin laid down his historic run) that you need really good wet-weather gear for both yourself and the camera. Invest in a good rain cover for your expensive camera and you'll feel happy when it rains. This is my favourite rain shot of the year as Luke Meier-Smith sails down the motorway during his Quallie. I love how the rain makes it appear like film grain.
 
Aaron Gwin

Speaking of Aaron Gwin, it was always an unknown to see how he would come back to racing after a tumultuous year. After his miracle run in 2017 there were more than a few rumbles around the pits about how he would perform. Alas he wouldn't snag the rainbow jersey and the Peaty curse continues. I know that almost every photog has a shot or two from this now infamous start hut at Mont Sainte Anne but I figured the mystery of Gwins' return was quite fitting to publish before timed runs began, the typical focus and determination of a master desperate to get back to the top.
 
 
Josh Carlson - Wild Child

A little bit closer to home is this photograph of Josh Carlson during the EMS Enduro at Mount Buller, It's the biggest enduro series in Australia and is closely linked to the EWS. The alpine region of Australia is famed for its snow gums and wild flowers so it was fairly critical to try and tell the story with those elements. The hardest part about capturing Enduro events in Australia is the fact that there's usually no start times after the first stage, so as the day progresses it becomes increasingly difficult to keep track of the riders. Luckily for me I had an ebike to keep in front of the top racers and happened to stumble upon this awesome crop of wild flowers on the side of stage 5, I was also very lucky that the aggressive cornering style of Josh Carlson came into my viewfinder. This photo needs that little disclaimer that's on a cars side mirror; "objects are closer than they appear". Haha.
 
Bec and Sarah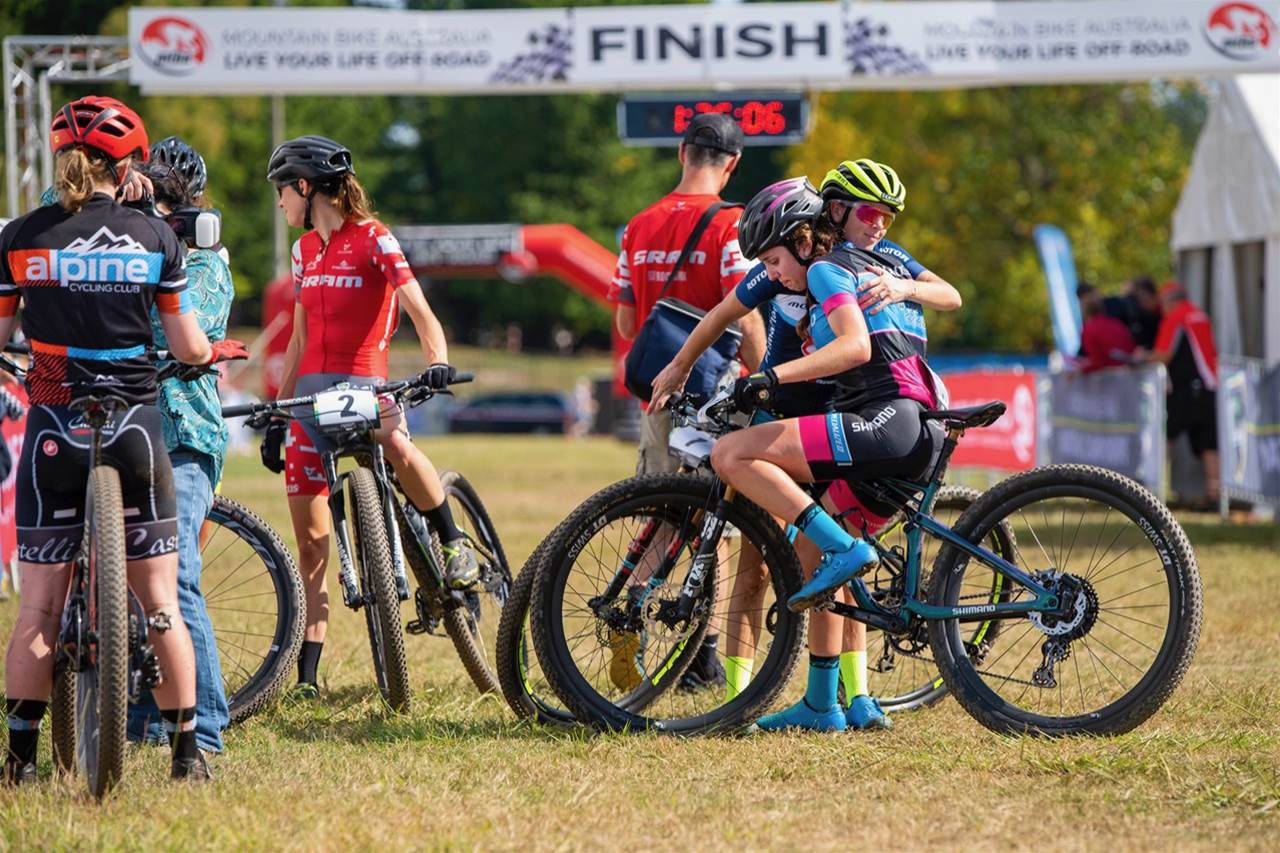 I have over 10000 finish line images from 2019 including epic celebrations from Loic Bruni, Tracey Hannah, Kate Courtney and Kye A'hern but this one of Rebecca Mcconnell consoling Sarah Tucknott is my favourite. Bec had just won the Elite National title and the U23 category was fiercely fought between Sarah Tucknott and Katherine Hosking behind her. Sarah had led the race from the very start but had a silly crash on the last lap allowing Katherine to swoop past and take the win. As Sarah crossed the line in 2nd she came to a stop and collapsed onto the top tube in frustration and sadness, Bec was one of the first people to realise what had happened and immediately offered a shoulder and I'm sure some sage advice. It must of helped as days later Sarah would win the Oceania title in a sprint finish.
Australian Mountain Bike