The last few years it's felt like more Australian made brands have emerged than the entire decade prior.
Words: Will Shaw
Photos: Sean Doyle, Edward Kelly
From brands like Shingleback who've redefined the rack market, to innovative manufacturers like Williams Racing Products, it's an exciting time for Australian brands.
In this series I'm going to focus on one Australian owned and operated company each issue. We'll find out the origins of the brand, the pros and cons of onshore manufacturing, and what the future holds. The first person I spoke to was Sean Doyle, the founder of Devlin Cycles. I reviewed their Oisin trail bike in issue #193 and was impressed by the attention to detail on the first Devlin mountain bike. 
AMB: Tell us a bit about where the motivation to begin making frames came from, and when you decided to start doing it professionally?
Sean: 'I started riding road bikes in 1986 on a Repco Superlite. Back in those days it wasn't uncommon to be riding a custom frame from a local builder though. Hopkins frames were built in Western Sydney where I grew up, as well as others including Clamont by Geoff Scott. My second frame was a Clamont 531 in fast red, and then the era of aluminium and carbon came along, and steel almost disappeared from the scene.
From those early days I always thought I'd like to build my own frame. The advent of the internet made me more aware of the possibilities but work and kids slowed the chance to do it. In 2012 I bought some frame material and then realised it's quite a difficult thing to do. I was reading everything I could get my hands on about frame building, but there wasn't as much information back then as there is these days.
At the beginning of 2014 I built my first frame, which I decided to build just to learn the joining methods, and I didn't worry about making it straight. I built my second frame mid to end of 2014. I made that one straight and I'm still riding that frame today. 
The end of 2014 brought about big life changes that saw me separated and basically homeless. I put the call out to some mates to see if they'd be interested in frames at mates' rates and a few hopped on board to support me, which was nice.
From the beginning of 2015 Devlin was born. The name Devlin is my mother's maiden name, and it's got a long history in Australia having come out on the First Fleet. Being able to carry my Mum's name forward and honouring it is one of the main reasons for the name.  
Another reason is the traditional Celtic imagery that goes along with the Devlin name fitted in well from a marketing standpoint. I was sitting in the car with Keith Marshall from Kumo in late 2014 and he said the name Devlin was cool. From that moment I decided it was going to be Devlin.
I've continued to use that theme with the naming of my frames as well. The Oisin fits with the deer moniker (the Devlin logo is the head of a deer) and Celtic tradition.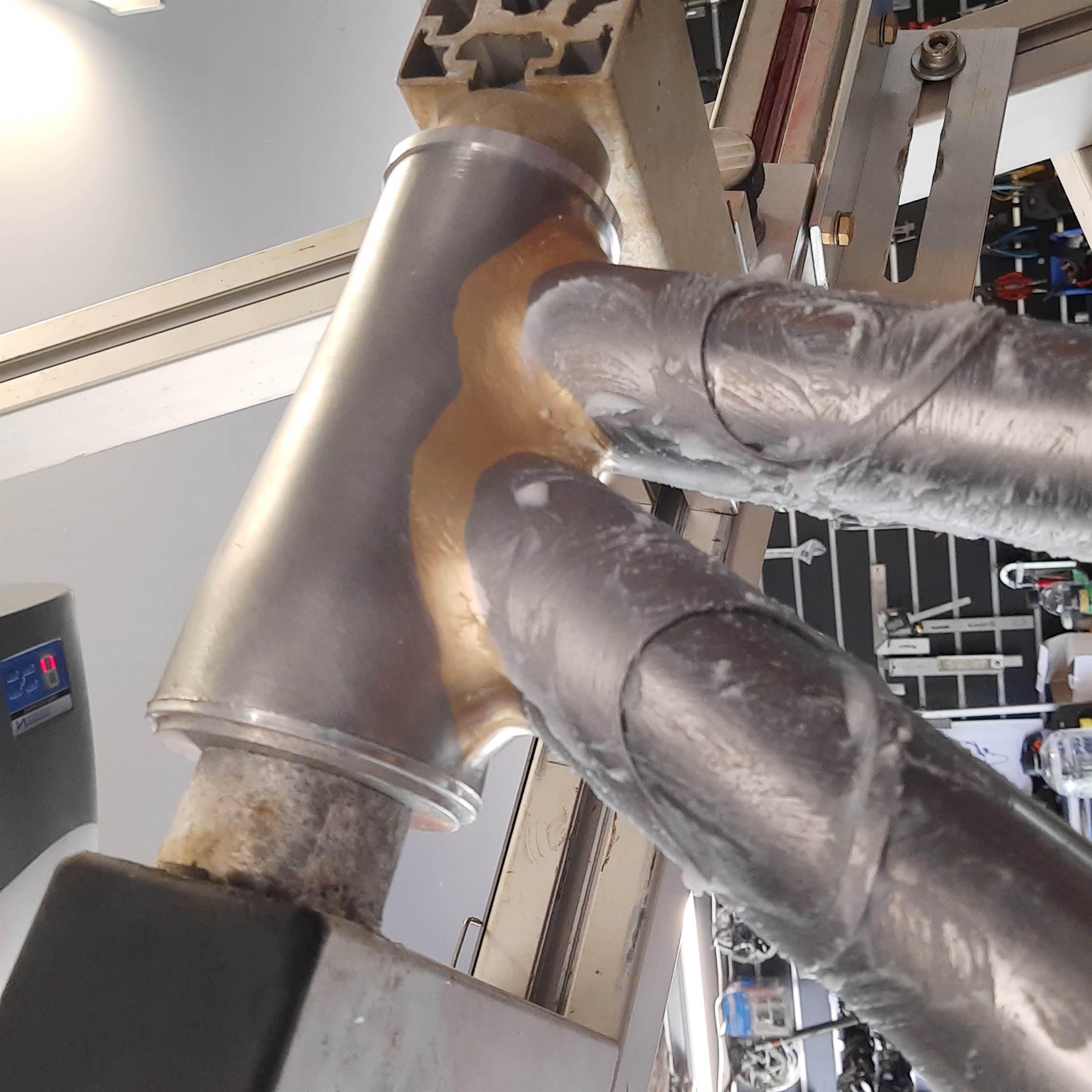 AMB: What are the challenges when it comes to manufacturing in Australia? 
Getting hold of materials, especially in Brisbane. It's hard to get hold of 4130 chromoly tubing in the sizes I want, so it's ordered from a supplier in Sydney. Getting hold of the right brazing material for brass brazing, silver, and flux that's specific for bikes has also been hard. In the case of the flux, it's much better to get the bike specific stuff, even if it's a challenge to get hold of. While it's still hard, getting hold of tubesets and lugs in those first few years of building was a real challenge.
Initially I was ordering from overseas, or if Hillbrick or Llewellyn had it in stock. That's no problem for standard tubing but has been the big challenge for the Oisin, as sourcing tubes with the right diameter and thickness for a more complex frame design has been trickier.
Overall, it's a lot easier now than when I first started. Hillbrick has good stock of different tubes and building parts as well as Daryll at Llewellyn. The overseas suppliers of tubes and parts are good, but you do have to wait some time to get things you've ordered. The cost of shipping also makes it a fair investment.
AMB: How does manufacturing frames in Australia compare to other countries with custom frame building scenes, for example the US?
It's far easier be a frame builder in the US as it's easier to get materials simply due to the size of the country. There's also a much bigger market to sell a niche product to. For example, we don't have a Reynolds supplier in Australia, I buy Reynolds tapered seat tubes for my road and gravel frames from Strawberry Cycles in the US. If you're in the US you have easy domestic access to Reynold tubing.
I do think Australia is catching up. Hillbrick are making a more concerted effort to supply a greater variety of tubes. More people are doing frame building as a hobby thanks to programs like the frame building course run by Tempest at Dungog. I think the awareness around the amazing custom brands on offer is also growing. When I worked at a shop it amazed me that customers didn't know about brands like Baum, Prova, or Bastion. I think this is changing and customers are considering whether to spend big money on an off the shelf bike or a one-of-a-kind custom build.
AMB: What are your proudest achievements to date with Devlin?
Probably the three things I can think of are building the Oisin, developing the Gibraltor road bike with the bi-lam construction that I've settled on as the template for my bikes, and being thought about in the same space as the top tier of builders in the country. I don't want to be the best as I don't think that's a thing in the custom space, but to be on the shortlist when people are considering a custom bike is what I always wanted. To be able to be considered by customers in the market for a custom bike is a big thing for me.
What can people look forward to from Devlin?
A big goal for me is figuring out manufacturing methods that increase efficiency. I'm putting lots of work into designing jigs and ensuring frames will be built quicker but to an even higher standard. The first bike I'll be able to produce as a semi-custom model is the Oisin, which I'm hoping to build in batches of 5 to 10 frames in each size this year. It's more enticing for people to spend $5500 for a frame delivered in a couple of weeks that they can pick the colour on as well, compared to the fully custom process which is longer and costs more.
The next frame I'm working on is the Jester, which is a 170mm Enduro race bike. I'm also working on a cross-country frame that will follow the Jester. I am planning a slight departure, but the bike will still very much a Devlin. For both of those bikes I'll be doing batch building like the Oisin for time efficiency. Of course, all models have the option of going full custom with lots of options to make it truly one of a kind and personal. Hopefully this time next year I'll have all three bikes available for customers.
Read our Devlin Oisin review here! 
Australian Mountain Bike