Once exclusively the domain of gravity-oriented riders, pants are increasing in popularity for riders of all disciplines.
Words: Georgina von Marburg, Will Shaw
Photos: Tim Bardsley-Smith, Nick Waygood
Gone are the days of pants being adapted straight from a brand's motocross offerings, and nowadays pants feature the same materials and technologies that make modern shorts so good. They're comfortable to pedal in, breathable, and often feature clever construction to accommodate knee pads. The right pair of trail trousers or pants are all about fit, comfort and protection.
In late 2020 I received a set of Pearl Izumi Launch Trail Pants. I didn't think much of it at the time, but these pants were my favourite piece of riding apparel in 2021. Prior to receiving the Launch Pants I'd done lots of trail and gravity riding in pants, but the pants I was using were quite heavy for trail riding (nearly 600 grams) and didn't pedal very nicely. They were also susceptible to chain suck due to a lack of tapering at the ankle. The Launch Pants opened my eyes as to how much pants for trail riding have improved in recent years. 
My love for the Launch Trail Pants got me thinking about the long-legged offerings from other apparel manufacturers aimed at offering something you can trail ride in year-round. For this group test I rode in 9 different sets of pants priced between $179.99 and $249.99, and Georgina tested 4 sets of pants priced between $199 and $249.99. 
From the pants I received, six of the pants on test are aimed at trail/all-mountain riding, with many of those brands offering gravity and wet weather pants also. Two of the pants on test are aimed towards gravity use, and the Ground Effect Ranchsliders play in their own utilitarian world.
Will: In terms of sizing, I've got a 32" waist but a lengthy inseam at 93cm. The brands that participated sent out the pants they recommend for those measurements. 
Georgina: I have a 32" waist and 81cm inseam. I typically wear a women's size medium across most brands, and was sent mediums from brands which participated in the test. 
Royal Apex Race Pants
$238.95
Located in South Wales, Royal Racing have a huge following in the UK and are the apparel provider of choice for one Steve Peat, who co-founded the company over 20 years ago. Royal focus exclusively on MTB apparel, and they have two sets of pants in their range. The Apex Race Pants are aimed at being versatile enough for both trail riding and gravity usage.
Material, fit, and features
The Apex pants are constructed with a 4-way stretch micro ripstop fabric and a DWR water repellent coating. The pants' exterior have a unique feel to them compared with the other pants on test. They have a tapered lower leg to remove the possibility of chain suck, and the articulated knee area designed to accommodate knee pads. Closure is provided by a ratchet, and the raised rear panel provides a comfortable fit. There's also two zipped 45-degree YKK pockets that are well placed so phones and keys aren't in the way while riding. 
The Apex's I received were a size large, and they fitted me comfortably both with and without knee pads. 
On the bike
These were some of my favourite pants on test. The DWR water repellent coating does the job in keeping spray at bay, and the raised panel and ratchet closure kept the pants where I wanted them. The Apex pants feel like some of the more durable pants on test and have been through a few wash cycles and muddy rides with minimal visible wear. I'd also hypothesise that in a crash the Apex would hold up better than many of the lighter and stretchier pants on test. The material feels more robust, and the pants are also heavier, weighing in at 442 grams for the size large tested. 
Who they suit?
A gravity-oriented rider who wants a set of pants for all seasons and might hit the deck every so often and not want to need a new set of pants afterwards. Whilst they breathed well enough for my needs, this is one area where there were better options if breathability is one of your main criteria. They were also some of the more expensive pants on test but are a high-quality item. 
Hits:
Jack of all trades 

Comfortable 

High quality construction 
Misses:
Less breathable than some
Unit Guide Flex Pro MTB Pants
$189.99
Unit are an Australian brand founded in 2002 on the Gold Coast, with a range that spans Moto, MTB, and lifestyle. The Guide Flex Pro MTB Pants are the only pants offered by Unit, and have more of a gravity than all-mountain focus due to their burlier construction. 
Materials, fit and features
The Guide Flex Pro MTB Pants are made from 90 percent polyester and 10 percent elastane. They're a 4 way stretch material and I found the material to be the stretchiest on test. They've received a DWR water repellent finish like many of the pants on test, and they use a similar ratchet retention system. Two vertical zipped side pockets work well for your phone and keys. The pants also feature 'quick dry technology' and reflective logos, a nice touch for those twilight rides home from the trails. The Guide Flex Pros were some of the heavier duty pants on test at 378 grams in a 32" size. 
On the bike
The material's stretch was put to the test as they were the tightest pants on test. If you wanted a looser fit with these pants, I'd recommend going up one size. In terms of skin feel they feel like a pair of high performance boardshorts. The stretchiness worked well for pedalling, and they worked well with and without pads. While not overly hot or hard to pedal when trail riding,  their additional weight and decreased breathability was noticeable compared to lighter offerings like the Mons Royale Virage or the Fox Flexair pants. The additional material is more confidence inspiring for genuine gravity riding. 
Who they suit?
The Unit pants sit in between the lighter all mountain-oriented pants on test and more gravity-oriented pants like the Royal Apex Pants. There's more material with the Unit pants but their stretch means they pedal nicely. They didn't breathe quite as well so they wouldn't be my choice for trail riding in summer. If you're after the one set of pants to do it all, including gravity riding, these could be it.
Hits:
Stretchy 

Well priced 

Australian brand 
Misses:
Ground Effect Ranchsliders
$219 NZD
Ground Effect are a Kiwi brand with a cult-like following for their products. Being New Zealand based, Ground Effect  have a set of waterproof pants called the Splashdowns and have just released their performance oriented Stove Pipe and Step Through pants. These are more in line with the other pants on test. They're made from the same fabric as Ground Effect's performance baggies, feature a tapered ankle, and have been designed with low profile knee pads in mind. The Ranchsliders are a unique offering in this group test but could be a good option for some riders.
Materials, fit and features
The Ranchsliders are the heaviest pants on test, weighing in at double the weight of the Mons Royale Virage Pants at 481 grams in medium. They're constructed from Ground Effect's Hi-Impact Plus Fabric, which consists of 97 percent nylon and 3 percent lycra. 
There are two open hand pockets at the front of the pants, as well as a horizontal zipped rear pocket. The stretch lumbar panel is comfortable and stays put, and there's also belt loops for extra security. Another nifty feature is the turn-up concealed dome cuffs that allow you to taper the ankles to avoid chain suck. The pants feature a water-resistant treatment, are windproof, and according to Ground Effect 'dry faster than lightening'. 
On the bike
There's no getting around the fact the Ranchsliders are noticeably heavier than the lightweight all-mountain pants on test. They also run hotter. Despite this, Ground Effect haven't told any lies when it comes to the fit of the Ranchsliders, as well as their hard-wearing nature. 
I realise this is Australian Mountain Bike magazine and not Gardening Australia, but something I liked about their Ranchsliders was their usefulness outside of just riding. I found myself wearing them around the yard while attempting various shoddy DIY projects, and they've held up just fine while I've been crawling around pavers and generally treating them poorly. 
Who they suit?
The Ranchsliders would suit a rider who values a hard-wearing product and perhaps is looking for pants to ride in the winter and shoulder seasons as opposed to year-round. If you're riding to work and need bulletproof commuting kit, or just value versatile apparel the Ranchsliders could be for you! 
Hits:
Durable 

Utilitarian 

Community minded brand
Misses:
100 Percent Airmatic Pants
$179.99
100 Percent are a big players in the MTB market and the Airmatic Pants are for trail and all-mountain use. Their R-Core X pants are aimed at gravity use and are popular globally.

Materials, fit and features
The all-mountain focus of the Airmatics is immediately noticeable by their lightweight and flexible construction. Made from 4-way stretch mid weight polyester with a DWR coating they conform nicely to a set of pads. The material breakdown is 96 percent polyester and 4 percent elastane. Weighing in at 332 grams in a 32" size the difference between the Airmatics and the more gravity oriented pants on test is noticeable. The stretch mesh back panel provides a secure and comfortable fit with the 5 point mountaineering style buckle. There are two 45-degree zipped pockets for small items. $179.99 isn't an insignificant sum of money, but these are a top quality item for the price.
On the bike
The Airmatics are a tighter fitting set of pants that are clearly aimed more at pedalling than pure gravity usage. They're comfortable to ride with and without pads but work best with soft pads such as 100 percent's own Teratec knee pads, as opposed to a hard-shell pad. They're breathable and comfortable, although I imagine they wouldn't hold up as well as some heavier trousers in the event of a crash, that's where their R-Core pants fit. 
Who do they suit?
These are for rider who wants a set of pants they can pedal in all year round, either with or without pads, more in the all-mountain category than pure gravity. They're priced sharply at $179.99, which will appeal to many. 
Hits:
Comfortable 

Reasonably lightweight 

Well priced 
Misses:
They don't feel as durable as some   
Troy Lee Designs Skyline Pant
$229.95
lustyindustries.com
Troy Lee Designs are another big-name apparel brand with a long history of making some of the best gear on the market. TLD have several pants options, which include the trail-oriented Skyline Pants I rode, their gravity focussed Sprint Pants, and wet weather Resist Pants. 
Materials, fit and features
Being all-mountain focussed, the Skyline Pants are made from a lightweight 4-way stretch polyester (95 percent polyester and 5 percent lycra). They're based off TLD's popular Skyline shorts and feature the same two 45-degree zipped pockets and dual waist adjusters. Laser cut venting behind the knee assists with ventilation, and closure is achieved with a simple button. One feature that stands out on the Skyline pants is their chain abrasion protection on the lower right inside ankle, which is designed to ward off drivetrain wear. The legs are sufficiently tapered that I wasn't experiencing any rub, but it's a nice feature to see.
On the bike
The TLD Skyline Pants do their job without fuss. The pants feel great with and without pads, however bulkier pads do stick out due to the tapered design. Weighing in at 311 grams in a 32" size they were some of the lighter pants on test, and combined with the breathability were lovely to pedal in. One feature I appreciated with the Skyline's was the short cord attached to the pockets' zips that makes using them easier, particularly with gloves on. 
Who they suit?
The TLD Skyline Pants suit an all-mountain rider who wants to pedal in all seasons. If you're riding pure gravity there are better options from both TLD and other brands, but for everything else I wouldn't hesitate to recommend the Skylines. As a bonus the Skyline pants are Bluesign certified, which indicates they've met a high standard in terms of both worker conditions and environmental outcomes from the product's manufacturing. 
Hits:
True all-rounders 

Breathable 

Bluesign certification
Misses:
Mons Royale Virage Pants
$240
Based in beautiful Wanaka, Mons Royale have plenty of amazing New Zealand riding on their doorstep to test their products. The Mirage Pants are the only mountain bike specific pants in their line-up, and I tested a size medium in Dark Sage, one of three colours on offer. 
Materials, fit and features
The point of difference with Mons is their use of Merino Wool, and in the case of the Mirage Pants they contain 14 percent Merino Wool, 81 percent recycled polyester, and 5 percent elastane. The idea behind the use of Merino Wool is that it removes moisture away from the body faster than other fabrics. This is beneficial in both hot and cold conditions, which makes it a handy material!
Alongside the Merino Wool, the polyester used in the Mirage Pants is recycled polyester from PET bottles. Mons claim the polyester sheds weight and adds durability, whilst the Merino ensures the pants are temperature regulated as well as anti-odour. Mons told us 'Our goal is to shift riders from synthetics to natural fibres to better the planet through action and adventure sports.'
Other features include an elasticated waistband, two hand pockets at the front, a vertical zipped pocket on the right-hand side, cuffed ankles, and an articulated knee area to accommodate pads. 
On the bike
I thoroughly enjoyed riding in the Mirage Pants. They were the lightest pants on test at 280 grams in a size medium, and this is noticeable when pedalling. The material blend has a great skin feel and was up there with the most breathable pants on test. Despite the Virage's weight, I didn't have any concerns about durability as the material feels quite sturdy. The zipped pocket on the right-hand side of the pants is perfect for your phone and doesn't get in the way when pedalling.  The cuffed ankles are also great, as they eliminate the chance of chain suck. 
Who they suit?
These would suit a rider who's after a set of lightweight and breathable pants for all seasons. They're at the pricier end of the spectrum at $240, but this price is understandable considering Mons' unique mix of materials and commitment to more eco-friendly manufacturing.  
Hits:
Lightweight 

Comfortable and breathable 

Recycled and sustainable materials 
Misses:
Pearl Izumi Launch Trail Pants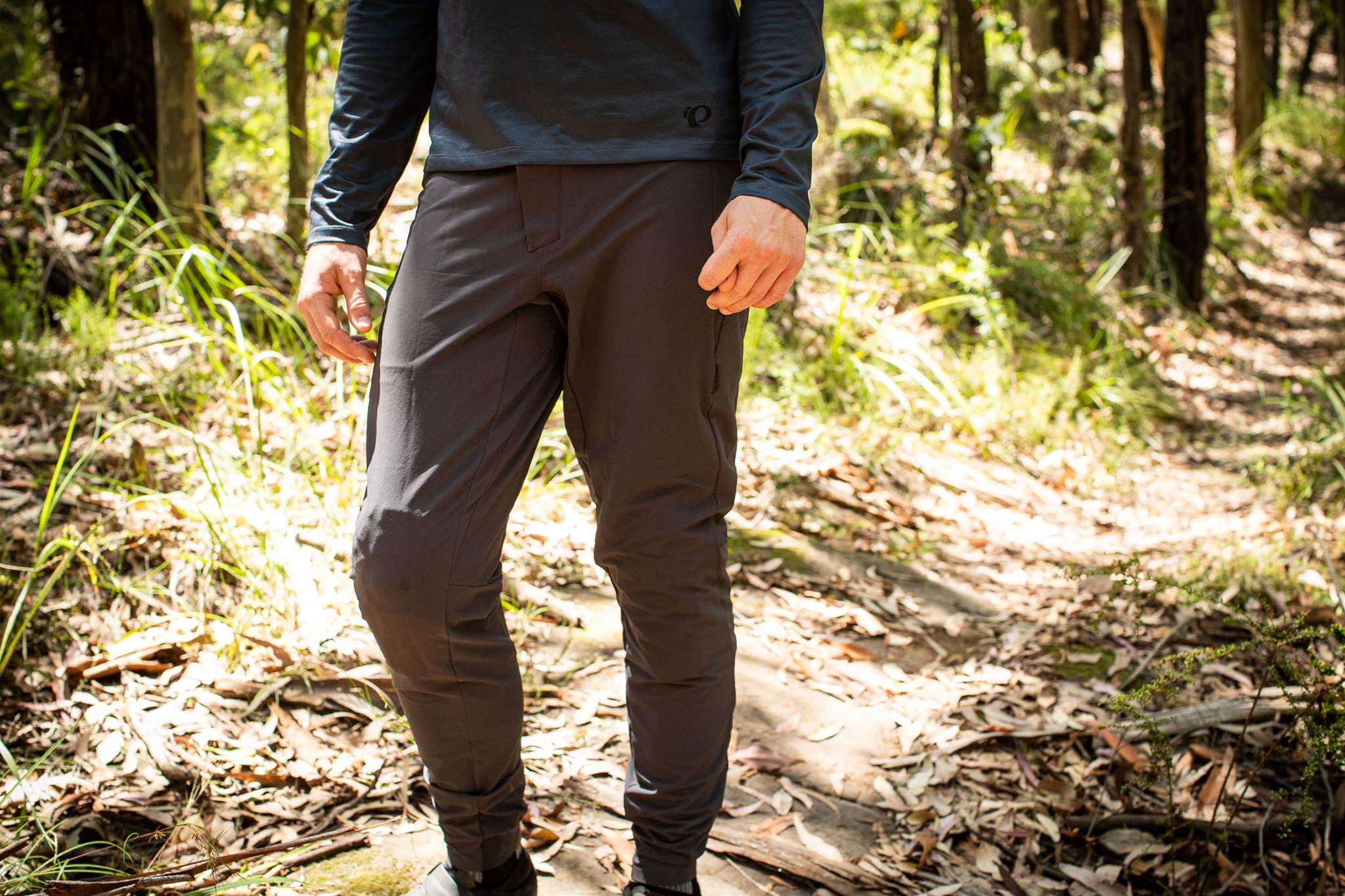 $249.95
The Pearl Izumi Launch Trail Pants were the genesis for this article. My original set are battered and bruised but are still going strong after over a year of solid use. The Launch Pants are the most expensive pants on test at $249.95, but this premium pricing hasn't stopped me recommending them to mates over the course of last year. 
Materials, fit and features
The Launch Pants are constructed from 4-way stretch Cordura with polyester and elastane (68 percent Cordura nylon, 21 percent polyester, 11 percent elastane). They feature two vertical zipped pockets that are well positioned to not impede pedalling and two simple waist adjusters to dial your fit. They have a tapered and cuffed ankle, which eliminates the possibility of chain suck. 
On the bike
The Launch Pants are light enough that I can pedal in them for hours on end, there's enough space at the knee to wear pads without them tugging at the pants, and they're breathable enough for summer rides on the East Coast. My only tip with the Launch Pants would be to make sure the dual waist adjusters are tightened appropriately, particularly if you're wearing a hip pack. There's been times where the pants have slipped, but if I make sure I tighten the waist adjusters at the start of the ride that isn't an issue. 
Who do they suit?
The Launch Pants would suit a huge swathe of Australian riders. Whilst they wouldn't be my choice if I was lining up for a downhill race, I've worn them for just about everything else. 
Hits:
Comfortable 

Tapered and cuffed ankle 

Material combination is fantastic 
Misses:
Specialized Trail Pant
$200
Specialized have had a fantastic apparel range for years. They were one of the first bike brands to invest heavily in their apparel range and are arguably still leading the pack amongst bike brands. Specialized have two sets of pants in their range, their gravity-oriented Demo Pro Pants, and the Trail Pants on test. 
Materials, fit and features
The Trail Pants use Specialized's VapoRize fabrics, which focus on breathability. This is also aided with venting on the front of the pants. Three zipped pockets give you all the room you need to store your phone, keys, and perhaps even a couple of bars. Retention is handled by a ratchet. The material is also UV 50+, so there'll be no burnt legs in the Trail Pants! The Trail Pants' tapered lower leg and ankle cuffs were the tightest on test.
On the bike
The Specialized Trail Pants were the second tightest fitting pants on test behind the Unit Guide Flex Pro MTB pants, and the ankle opening is the smallest on test, so much so that putting the pants on without socks was quite challenging. Whilst there's enough stretch in the pants' material to run them with pads, I was most comfortable running them without. If you want to run them with pads and have a bit more room, I'd recommend going for the size up. 
Three zipped pockets are nice, but I would prefer two vertical pockets and a horizontal pocket as opposed to the two horizontal pockets and single vertical pocket, as bulky items in the horizontal pockets can be felt through the pedal stroke. In almost every area the Trail Pants offered reliable performance that didn't blow me away. They pedalled nicely, there's enough pockets, and they stayed put, but they weren't the best in any of these areas. 
Who do they suit?
The Specialized Trail Pants are another set of pants in this test that fall into the all-mountain category that are a great option for trail riders looking for an all-season option. If pure gravity usage is what you're after Specialized also offer the Demo Pro Pants. If you're after ultimate breathability for hot summer rides there are better options also. 
Hits:
Flexible 

Cuffed ankle 

Three zipped pockets 
Misses:
Ankle opening is too tight
Fox Flexair Pant
$199.99
Fox is potentially the biggest of them all when it comes to brand name apparel. Their pants line up is extensive, and the Flexairs fit are Fox's all day, all-mountain offering. At $199.99 they're on the lower side of the price spectrum for the pants on test, but my first impressions of the pants were that they had a unique and high-quality feel to them. 
Materials, fit and features
The Flexairs have great stretchiness combined with a cool material feel that's very comfortable on your skin. They're constructed from 88 percent polyamide nylon and 12 percent elastane, which is a unique combination on test. As you'd expect it's a 4 way stretch material with Fox's moisture wicking 'TruDri' technology. Ventilation is provided by perforations front and rear, and a DWR coating repels moisture and dirt. There are 2 vertical zipped pockets, and a ratchet closure. The ankles are tapered nicely. 
On the bike
The Flexairs were one of my favourite pants on test. The material has a nice feel to it both on your skin and throughout the pedal stroke, and the ventilation was some of the best on offer. They're also lightweight at 298 grams in the 32" size tested. The breathability is fantastic, which I'd put down to the material and perforations. The two zipped pockets didn't interfere with pedalling, and the pants felt good with and without pads. 
Who do they suit?
The Flexairs suit a wide array of riders in the all-mountain/enduro category. They were my favourite pants for skin feel and pedalling , and I appreciated the subtle graphics . Fox have been coming out with some high-quality apparel in recent years, and the Flexair Pants are another example of this. 
Hits:
Comfortable 

Breathable 

Unique material 

Reasonably priced 
Misses:
Women's Pearl iZUMi Launch Trail Pants
$249.99
Pearl Izumi's downtempo designs are perfect for those who want to blend in at the brewery post-ride. So how do their trail trousers compare to some of the bigger names in mountain biking? 
Material, Fit, and Features
The Launch Trail Pants are made from the famously durable Cordura fabric and feature Pearl Izumi's patented PI DRY technology; this is water-shedding capability at its finest, maintaining incredible breathability and stretch by coating the individual threads in repellent, as opposed to a stiff and clammy coat over the entire garment. 
The Trail Access side pockets mean your phone or snacks sit to the side of your leg, as opposed to on top where they may interfere with pedal strokes and pumping. The Launch Trail pants are higher waisted than other models tested, featuring two Velcro straps for quick adjustments. There's plenty of room for knee guards, and the ankles are tapered with an elastic band. 
On the Bike
The PI DRY feature means these pants are marketed as cool or damp weather gear. To my surprise, the pants were exceptionally breathable, living up to the marketing claims through summer. From La Nina humidity to dry and dusty mornings, I felt the pants were barely inferior to the other non-water shedding models tested in terms of breathability. 
The waistband on the Launch pants was the best of all models tested. The Velcro was at no risk loosening, and the high rise meant the waist didn't tug downwards when in the saddle. 
However, the pants became looser and baggier towards the end of each ride and the ankle cuffs on the Launch pants were frustratingly loose. This may suit some riders but I prefer a tight ankle which hugs the calf. It keeps the pants confidently away from cranks and prevents debris creeping in. As an all-weather pant, I felt the Launch pants should improve here.
Who do they suit?
The PI DRY technology means these pants are essential luggage on any bike holiday; they will keep your bibs and phone dry during a downpour, and remain breathable when the sun comes out. The looser fit means they're not a racer's pick, but ideal for those riders desiring a casual look when hitting the pub after a long adventure. 
Hits
Water repellent but breathable finish

Comfortable waistband

Side pockets
Misses
Not tapered enough at ankles

Pricey 
Women's Fox Ranger Pants
$99.99
Fox has been making apparel for over 40 years, and pride themselves on a history of illustrious athletes, as well as its meticulous research into creating purpose-built mountain bike gear. The Ranger is a light and versatile set of pants.
Materials, Fit, and Features
The Ranger is the archetypal trail pant: a casual fit mixed with a practical level of stretch and minimal weight. They do run a little large, I sized down to a small and the fit was excellent. It was tapered to perfection, hugging the calves and thighs while leaving adequate room for knee guards. A large elastic band wraps around the back of the ankle, blocking any debris or crank strike.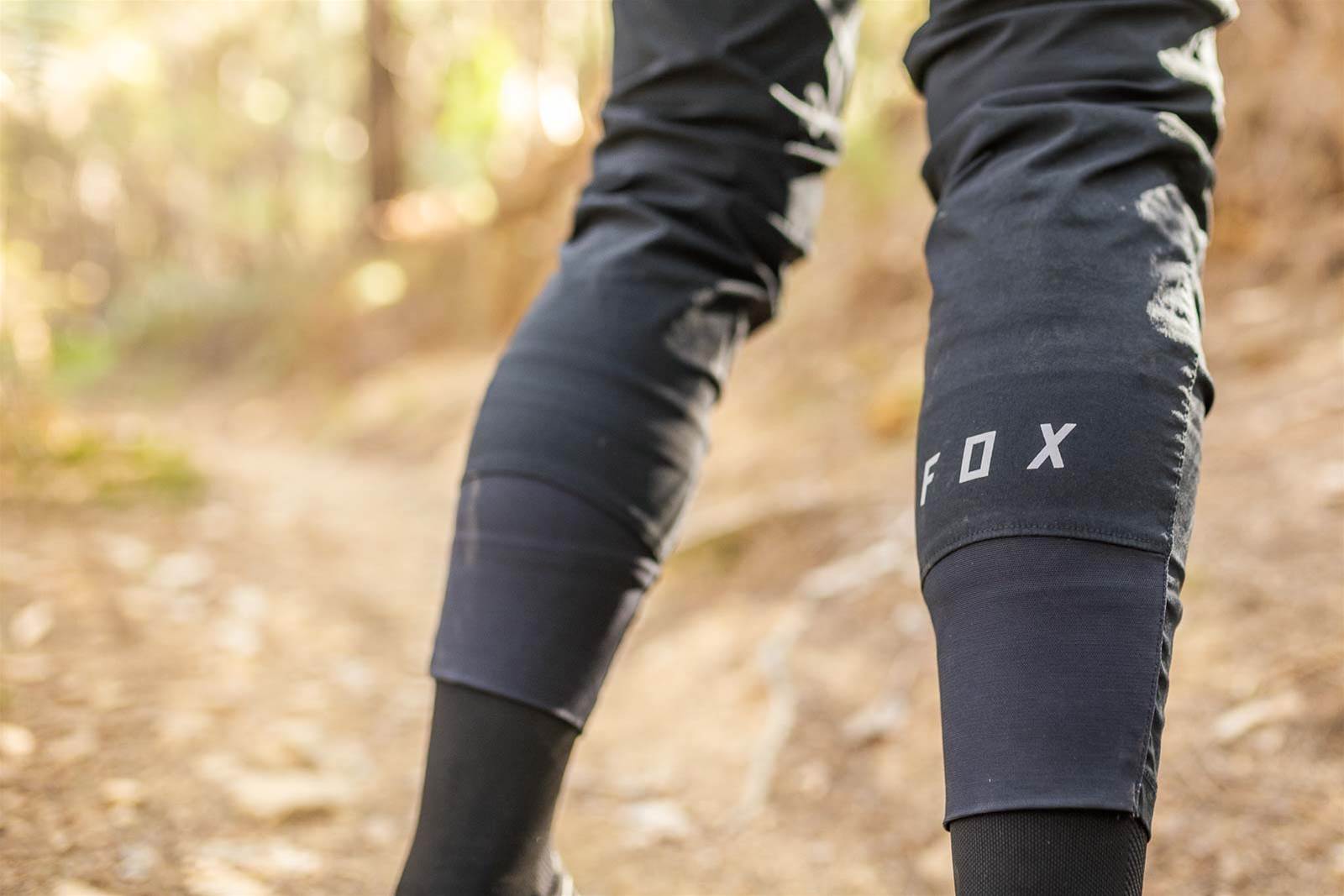 The Ranger's two zippered pockets kept phones and snacks far enough from the hip flexors to avoid interfering with pedal strokes. They comfortably carryied an iPhone 11 and several Baked Oaty Slices. The waistband uses a pully system stayed tight when pulled. But pulling it too much from one side sometimes loosened the other side. In any case, the fit was secure enough not to warrant it. 
On the Bike
These pants maintained their shape and fit over the course of long, pedally rides. They were tight in all the right places, but stretchy enough to never feel inhibiting on climbs or descents. However, the rise was slightly too low, causing the waist to pull down when seated. This is a non-issue on downhill orientated pants, but trails pants warrant a higher waist to stay in place while pedalling. Breathability was a standout, particularly considering these are sub-$100 pants. 
Who do they suit?
The Rangers are excellent value for their comfort, so will suit beginners all the way through to those riders tackling epic days in the saddle, year-round. I found myself reaching for the Ranger pants on a daily basis. With or without knee pads, the fit was my favourite of all pants tested.
Hits
Affordable

Perfectly tapered 

Surprisingly breathable 
Misses 
Fiddly adjustable waist system
Women's Fox Defend Pants
$199.99
With heavier duty fabrics and features, the Defend pants are targeted at shuttle days and park rats, prioritising protection and durability over pedal-friendly stretchiness and breathability. 
Materials, Fit, and Features
The Defend uses a heavy abrasion-resistant Cordura fabric in the main panels. The inseam panels are very stretchy to allow more movement. The knee panels are thicker fabric again, with reinforced stitching. The Defend pants are tapered perfectly around the ankles and calves. They fit true to size although and a water repellent finish is a nod towards cooler season use.
The waistband uses a ratchet closure similar to those on moto pants. It is quick and simple to open and close and won't budge under impact or sudden movements; beneficial to park or downhill riders, but also aggressive trail riders. The low-rise waist does mean the pants pull down slightly when pedalling in the saddle.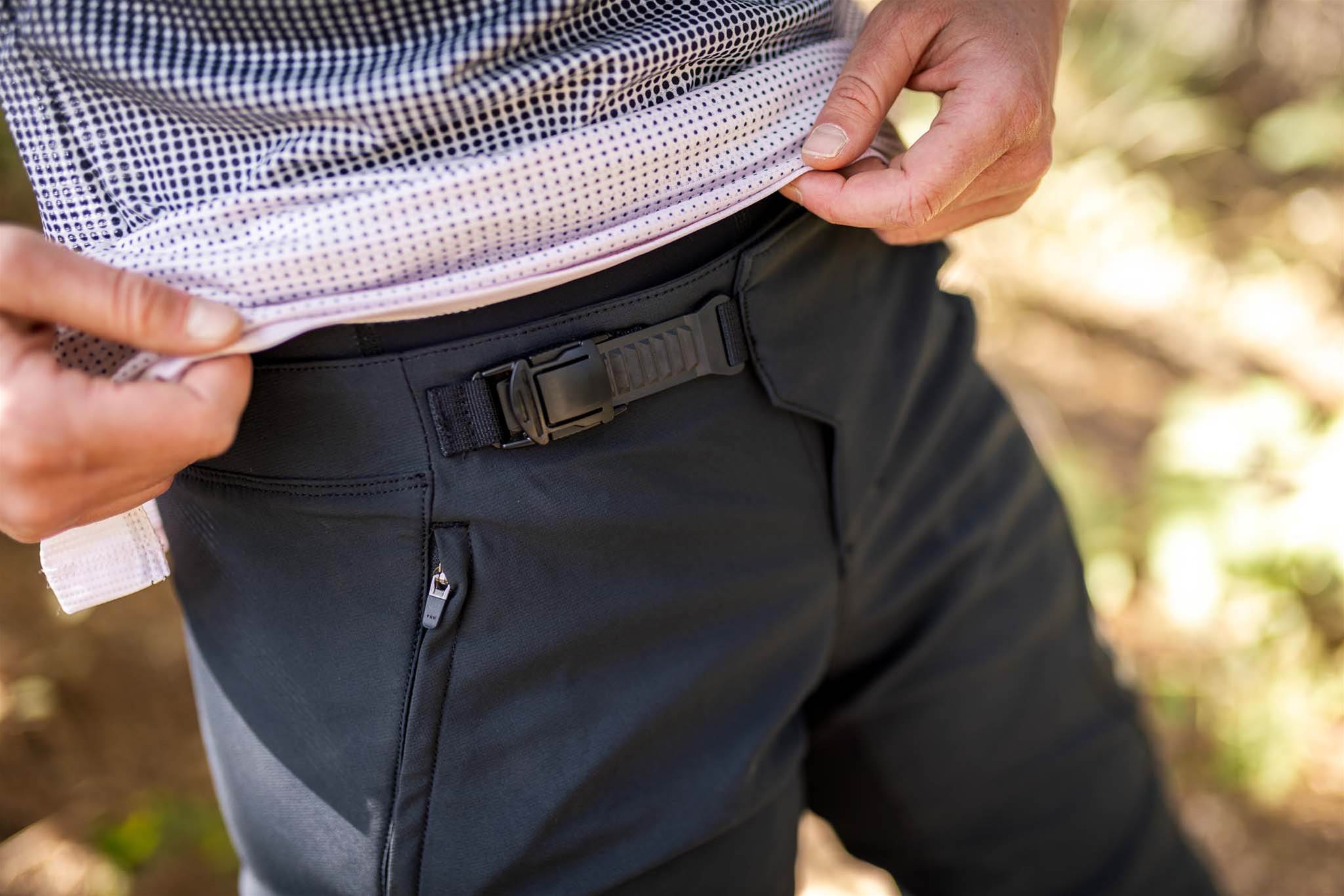 On the Bike
The Defend pants were confidence inspiring. The heavier fabric and reinforced knee panels are built to withstand everyday knocks and scrapes. The pedalling comfort was nowhere near that of the Ranger pants; this wasn't so much due to the weight as the low-rise waist. I found myself stopping to pull the pants up after they gradually shifted down during climbs. The pockets don't run backwards, and they also don't run as deep or stretchy as the Ranger pants. This meant my phone was not in an ideal pedalling position, and I'd recommend wearing bib liners with pockets for storing larger items when wearing the Defend pants. 
The water repellent finish and heavy-duty textiles meant breathability was greatly sacrificed. My knee guards and socks were a wet, sweaty mess after several hours. However, I wouldn't hesitate wear these in the cooler months. The shower resistant fabric will keep rain at bay, while the tapered cuffs will prevent mud and debris creeping into socks. 
Who do they suit? 
The Defend are the ideal pants for enduro racers or those exploring blind trails where protection is the priority. They'd also be a welcome daily companion on winter rides, when the terrain is moist and unpredictable. The Defend opts for durability and longevity over comfort and breathability.
Hits
Abrasion resistant 

Durable 

Reliable waist closure system 
Misses
Heavy (for trail use)

Low-rise waist 
Women's Mons Royale Virage Pants
RRP: $240
The New Zealand brand prides itself on sustainability, using ethically sourced ZQ Merino, environmentally certified manufacturers, and recycled packaging. Their commitment even extends to transportation, for which Mons Royale relies on shipping rather than air freight; Their Virage pants are available in various colours in the women's fit. 
Materials, Fit, and Features
The most noticeable quality of the Virage pants is their light weight and airy finish. The fit is extremely comfortable and there's plenty of room for knee guards and adequately tight ankle cuffs. In hindsight, I would have sized down. It's worth noting their sizing is generous. There are two unzippered pockets at the front are deep enough to store snacks and earphones, and a zippered, backwards running side pocket is large enough for even the most boomer-friendly smart phones. The elastic waistband and high waist mean the pants stayed in placed neatly and failed to creep up or down over the course of long rides. 
On the Bike
The merino blend in the Virage pants was a revelation. I wore these pants on a 3.5 hour ride in the middle of heatwave and didn't regret it once. Merino truly is superior in regulating temperature and dispelling odours. As the brisk mornings transitioned into searing midday heat, I remained comfortable and content in the Virage pants. If you're seeking breathability and light weight, these are the best offering. 
The stretch afforded by the polyesterand elastane make these the ideal pant for long rides.  During a minor stack, some threads were displaced and the light weight material does feel a somewhat fragile. However it was a compromise I was willing to make when seeking comfort over consecutive hours. 
Who do they suit? 
The Virage pants are for the enlightened trail rider that wants to stand apart from the moto-inspired apparel brands. When it comes to sustainability and ethical production, Mons Royale are setting an impressively high bench mark. On a  practical level, they're for the adventurer. Being so light weight makes them a very travel friendly option, and appropriate for epic days in the saddle. They may be too thin for the avid descender but they're perfect for the everyday rider who wants a pant that fits and breathes effortlessly. 
Hits
Sustainably sourced materials 

Incredibly light weight

Breathable 
Misses
Too light weight for serious descenders 

Pricey 
Australian Mountain Bike