The South Island's geography is dominated by the Southern Alps – and that's not a bad thing for a mountain biker.
The South Island's geography is dominated by the Southern Alps – and that's not a bad thing for a mountain biker. Big mountains add drama to our sport. But the mountains in the north differ to the glaciated peaks to the south, and while you might find mountaineers and alpinists playing in the hills further south, you're more likely to find mountain bikers twisting through the forests and along the ridgelines of the peaks and valleys on the northern tip of the South Island.
SAILING AWAY TO THE SOUTH ISLAND
We ventured from Wellington to Picton, the gateway to the South Island, by way of the Interislander ferry. By foot, bike, or car – it's an easy way to cross from north to south (and back again). The trip took a few hours, and the big ship slowly passed through the Tory Channel once across Cook Strait, revealing just a portion of the labyrinthine Marlborough Sound.
Arriving in Picton from Wellington is like going on a holiday from your holiday. As much as Wellington is cosy, and a very easy to get along with capital city – it's still a city, whereas Picton is home to barely 5000 people. It's the size of town that is perfect for someone who needs to unwind. If you need something, it's probably on the main street. If not, poke your head around the corner. That's where we found a good bakery. And on the corner at the other end of the road we found Cortado, which turned out to be perfect for a coffee, a beer, a feed – or some Internet time.
With a limited schedule, we chose to seek the help of Wilderness Guides, who are based right on the Waterfront (not far from Cortado, actually). While they offer kayaking, hiking and mountain biking trips – we were most interested in the mountain biking. And instead of searching for the best trails, sometimes it's best to pay a professional to show you them.
BOAT IN, RIDE OUT
The Queen Charlotte Track is one of New Zealand's 23 Great Rides, and it winds it's way above the Marlborough Sound from Ship Cove all the way back to Anakiwa. At about 70km – and quite hilly - it's suggested to do the ride in 2-3 days, but the route is dotted with lodges and campsites, and you can get dropped off at different locations with the mail ferry or a water taxi. So it's possible to design your own adventure along the route.
We opted for a two-day option, catching the boat up the sound with our guide Ollie, from Wilderness Guides. The mail ferry pulls in at lots of the small communities, dropping off mail bags and collecting them too. There are lots of remote properties on the sound, and it seemed like we only had dolphins for company, as they played in the wake of the small boat.
In the late afternoon we arrived at the very comfortable Punga Cove, and settled into our lodge for a nice dinner overlooking the sound. Our full write up on the Queen Charlotte Track is worth checking out.
THE CELLAR DOORS OF MARLBOROUGH
Marlborough is New Zealand's most famous wine region, turning out 75% of the countries wine. It's world famous for Sauvignon Blanc, claiming to have the most intense and pure flavours.
While it's not technical riding, the Marlborough Wine Trail links 36 cellar doors via pedal power. Many of the wineries are open for lunch and dinner, and it would be remiss to not indulge in the region's great cuisine, including exquisite seafood.
If you'd rather not be stuck looking at a map, jump on a guided wine tour by Explore Marlborough. You'll learn about the wines, taste them, and you won't get lost. Tours start from $NZ80 – exploremarlborough.co.nz
If you want to get into grapes first hand, visit in early April for the very popular road event, the Forrest Grape Ride. After the ride is done (40-200km depending on what you're up for), riders take part in stomping 3 tonnes of pinot noir grapes in a huge vat. But the stomping is for 100 women only - graperide.co.nz
BACK ON THE BIKE
Mountain biking in Marlborough is about more than just the Queen Charlotte Track. Trails abound at Wither Hills Mountain Bike Park, which is just outside Blenheim. The park boasts views across the Cook Straight to Wellington, and has trails from Easy to Advanced (NZ grades 2-4) so it should keep a range of riders entertained.
DATES FOR YOUR DIARY
If you're thinking of heading to Marlborough and surrounds, why not line it up with one of their major events? The Food and Wine Festival takes place in February, as a guaranteed great way to refuel after a day on the bike. There's also a Music Festival in Havelock in March
In September, entries for the Santa Cruz NZ Enduro opened – and closed soon after. The 3-day race in March only takes about 100 riders, so you have to get in early. The second iteration will run in 2016, and by all accounts it's one to get entered for in 2017.
GOLD STARS FOR NELSON
Earlier in 2015, IMBA announced two 'gold rated' ride centres in New Zealand. Not surprisingly, Rotorua gained the gold status from the world body. But with somewhat less fanfare, Nelson did too.
The status means that the location offers something for every kind of mountain biker rider – from beginner, to backcountry adventurer. Nelson is very different to Rotorua though, and as the Nelson/Tasman region is bordered by three National Parks (Abel Tasman, Nelson Lakes and Kahurangi) the riding is spread out. Those National Parks also influence the lifestyle of the region – outdoor sports are very popular amongst locals.
We drove to Nelson from Picton, and although it's a hilly mountain road – it is only about 90 minutes driving. You'd be crazy to visit Marlborough and not the Nelson/Tasman region – and vice-versa.
With 300 working artists in the area, the Nelson markets (held every Saturday) are one of the best markets you can visit. They are full of organic produce, artisan products and some very tempting food. It is well worth stopping in if you're in town on a Saturday. If you need somewhere for a meal, we really enjoyed Lambretta's for coffees and lunch, but couldn't go past East St Vegetarian café for dinner – their service and food was exceptional.
Nelson is a bigger town than Picton, with about 50 000 people calling it home. The nature of the trails, being spread out over the whole region, means that the trails take you places, right into the wilderness. Even though the region has dedicated mountain bike parks – the real adventure is on the point-to-point trails.
With so many trails to explore on limited time, our best bet was to call in the services of a guide again. We met up with Steve Newport from Helibike Nelson, and Dave Judd from Biking Nelson. Far from only offering helibike options, Steve runs shuttles and guided rides to a range of trails in the immediate and further surrounds around Nelson. Dave runs mountain bike tours in the area, and like Steve, also has a fleet of hire bikes if you're travelling without your own wheels.
We mapped out a plan for the coming days, over some very good beers at the Sprig and Fern Tavern, and it started with a trip to Coppermine Saddle, for one of New Zealand's 23 Great Rides. While the loop itself is a great ride, we were focusing on the descent. So Steve had booked us onto a flight with Reid Helicopters. We'd be lifted right up to the saddle, and dropped off for the descent. What's not to like?
CLIMB EVERY MOUNTAIN – OR FLY
Helicopters are pretty popular in New Zealand, as it allows rapid access into remote terrain for skiers, hikers, mountaineers, fly-fishers – and mountain bikers. Reid Helicopters have invested in the best racks, holding your bikes securely, and scratch free, next to the cabin. It's way more secure and offers safer passage than hanging them in a basket below. They really do run an excellent service, and allow access to plenty of other trails and isolated locations in the greater region.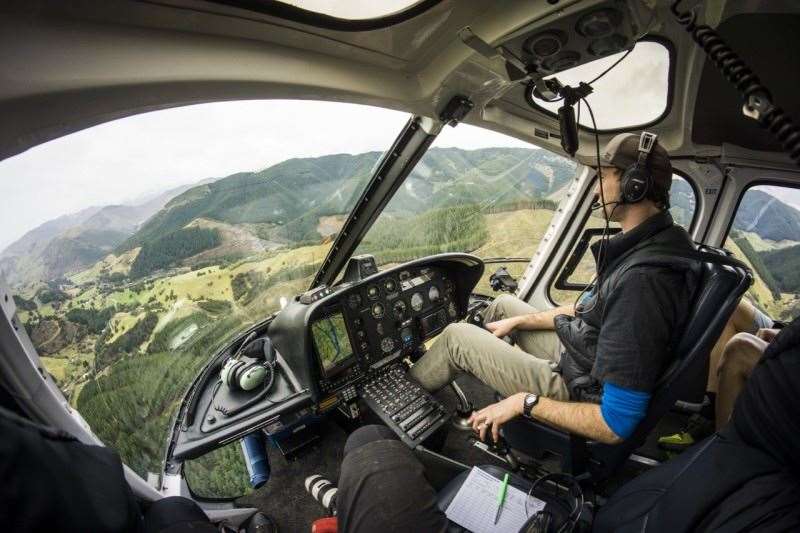 We were flown up to Coppermine Saddle, taking out the climb from town. The visibility was patchy, but enough to get us safely onto the saddle, before we were left in silence and mist.
The Coppermine descent has been re-worked to be part of the 23 Great Rides, and drops about 800m down the length of trail. It's an intermediate trail, so it's worth making sure you're comfortable on extended descents, and on rougher lines before you head up.
Helicoptersnelson.co.nz
THE OLD ROAD TO NELSON
Our next day in the Nelson/Tasman region, we met up with Steve and Dave to load our bikes onto one of Steve's trailers. We set off to the Rameka track, which is about a 1.5hr singletrack ride, mostly descending. The trail sits above the golden sand beaches of Abel Tasman National Park, and the views you get on the way down are astounding.
The track was built in the 1850s and was a stock route from Nelson to Golden Bay. Like in so many places around the world, actions and events in the past have paved the way for great mountain bike infrastructure.
We start at Harwood Hole carpark in Canaan Downs. When you drive in you won't be surprised to know there's an annual dance party up there, in the fields within the Beech forest. We had rain overnight, so we were set for the roots and rocks on the singletrack to be especially slippery.
After a short climb up from the carpark and eerie Beech forest next to it, we pick our way through the dark forested singletrack. If you like some point and shoot riding mixed into your flowing singletrack – you will love the Rameka trail. Every creek crossing involves a small chute into it, punctuated by a sharp, rock infested climb out. The roots of the trees are more slippery than a jelly covered eel in a toilet bowl, and then when the trail starts to open up… it gets steeper and faster.
There are actually quite a few sections to the trail, and after the steep descent through the forest, we climbed along a cutting, and contoured towards the Pack Track, which also turns down hill with some modern built sections allowing plenty of pump and flow through the scrub and into the Historic Rameka Trail into the trees.
This is about the border of Project Rameka - a carbon sink started by Jonathan Kennett and Bronwen Wall. The forest sits above Golden Bay, and is open to non-motorised recreation, focusing on biodiversity and forest regeneration.
Into a pine plantation the trial swoops and turns, and it's another reminder why it has a grade 3-4 rating. If you were new to riding, there's a very good chance you could come unstuck. Along the creek line the trails opens up in places with more line options, including some jumps and drops – it's a great run back to the bottom carpark, that encourages some dubious overtaking manoeuvres thanks to the line options.
THE KAITERITERI COAST
With what ended up being a solid descent done – we meet our driver at the bottom before loading back into the van to share stories and re-live the descent. With the obvious goal being to cherry pick the best Nelson has to offer, Steve and Dave were faced with some tough decisions – but our next stop, after lunch, is at the top of Kaiteriteri Mountain Bike Park.
Like most mountain bike parks in New Zealand, Kaiteriteri has been built with trails from beginner to intermediate riders (Grades 2-4), with a few lines that will keep advanced riders entertained. Most of the easier tracks are lower down the hill, with harder trails up top – favouring downhill only trails.
We roll towards Upper Corkscrew, before barrelling into the carved singletrack nirvana of Corkscrew. Turn upon turn unravels below us, through native forest and scrub. There's a lot of clay, so the berms are super smooth, and the late afternoon light peeks through the tree ferns as the canopy allows it.
A short climb takes up a little higher before we launch into Ziggy – doing exactly what you would imagine, zig-zagging its way down the face of the mountain, until we end up right at the caravan park behind the beach. This place is booked out through summer, and it's not hard to see why. With a big mountain bike park behind it, and a lagoon and beach in front of it, Kaiteriteri is a ready made holiday oasis.
TIP OF THE ICEBERG
Just like in Marlborough, we know we have just experienced the tip of the iceberg. Even the finish in Kaiteriteri leaves us at the end of Tasman's Great Taste Trail. It's a grade 2 offroad trail that comes all the way from Nelson, and in time will have two inland options as well. The route is designed to take in cottage industry shops, micro-breweries, cafes and restaurants – along with award winning wineries.
More advanced riders will also want to look up the Killdevil track, rated Grade 4-5 – but make sure you're fit. It's an out and back ride from Upper Takaka. Some riders choose to overnight at Waingaro Hut.
If you plan to stay longer, also look into classics like the 82km Heaphy Track, or the Old Ghost Road, which should be completed soon and is a little further afield.
There's also more riding at Fringed Hill below Coppermine, and Codgers MTB Park just on the edge of Nelson. We would really suggest getting some riding advice, or guidance, from a guide to make the most of your trip.
More riding details can be found at heartofbiking.org.nz
GETTING THERE
We arrived via Wellington, on the Interislander Ferry. But you can also fly in to Nelson Airport, which links directly to other New Zealand centres like Auckland for easy flights from Australia.
IN THE AREA
With three National Parks, numerous wineries, beaches and inlets – there's lots to do. Your best guide would be online via the region's own websites to find activities and sights that match your interests:
MarlboroughNZ.com or NelsonNZ.com
WHEN TO GO
With ready access to tranquil waters, cool forests and cellar doors, the towns are over run in the summer holidays, but late January to April, and September to early December are excellent times to visit outside of the peak times. Some locals say their favourite months are February and March – but we visited in August and loved it.
WHERE TO STAY
Nelson
It's hard to go past a self-catered apartment with a washing machine for a group of mountain bikers. And that's exactly the type of place we stayed in Nelson, at DeLorenzo's Studio Apartments. It's an easy walk into the main strip of town and a range of eateries, and there's a pool for the warmer months too.
Picton
We found Jasmin Court Motel was very comfortable, with self-catered rooms letting us get an early breakfast before big days of riding.
Australian Mountain Bike