Take a trip along the famed Bay of Fires Trail on Tasmania's East Coast!
Words: Colin Levitch                                                       Photos: Nick Waygood and Colin Levitch
 
We had been in Derby for days, but all anyone was talking about was the Bay of Fires Trail, a new point-to-point wilderness trail from the top of Blue Tier that deposits you on the squeaky white sand and lichen-covered granite of Swimcart Beach.
"The Bay of Fires Trail is something Australia, and the world has never seen," said Glen Jacobs, the Founder of World Trail as we chatted outside the Derby General Store one afternoon.
 
World Trail had just completed this major build, and the official opening of the Bay of Fires Trail was in a few days. Hearing all the hype Nick Waygood and I snagged the last couple of spots on shuttles heading up the mountain to be among the first to ride the trail to find out what all the hubbub was about.
Point-to-point trails are a relatively new obsession for me. So much of the riding we do is in loops; whether it be squeezing in an hour after work starting and finishing from your front door, your weekend singletrack epic that loops back to the trailhead or maybe an overnighter with your buddies. But the idea of starting in one place, and finding your way through the sidecountry to your destination a few hours later has a certain mystique to it — even if you're being guided by a manicured ribbon of dirt, it appeals to anyone's sense of adventure.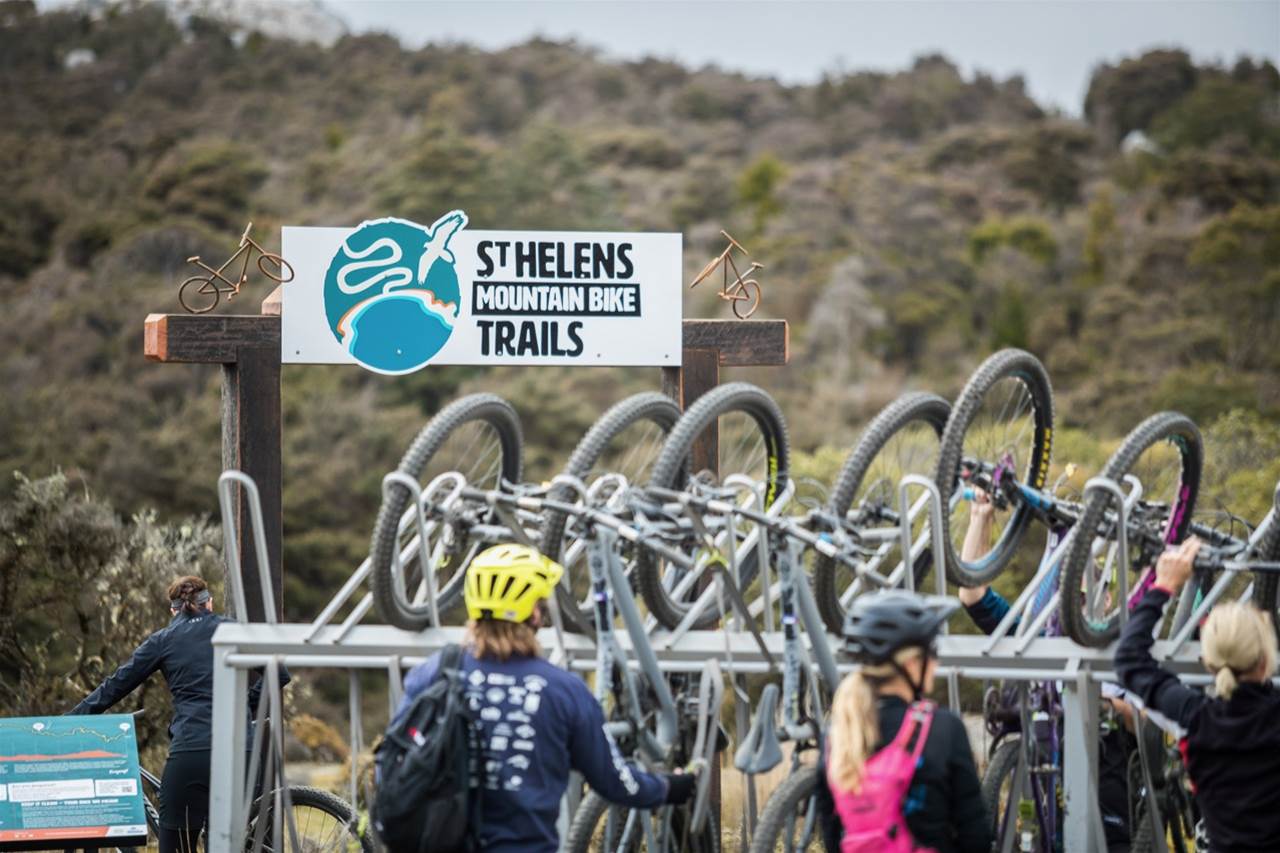 With my Rocky Mountain upbringing, I've ridden small sections of the Colorado Trail and pedalled over mountain passes up fire roads on bikes loaded with camping gear. But, this love of isolated purpose-built singletrack didn't really click until I rolled past the 'Enjoy' sign last year at Mt Buller near the end of the Australian Alpine Epic Trail, embarking on the best (up to that point) 12km descent I'd rolled down on knobby tyres.
The Bay of Fires Trail in Tasmania's north-east therefore had all the magic ingredients. As a point-to-point wilderness trail it starts high in the Blue Tier forest reserve and descends 42km onto the bright white sand of Swimcart beach. When I say wilderness trail, I mean wilderness — this is a backcountry experience. There is nowhere to fill up your water bottle, or buy a sandwich along the way; if the weather turns while you're out there, you'd better be prepared because between the trail crossings at Terry Hills Road and Andersons Bay Road, help is a long way off.
Australian Mountain Bike