We have 9 vertical bike racks on test - here's a look at what's being put throught its paces.
Vertical bike racks have grown in popularity thanks to how easily they can carry lots of bikes. The past two years have seen a boom in people riding off road. Whether it's families, colleagues, groups of mates or school groups, the need to easily transport more bikes has never been greater. With vertical bike racks that can carry up to 7 bikes available, a vertical bike rack is one of the most efficient ways to get a bunch of bikes to the trail head, it riding there isn't feasible.
NOW LIVE! Check out our full Vertical Bike Rack Group Test
There's quite a number of brands on the market, so we gathered 9 together to get a group test ready. That's still in the works, but we are testing them on build quality, features, ease of loading and unloading, and therefore suggesting who they may suit. The full feature will be in Issue #197 of AMB, on sale in early July.
Here's what's on test.
Shingleback Off Road Sport 5 Bike
Weight: 34.9kg
RRP: $2100
Warranty: 10 years
shinglebackoffroad.com.au
The Shingleback Sport range has recently been released by the Australian brand, along with the Boost which has assistance for lowering and raising the rack. There are models for 4-6 bikes, and options for additional adaptors for BMX bikes, road bikes, gravel bikes and even snowboards and skis!
Weight: 39.6kg
RRP: $1949
Warranty: 5 year original owner
single-trail.com
Single Trail's racks claim to be fast to fit and fast to load - and so far, we agree! The 2-6 bike models are designed and built in Australia and all use a simple foot-activated pivot to lower and raise the electroplated rack. The rope attachment system and inbuilt anti-wobble hitch are simple and fast to use, and have been solid all test.
---
Rola VBR5
Weight: 38kg
RRP: $1250
Warranty: 1 year original owner
rola.com.au
The Rola VBR 5 is Rola's first foray into vertical bike racks, and they've done an awesome job. You can get a 3 bike version as well, and it has a good load rating and bomber bike attachments at a great price. 
---
Velocirax 412
Weight: 37.2kg
RRP: $1210
Warranty: 2 year original owner
velocirax-aus.com
Velocrix are a US brand that ship from Melbourne, and the big news is they have both an anti-wobble hitch wedge for stability and gas assist lowering at a great price. The overall weight limit is lower, but this rack is proving to be very functional. 
---
Spot X Racks TA-X5
Weight: 39.6kg
RRP: $1499
Warranty: 7 years
spotxracks.com.au
Built tough in Australia by riders for riders, the Spot X Racks TA X5 is rock solid with bomber bike attachments and adjustable wheel cradle fittings to make sure nothing rubs, ever. This one is zinc-plated and strong for a long, long life.
Weight: 31.5kg
RRP: $899
Warranty: Lifetime for original owner
yakima.com.au
This one stands apart thanks to a lower weight, cheaper price and fork crown mounting. It won't work with every bike, but if it suits your rigs you'll have an easy to use rack and some cash in your pocket. 
---
Dirty Possum 5 bike rack
Weight: 36.3kg
RRP: $1300
Warranty: 10 years
dirtypossum.com.au
High on value, warranty, weight limits and custom options, Dirty Possum are a classic welded design done well. There's a new mounting system on the base bar, and options for swing arms, custom colours and much more. 
---
DeathRack by DeathRig 4 bike
Weight: 46.2kg
RRP: $2000
Warranty: 5 years on parts, 3 years on the in-house build
deathrig.com
If you plan on shuttling post nucleur apocalypse, this is the rack you need! It's build super tough, but that's just part of the story. Deathracks by Deathrig Fabrications will work with you on a custom rack to suit your needs and your vehicle. There's even an option to have the parts sent for you to have it welded locally. 
---
RackPRO 5
Weight: 35kg
RRP: $1,500.00
Warranty: 2 Year original owner
rackpro.wixsite.com
In-built lights? Made in Australia? Bomber build? That's RackPRO. It's easy to see why this rack has been a popular model at trail heads, thanks to easy use and great inclusions.
---
There's lots more to go into in the full test, including limitations on bike rack use, other options from each brand, what we liked, and what we didn't. Don't miss the full feature! The big one here is legislation around vertical overhang limits. You can't have a rack and its load protruding more than 60% of the wheelbase length past the rear axle. Additionally, you cannot exceed the download rating of your towball! So grab out the owner's manual for your car, and tape measure so you can make an informed choice.

We couldn't fit everyone in here, including Australian brands like Black Diamond Bike Racks in Tasmania, and JB Racks.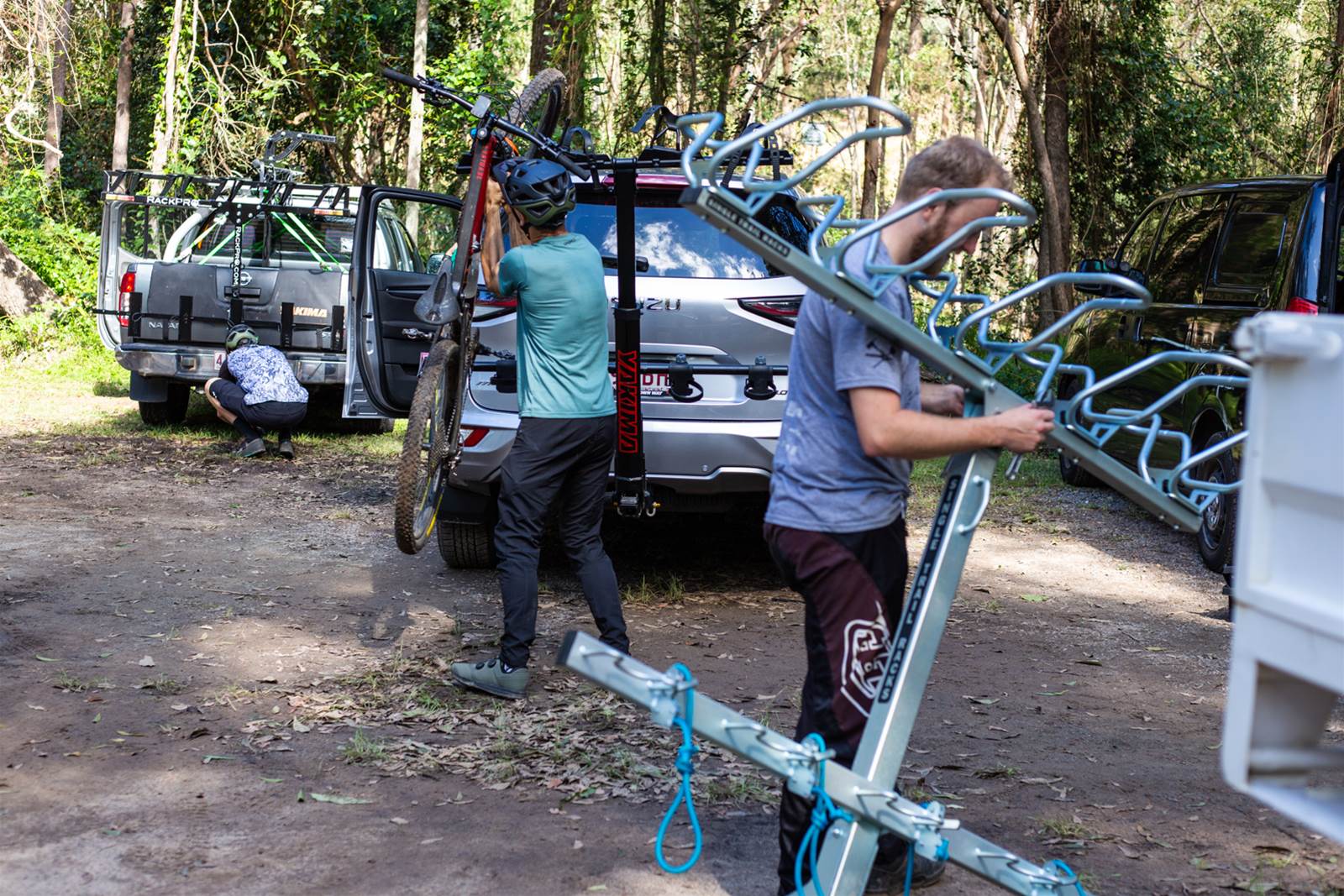 Australian Mountain Bike