Ridley's Belgian base means they are experts on the road and in cyclocross - but the Sablo is also a race ready machine ready to tackle marathons and stage races.
Here in Australia, Ridley bikes tend to be known for their wide range of road bikes and cyclocross bikes, all of which are available in bespoke paint jobs thanks to Ridley Australia's partnership with Paint my Bike. But, being Belgian Ridley do make mountain bikes as well, bikes that focus on the cross-country end of the spectrum, ready to be used and abused in the hills of Flanders, the gullies and ridges in the Ardennes, and wherever their owners choose to take them. Ridley supply the KMC - Fruit to Go mountain bike team, who race just about any endurance mountain bike event throughout Europe and in South Africa as well. The Sablo is designed to meet their needs for a full-suspension bike for marathons and stage races.
The 29" wheeled Ridley Sablo is a race inspired bike. The full carbon frame has 100mm of travel in the back, paired with 100mm upfront. The custom tuned Fox Float EVOL rear shock is matched with as Fox 32 SC Performance fork, and both run from a dual remote lockout.
The frame has Boost spacing, which helps keep the chainstay length to 435mm while still having a pretty huge amount of mud clearance - something that shouldn't be a surprise for a Belgian brand. Even if you live in a dry area, mud clearance is also clearance for wider tyres. There's no need for close tolerances between frames and tyres if the geometry isn't suffering.
The frame has internal routing for 2x drivetrains or Di2, and can accommodate a SideSwing front mech if you are running 2x. It's all neatly plugged and the front hanger is removable. The Sablo frame is compatible with an internal dropper post but they come stock with rigid posts, like the carbon post fitted on this model.
Interestingly, the brake hose runs externally. Along with a BSA (threaded) bottom bracket, this should have most mechanics (home or shop based) pretty happy. Dealing with repairs or changes of brakes can be more time consuming than it needs to be if you're constantly having to remove the nut, barb and olive from a hydraulic line, and cut it shorter each time. This is a common sense move for a bike that is designed to be punished in cross-country, marathon and stage races.
There's just one bottle mount inside the frame - and that's not something which is odd by any means, but other cross-country full-suspension bikes are being redesigned to fit two cages inside the main frame. As a bike to be raced on, it's not a huge downside. Most events have feedzones within every 30km, or far less, and for XCO it's a non-issue.
The large frame on test has a mid-sized head tube at 120mm, which means even if you run a fairly upright position you still don't need many spacers. The medium drops to 105mm to suit riders on that size, but as it is the slightly taller head tube allos you to run less spacers, and the bearings have a good stance - aiding in front end stiffness.
With a SRAM X01 Eagle group set, the drivetrain is dialled. This is a 2018 model and the only change for 2019 will be a shift to a SRAM DUB crank set - although I suspect the DT Swiss M1700 Spline wheels might shift from the 22.5mm width to 25mm. But that's not confirmed. The wheels come taped from DT Swiss and the Schwalbe Rocket Rons inflated tubeless with a track pump.
First ride feedback 
So far it feels as expected - pretty fast! The frame has plenty of lateral rigidity, and with a long history on Fox suspension, getitng set up was a breeze, with no surprises. The rear suspension is a linkage driven single pivot design, which measn the designers can modify the suspension curve They worked with Fox to develop a shock tune just for this bike, and it is very supple in the beginning of the stroke, but highly supportive in the mid stroke. This is in part due to the benefits of the EVOL air spring as well. I haven't had a harsh bottom out as yet, something that has been tuned into the suspension curve, and an inherent characteristic of an air spring when it ramps up.
Still, it is an active design and using the lockout does lock it out completely for hard efforts on smooth terrain. As it is, that small amount of movement pulls the wheel into the ground, and really helps for seated climbing on steep and loose terrain, especially with the 74 degree seat angle keeping you right on top of the pedals. Visually the frame looks super slack - but the seat angle places you right where you need to be.
The cockpit has nice Forza carbon flat bars that are 720mm wide, and a 90mm stem. I could happily run a little shorter and some people might prefer a little wider - these are easy changes. 720mm is a pretty good width for this type of bike.
With a 70 degree head angle, the Ridley flirts with being steep, but with a reasonable 443mm reach and 620mm top tube on a large, it's the 42.5mm bottom bracket drop that keeps you a little lower than some other brands, aiding in stability. Matched with the 70 degree head angle and short stays, you still get plenty of agility as well. So far, it hasn't meant the carbon cranks have bore the brunt of it either.
It does leave you a little lower and more settled on the bike, which matches the intentions that Ridley set out with, designing a bike for marathons and stage racing - not pure XCO.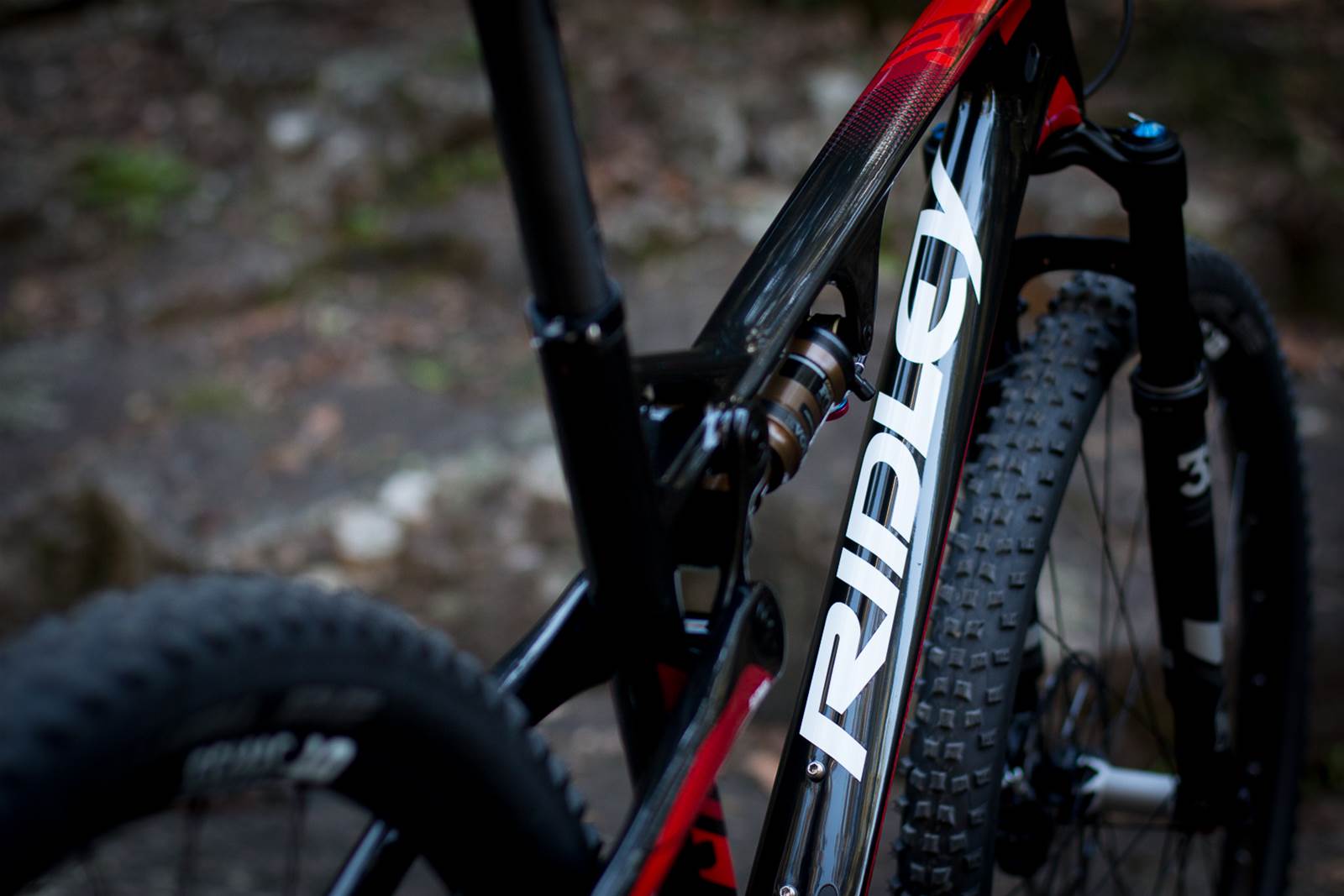 I've got a few more weeks to spend on this bike before finalising a review, but so far I'm impressed. Ridley are known for building frames that last, and it looks like they have done just that, all while staying under 2kg for a frame which is a respectable weight.
FE Sports will be importing two models for 2019: 
Sablo XX1 – Black-Gold (matte / glossy)
Sablo X01 – Lived Blue-Blue-Grey (glossy)
Look ahead to a coming issue for my full review of this Belgian racing whip.
Australian Mountain Bike