The DT Swiss 232 One system brings new technology to a modern XC setup.
After releasing a very plush fork with the DT Swiss F535 'Darth Vader' all-mountain or enduro fork in 2018, DT Swiss then went to tackle the other end of the market - cross-country. DT Swiss are a Swiss brand - which should be obvious - and the Swiss really know how to handle a bike. While you will find Swiss cyclists in the top of most riding disciplines, or being involved in some pretty insane videos, there is no doubting that the Swiss are in charge of cross-country racing at a global level right now. And they have been for a long time.
So the DT Swiss 232 One system is aimed at the fast and light crowd. And if you're one to normally look past XC, don't forget the first part of that. Fast and light. The whole system includes the F 232 fork, D 232 dropper post and R 232 rear shock. With some samples sent to test, let's take a closer look.
DT Swiss F 232 suspension fork
The fork has 32mm legs, is all black, and comes in 100mm, 110mm and 120mm travel options. The travel isn't adjustable, so you need to choose which one you're after. Interestingly, they are 29er only. If you look at their intended use this isn't very surprising. While 27.5" seemed like the answer for some bike companies across all their bikes, that wasn't adhered to for very long. 29" wheels are fast - and for a cross-country and marathon race bike they're the main choice. And that's what DT Swiss have opted for.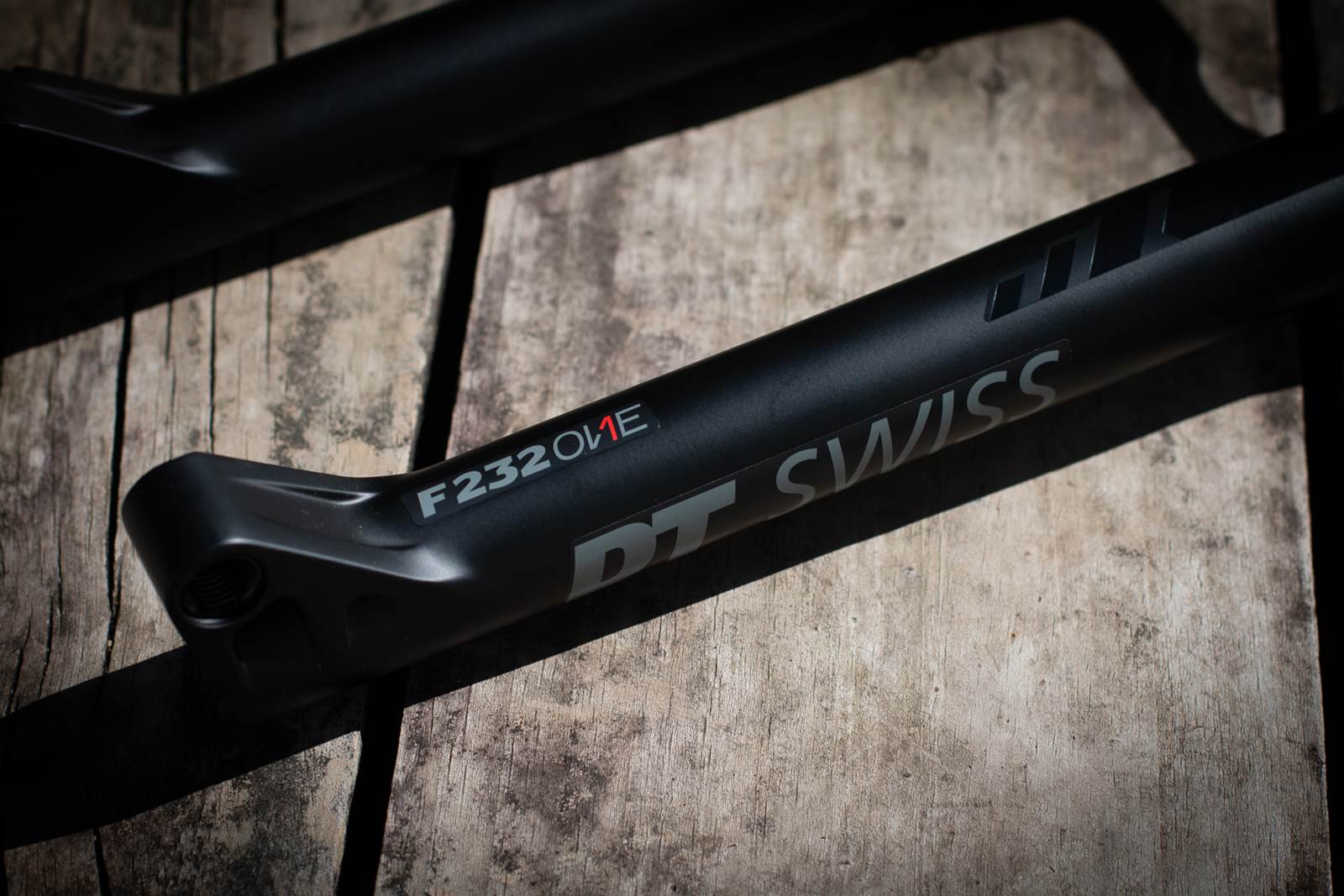 Forks are available with remote or top-mounted lock out, and weight starts at 1480g. Our 120mm test model weighed 1510g with an uncut steerer, with a 50g through axle and 27g remote lock out lever.
Fork offset is also 51mm - some say it's the best offset, but DT Swiss do force your hand. It's actually a good match for a cross-country bike that needs to be ridden pretty fast in sketchy situations, but still have the agility to negotiate fast bar-to-bar racing.
The air spring is the DT Swiss Lineair airspring, with their InControl damper. The spring is dual chamber, but has a bypass in it so the midstroke is really linear. This means the fork can be very supple off the top, with a bit more support into the midstroke. But, not so much that it keeps ramping up - instead it becomes very linear in the midstroke so the fork can do what is intended, and that's to maintain traction.
It then ramps up for the end of the travel, so the fork can handle the bigger drops that are now part of World Cup XC.
The InControl damper has Open, Drive and Lock. There is low speed compression (LSC) adjustment for the Open setting, so you can tune in how plush you want the low speed compression to be in open. If you wound it all the way in it wouldn't quite be as firm as Drive - but close. 


This adjustment uses a T10 tool so it's more of a set it once, or per course, sort of adjustment.
The fork itself is said to be quite stiff, and DT Swiss did extensive analysis of other forks and modelling for their own to determine where the fork needed material, and where it didn't.
These figures show torsional and bending stiffness. We can probably hypothesise that Competitor B light is a Fox 32 SC and a Competitor B heavy is a Fox 34 SC. But that's not certain.
But going off this data, the fork is pretty stiff.
A closer look at the DT Swiss D 232 dropper post
At 367g for this 30.9mm 60mm drop dropper post, it is clear that low weight is the name of the game. The inverted design has allowed for a full carbon upper, with a 'mostly' carbon lower. All the working bits are in the head, which does make it a little top heavy, but it's still a small amount of weight. The actuation from where the cable pulls from is done by a spoke inside the post - which I think is really cool.
While it would be great to see more than 60mm drop, like say, 80mm even, it would be hard with this design, as the whole telescoping movement needs to be outside the frame. In this case that is 150mm of post. I could just sneak a 175mm regular dropper into my bike with the post I have exposed, but I'd be surprised if I could get an 80mm variant of the DT Swiss D232 in (if one existed). With top-class XCO racers as the target market, this isn't of a hgue concern, but I think a little more drop would be popular.
Maintenance is easy as you just unscrew the collar and wipe it down. Perfect for an item that cops everything your rear wheel can throw at it.
The action is really light, and the post is available in 27.2mm and 30.9. I've got a shim to use my 31.6mm seat tube. This is a two step dropper - it's up or down, and not inbetween.
The DT Swiss R 232 rear shock
Similar to the fork, the rear shock has Open, Drive and Lock. The Lineair spring and InControl damper are designed in a similar manner, with a very plush initial phase with a linear midstroke and firm finish.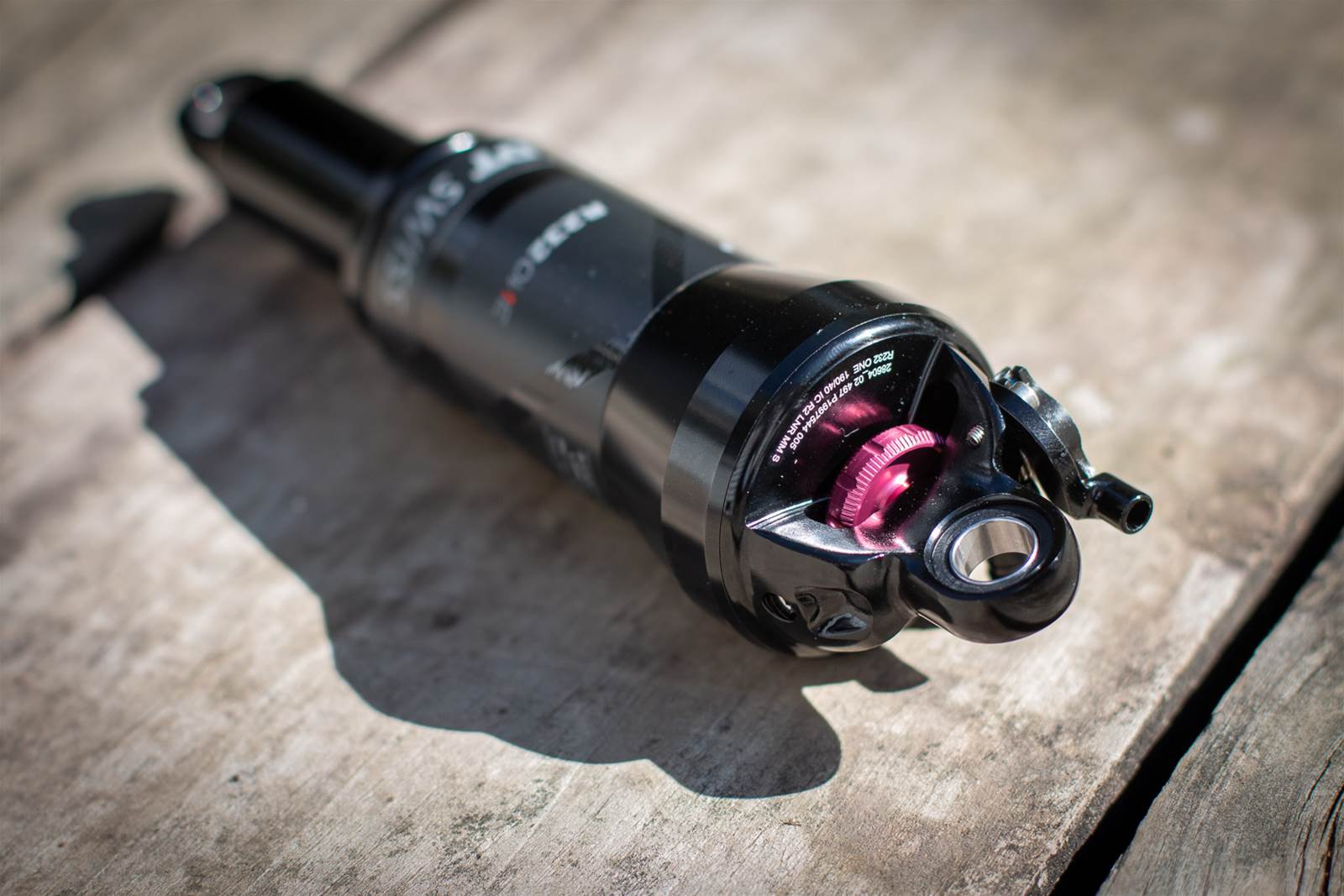 Unlike the fork, DT Swiss are mostly working with bike manufacturers on the shock. The idea being that it's not so much an upgrade to any bike, but a shock that is custom tuned to be specced on bikes that are sold.
First rides on the DT Swiss 232 system
With the above in mind, I actually haven't got the rear shock fitted up yet, as I need to chase some custom hardware to suit my frame.
Having used a 125mm dropper on my XC bike for the past 18 months, going back to 60mm is a little odd at first, as is having two positions. If you get caught out trying to quickly drop the post and don't make it all the way down - it comes right back up!
The fork is really impressive, and taking it out onto greasy trails in lowlight showed how well it avoids deflection and tracks, even when I sunk into ruts I really should have avoided.
The over the bar lock out isn't my personal choice, but having the three-positions is nice after being on two-position Fox for the past 10 months.
I really did notice how well the fork maintains its ride height, something I am acutely aware of on XC bikes. I hate it when you opt to run a lower pressure for sensitivity but then blow through travel with forward weight shifts and reasonably small bumps. Even though the Lineair spring flattens through the middle, that's the spring rate I'm focusing on when setting air pressure, as of the top is nice and plush. Besides, you can lock it out or just firm it up from the bars if you need it to feel firmer.
So far I'm really impressed with the fork, especially the small bump sensitivity, but at this point the dropper is probably pure XC or maybe suitable for a gravel bike. I'll get the rear shock fitted and spend a whole lot more time on the trail for a test in Issue #185 later this year.

Price wise, the fork sels for $1699, which is a premium price but not too far off a Fox Factory 32 SC with remote lock out. The dropper is $799 - again, a premium price, but not too different to the KS Lev Ci droppers. It is considerably more than the BikeYoke Divine SL 80mm dropper which is 385g in the 30.9mm size.
Australian Mountain Bike