Fox Factory Tune is a new service that promises to update your existing suspension system to bring it bang up to date - without the huge cost of completely replacing your fork or shock.
I was excited to head with a select group of editors to the launch of the Fox 'MY18' on the secluded trails of Northern Sydney. It was a chance to feel like a pro for the day with top mechanics working on our bikes, as we were also introduced to the Fox Factory Tune program.
Shortly after we arrived, we had our current compression and rebound settings noted down, our sag measured and were sent out onto the trails with our stock suspension set up. My Whyte T-130 would be the mule for this test, with a 2016-era FOX 34 Factory fork (140mm travel) and a 2016 Fox Factory Float set up in the rear.
With a 'base' setting established - and a greater understanding of where the trails now flowed - I headed back to the Fox tent for my first introduction to the 2018 changes. We would receive the adjustments in three stages: first a new Fit 4 damper, then a new EVOL air spring for our forks, and finally a 2018 shock. On hand to lead us through the process and install were some of the leading Fox technicians from around the globe. It was certainly a privilege to have the likes of Damon Chen (Technical Support/Taiwan Fox) and Eamonn Cleere (Fox Europe Technical Manager) working on our suspension.
Feeling in a new Fit 4 damper - stage one
First up a new damper. My old 2016 damper was removed and replaced with the new 2018 Fit 4 damper. What's new is a reconfigured shim stack that provides more sensitivity at the controls - but largely a lot more support whilst riding aggressively. I was told that the effect felt at the bars would be minimal compared to the EVOL air shaft that would come later, although with a two year evolutionary jump between models I should still feel some changes.
---
What is a damper
A compression damper regulates the force it takes for suspension to move through its travel. A damper and its shim stacks control the flow of oil to create either a firmer or softer ride.
---
The assessment was right. I found there was an immediate effect, felt from the first climb. As the course rose ahead, the forks stayed within the first part of their travel. Throughout the intermittent small bumps and rock roll overs the supple traction remained. It was confidence-inspiring and I didn't feel like it would break. In particular, when in an attacking stance, the front held true with support that was promised. On the descents the whole experience was similar - a supple feeling at the top and when the bigger hits came there was support and firmer progression.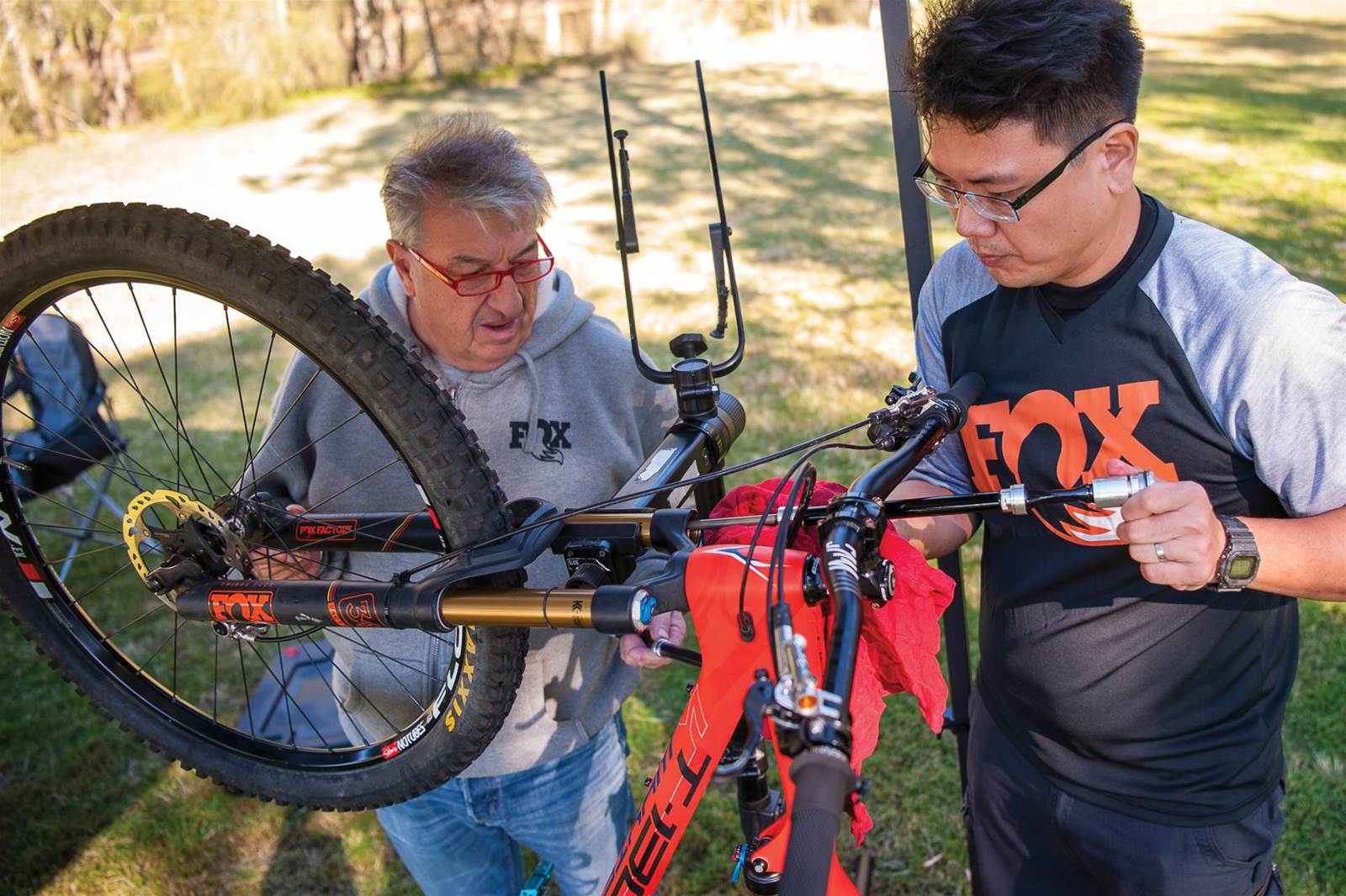 Air sprung (EVOL)ution - stage two
With a short lap on the damper done I headed back to the Fox Tent, ready for the new air spring. The big change this year is that the EVOL - or negative air spring size - has been increased across the board. This means an introduction to the forks and an increase in the shocks.
With only so much room inside a fork to play with that extra volume has had to come from somewhere. Fox have repurposed some under-utilised space from the lower leg and incorporated it into the larger negative chamber air spring for 2018. With a larger negative spring you will tend to run more air pressure to balance the forces and in turn get a more progressive spring curve. Something that should marry to the new damper I sampled earlier and in combination should provide a plush feeling at the beginning, more mid stroke support and more bottom out progression.
---
volume spacers
A volume spacer changes the amount of mid-stroke and bottom out resistance you have - essentially altering your progression. No volume spacers will give a very soft end stroke. Four or five spacers and you will have a harsh ramp up. As a guide most forks will have one or two in to start.
---
To compensate for this increase in the negative spring, an extra 10psi was put into my forks to hopefully eliminate that 'too soft' feel. I left my volume spacers the same as my original set up at three. Riding the first climb I found the effect much the same as it had been with the Fit 4 damper, maybe a tad more supple in the initial stroke. Descending was a whole different story, though.
The initial suppleness was still there but I was going through my mid travel much faster than usual. Whilst the bottom out feel is not as harsh as it was before, I still found myself in some compromising positions, jerked forward more so than usual. A return to the mechanics for another 15psi and the situation rectified.
A new shock
For our last outing on the trail, our steeds were fitted out with a 2018 shock. Mine, a Performance Elite, Float DPS. The new additions here were more EVOL - the can is now a one piece with a higher negative volume to give you that extra floaty feeling - and a linear spring. Experience with EVOL in the past showed that it was very sensitive to pressure changes and we had to add an increased psi to find that balance in the rear. This time I took the shock out as is.
Supple in its initial stroke, it certainly felt smoother through the ribbons of single track. Perhaps that's due to EVOL and less breakaway friction to initiate the shock than it had in the past. In many ways it complements the fork, though when put in open mode to descend I found myself chewing through travel. A return for more psi, as suspected, and everything was back on track and more in tune with the front. It was now balanced in its mid stroke, with a supple bottom out.
Fox Factory Tune - what to expect
If you're sitting on some out-dated fork or shock, this is perfect for you. Other than the regular servicing, Sola Sport (the distributor of Fox in Australia) will be offering all the changes described through the Fox Factory Tune program. Any 2015 forks onward can be upgraded with the same Fit 4 damper and EVOL air shaft. In the shocks you can request to return to the non linear spring  of the previous if that better suits your tastes.
If your heart desires, you can also request a specific tune - there will be a range of tunes available from extra light to extra firm whether that be in your fork or shock. With so many options, there will be something for you.
As we went to print, prices were still being finalised, with an announcement expected towards the end of the year. Keep an eye on our website at ambmag.com.au for all the details when they are available.
The after effects
Returning to my regular trail hub I was able to sort out the finer balancing issues I'd experienced on test day. With such a small window and such large changes being made in Northern Sydney, it would take another two sessions to get my fork and shock dialled in.
I ended up taking my forks back down another 5psi and dumping 20psi more than usual in the rear. This is not abnormal and is in fact something we experienced with the first introduction of EVOL back in 2015. I am still using a bit too much travel a little more often than I would like, so an order has gone in for a volume spacer tuning kit to adjust the progressiveness of the shock to get it matched better to the bike's linkage and my local trails. Overall, though, I find the performance better than it was - massively so in the fork, albeit a work in progress with the shock.
On the local trail I found traction where I used to find slippage, while square edged hits that once held me up now rumble beneath my tyres. I carry speed through sections I felt bogged down in the past. The biggest benefit so far is that extra mid stroke support enabling me to flow just that little bit more through the trail. You don't know what you're missing until you have it.
Even though you'll get the same hardware as I did, the overall change in feeling will be different - depending on your current setup. If you are updating a more modern fork/shock you may not feel the same jump in performance compared to making the change from much older suspension. Either way, for those with outdated but pre-existing hardware this is the best option on offer to update your ride and really get the most out of your suspension.
Words and Photos: Robert Conroy
Australian Mountain Bike