Join a group of mates away in the Tasmanian wilderness for one epic adventure on mountain bikes!
Hitting the Trails at Blue Derby 
 
This trip came together as most do, over a few beers with mates. We all became pumped about the prospect of climbing to the top of the Blue Tier finding our own route using the dirt roads, back roads and unmarked trails in the area, camp on the summit and then bomb back down the next day on the purpose-built trails. What we did not expect when planning this is that we would also an opportunity to get a guided exploration of some really amazing little secret spots and experiences and camp completely secluded under the stars waking up to coffee and a sunrise that we did not have to share with anybody. Backcountry bikepacking on mountain bikes is how this all came together and I am hooked.

After developing the idea, we just needed to pull the crew together and get them organised and committed. What can be a point of excitement over beers can sometimes fade away afterwards. I wasn't going to let this happen. We also needed a guide! Someone with an intimate local connection was crucial to link the trails together and set the back drop for the adventure. For this, Ryan De La Rue was an obvious choice. Ryan has been working as a trail builder with World Trail in the Derby region for 5 years. An accomplished mountain biker in his own right there is not much he does not know about the Derby area. He was totally up for it.
To round out the crew, two of the beer-drinking mates came on board - Isaac Probert and Tom Goddard. Isaac, a whip on road bikes, was a relative new comer to bikepacking. Tom had considerably more experience coming to this ride off the back of a trip by bike through Mexico. We found a clear weekend for all of us and set off on a clear Autumn morning, hoping for the best from the fickle Tasmanian weather gods.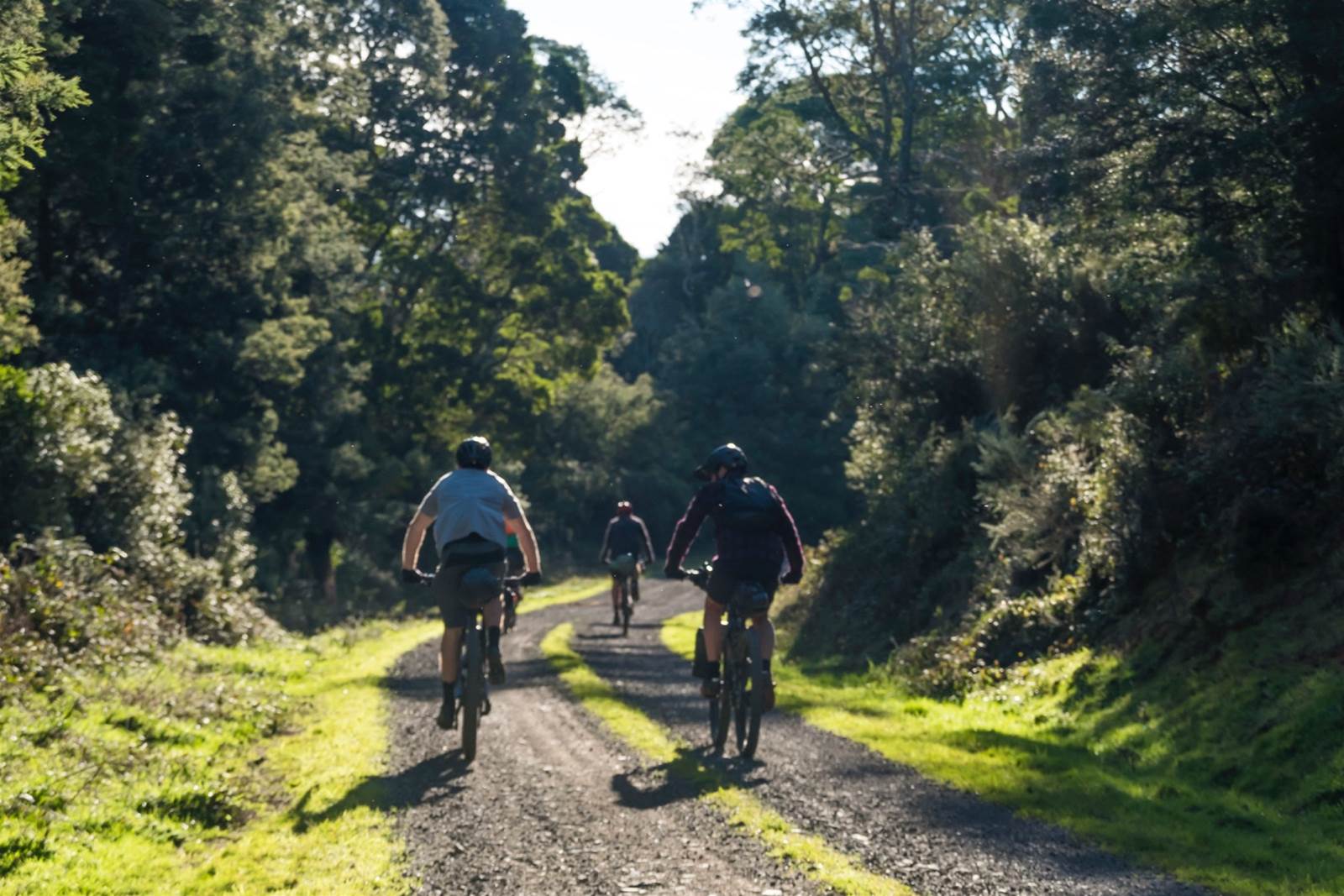 I won't tell you any fibs here – there is only one way of getting to the top of the Tier and way that is up. We start our trip on gravel road leading out of Derby, where it intersects the Ringarooma River. After following the river for a few kilometres, we cross via a large concrete road bridge (little did we know this was the only river crossing where we were going to keep our socks dry). We switch to fire trailskirting the bank on the opposite bank of the Ringarooma River to Moorina. We have our last brief glimpse of civilisation for a day or so and head up Froome road. The gradient was unrelenting seeming to crank even steeper around each corner. I spend my time of pain staring at my handle bars looking for inspiration. All that was there was my go anywhere scarf an important part of my bike packing kit with the words "F&@k U" written on it.
Rigging up your rig
I always love looking at how people solve the problem of packing their rig. There is always an individual take about it. Light and lean for some, others need to cover all outcomes. My rig was a paired down affair with a minimal pack and I was particularly driven by providing clean lines at the end of the pack. One fork mounted stuff sack for clothes the other for my sleeping mat. Tent up front, a lightweight sleeping bag on the back and a down jacket and burner on the back I planned to sleep in both the down jacket and bag if temperatures went too far south.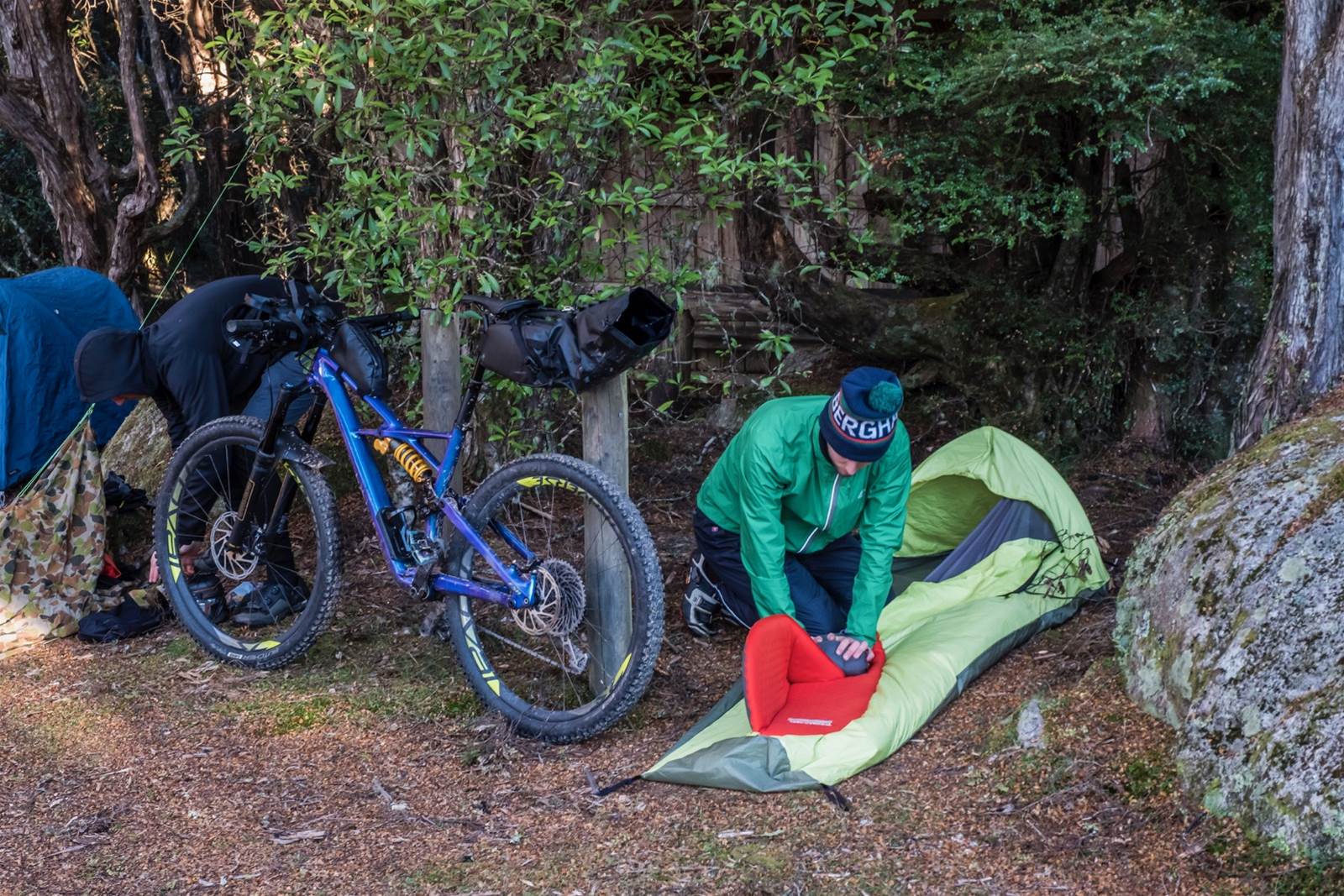 The history of this region is rich. As we ride up the hill we pass the ghosts of forgotten mining towns long since abandoned with nature creeping in and taking over. Ferns grow out of ruins and rusting mining machinery pops up out of the shrubbery here and there. During the tin mining boom in the late 19thand early 20thcenturies, Derby was almost turned upside down – it was huge! Following the mining came forestry and then nothing. But as we know, mountain biking is literally saving the town. Each era of this region has played an important role in making our current bikepacking experience unique. We cross another river with devastating effects on the dryness of our socks. And we are now climbing a hike-a-bike track.
Before Derby was transformed into a mountain biking playground, die-hard mountain bikers used to explore this region via these set of trails known affectionately known as the Blue Tier. We ride, push, heave and drag our way up the hill. As we get higher the Tier appears to forgive us and the steepness of the hill backs off. I really enjoy this climb as it feel much like my early experiences with mountain bike riding trails not specifically built for bikes yet providing the challenge and fun of getting a bike through. These were roads and trails where a brush cutter and a rake were your trail building tools.
We arrive in the twilight of the evening setting tents our tents and fire we head to the top of the tier to catch the dying light. The camp is a five star arrangement with a fully functioning toilet which I did not expect and the best little fire box BBQ I have seen. The evening is taken up on eating marshmellows and drinking bourbon - two crucial parts of my packing musts (I did rely on other people's toilet paper but there you go).
Australian Mountain Bike