One world-class mountain bike race in an Aussie State is fantastic and having two in the space of six months would be amazing. But Queensland is going one better by hosting three top events in quick succession to make riders and fans alike go giddy with excitement.
Words: Mike Blewitt     Photos: Assorted
First up is the UCI Mountain Bike World Championships in Cairns at the start of September when the best from around the globe will attempt to follow in the footsteps of the likes of Nino Schurter, Julien Absalon, Aaron Gwin, Loic Bruni and Danny Hart.
Just a week later, the brutal Crocodile Trophy sets off from the same city with riders facing more than 24 hours in the saddle over eight days before the welcome sight of the finish line
at Port Douglas.
As if that was not enough, mountain bike fans will again be able to see a host of top cross country riders in action when the Commonwealth Games comes to the Gold Coast next April.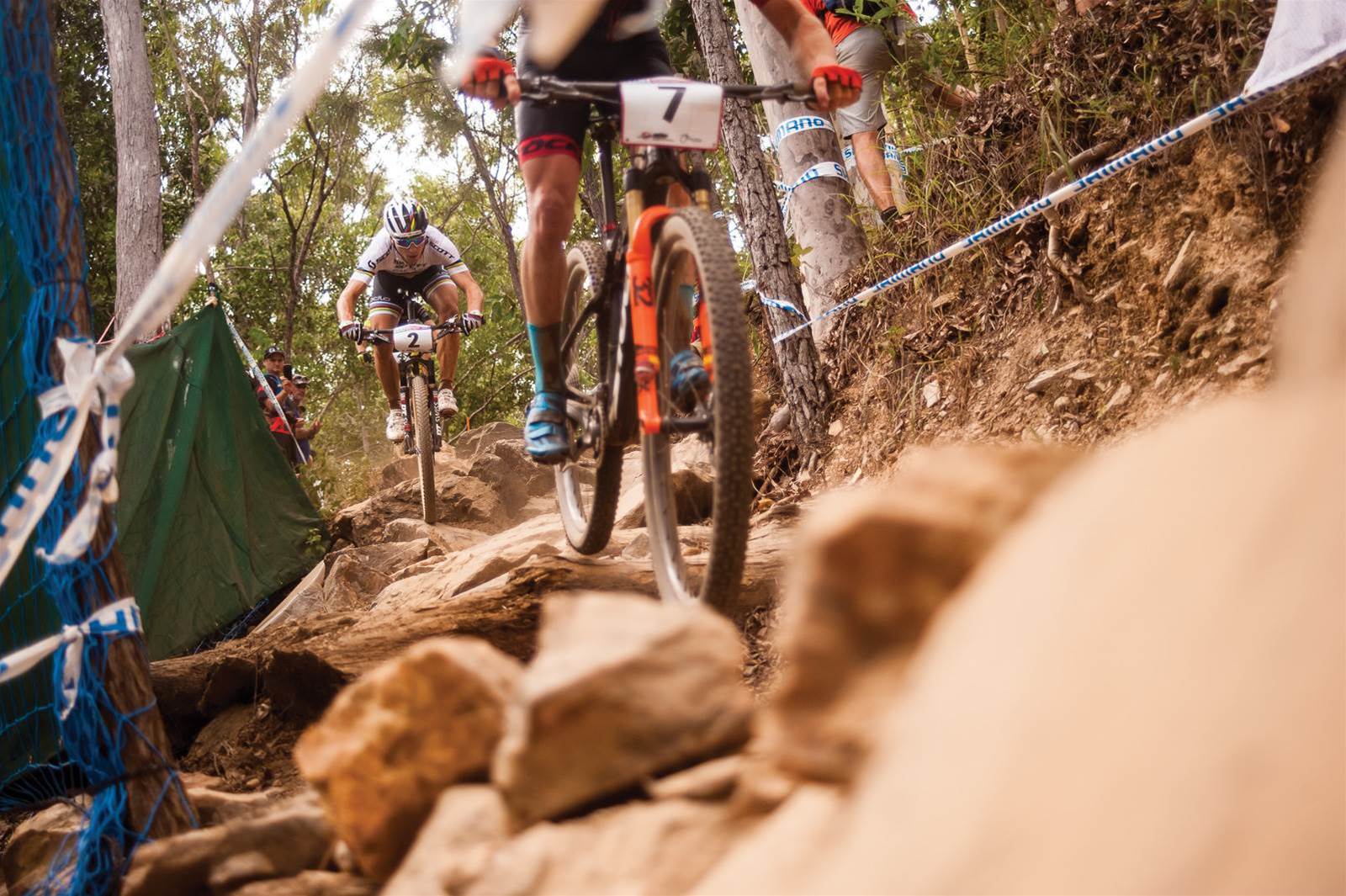 THE WORLD CHAMPIONSHIPS

It's 21 years since Cairns put itself on the mountain bike map by hosting the 1996 World Championships – and now they are back again!
The Smithfield course, adjacent to the James Cook University on the northern outskirts of the city, has been upgraded to make it even tougher as more than 300 riders from 35 nations across the globe battle for honours.
On the downhill track – well known for its high speed stutters, monster ridge-line jumps and tight technical drops - the Rock Garden section is expected to be extended. The Corkscrew, Mick's Drop and Whoop section have all been tweaked and speed generators will be inserted into the final long straight.
For XCO, although the course is comparatively short, it's also one of the most challenging as it weaves its way through steep gumtree lined ridges and dark rainforest valleys.
This year riders will have to get even more technical after changes to the Python steps, while fans will be able to get a real close view at the Crusher due to a new spectator area.
As if that was not enough, the Croc Slide, Jacobs Ladder and Caterpillar sections are all likely to be adjusted and magnified to make it possibly one of the most exciting championships ever.
Of course, the weather could also play a huge part in proceedings, highlighted back in 2014 when April rain ahead of a World Cup event made the jungle surface greasy as hell and caused some real wet and wild racing. And British rider Adam Brayton will testify how dangerous it can get in Cairns after he needed 18 stitches in a sickening leg wound after smashing into a tree that year (and then seeing a fan try – and fail – to complete the rest of the course on his stricken bike!).
It was much more dry and dusty for the most recent World Cup event in 2016, when Nino Schurter proved his class with a superb XCO victory. And the Swiss star is highly likely to be fighting for the men's world title in September, along with arch-rival Julien Absalon.
The downhill race is much harder to predict. Loic Bruni triumphed on the Smithfield course in the 2016 World Cup, before Brit Danny Hart won three successive events at the end of last season to prove he's got a real chance. Aussie fans will be hoping Troy Brosnan can get himself in the mix, while Mick Hannah is always capable of pulling something special out of the bag seemingly from nowhere.
In the women's races, awesome Rachel Atherton will be a red-hot favourite to take the downhill title back to England after winning every single World Cup race in 2016, but hometown hero Tracey Hannah is likely to push her all the way – especially with thousands of fans cheering her on.
Bec Henderson will hope to challenge in the competitive cross country event, with Annika Langvad, Jolanda Neff and Jenny Rissveds also expected to be in contention.
---
When: 5-10 September 2017
Where: Smithfield Regional Park, Cairns
How to get there: The course is located behind the James Cook University campus - north-west of Cairns city centre. Direct public transport (Sunbus) takes about 30mins to make the 17km journey. Cairns airport is linked to major domestic cities by Qantas, Jetstar, Virgin Australia and Tigerair and also has direct routes to/from New Zealand, Singapore, Japan and the Philippines.
How to watch it: Around 20,000 fans are expected to watch the action up-close. The event will be broadcast via satellite to 18 countries around the world – with races also being made available to watch online.
More info: mtbworldscairns.com.au
---
COMMONWEALTH GAMES
The gruelling Crocodile Trophy has been called the Tour de France for mountain bikes and its founder Gerhard Schönbacher should know since he twice finished last overall in Le Tour when he was a pro road racer.
The 2017 edition features eight stages for 650km of riding, an astounding 13,000m of total elevation and takes competitors from Cairns to Port Douglas into world heritage rainforests, across fast-flowing creeks and deep rivers, out to authentic outback cattle stations and then up through the spectacular Kuranda National Park.
Last year's male winner – Urs Huber from Switzerland – was in the saddle for close to 24 hours in total but other riders took almost double the time to complete the energy-sapping event.
Despite its fierce reputation, or maybe because of it, riders flock from across the globe to take on the challenge with Danish, Portuguese, Austrian, Belgian, Dutch, British, Swiss, Japanese, German and Italian entrants already confirmed for September's race.
And they can consider themselves lucky in a way given the fact the very first Crocodile Trophy (run in 1995 from Darwin to Cairns when Schönbacher realised he could not host a race in Vietnam as he initially hoped) lasted for 17 stages and was a mind-boggling 2,556km in total distance!
Despite the reduction in kms, the Croc is still widely regarded as one of the toughest mountain bike events on the planet and yet another reason why Queensland, with its amazing varied geography, is ranked as one of the top locations to ride.
---
When: 4-15 April 2018 (mountain biking on 12 April)
Where: Nerang National Park
How to get there: Nerang is located 13km west of Surfers Paradise and special Commonwealth Games buses are expected to be provided. There is also a direct train from Brisbane Airport, passing through Brisbane Central station, which takes around 90 minutes.
How to watch it: Tickets for mountain biking will go on sale in April 2017 once the full Games schedule has been finalised. Channel 7 will broadcast the entire Commonwealths on a wide-range of platforms, including online and via mobile.
More info: gc2018.com
---
THE CROCODILE TROPHY
Mountain bikers will be among the 5,000 athletes competing for gold medals on the Gold Coast in 2018.
The cross-country version of the sport will be making its fourth outing at the Games, having also featured in 2002 (Manchester), 2006 (Melbourne) and 2014 (Glasgow).
Australians struggled to make much impact on the event until Dan McConnell and Bec Henderson returned from Scotland with a bronze medal each and they will be aiming to go even better in front of what are bound to be passionate supporters on home soil. But McConnell will have another tough battle against New Zealand duo Sam Gaze and Anton Cooper, whil Henderson's main challenger is likely to be Canada's Emily Batty.
That soil is situated at the Nerang National Park course which was built by Simon French's renowned track company Dirt Air at a cost of $3.2m and opened to the public in February. Former world champion Nathan Rennie was also heavily involved in the design and construction, so you know it's going to be a real beauty.
Competitors can expect a complete challenge with the course featuring tough climbs, stone stairs and ledges, technical rocky sections, tricky descents, large berms and rollers, as well as some pure flow.
Organisers have promised that fans on the course will be as close to all the action as possible, not just in and around the start/finish area at the newly refurbished Gold Coast Velodrome, but also deep out on the three racing loops as well.
Regular riders can test themselves on the Commonwealth Games course right now by heading to the venue and taking on the exact trails that will determine who claims gold. 
---
When: 16-23 September 2017
Where: Cairns to Port Douglas
How to get there: The stage race explores some of Queensland's most rugged terrain, so you'll definitely need a car to reach most of locations on the route.
How to watch it: Spectators are usually friends, or family, or support crew of the competitors. Those wishing to follow the action from afar can log on to YouTube where race organisers upload daily highlight videos plus interviews with racers after each stage.
More info: crocodile-trophy.com
---
Australian Mountain Bike