The Brisbane Valley Rail Trail connects riders to the past, while also offering a pathway into cycling off road, and a launching pad for adventure – all close to Ipswich, Brisbane, the Gold Coast and Sunshine Coast.
Words and photos: Mike Blewitt
---
Railways have always been key infrastructure for modernising industry and creating connections between communities. Historically, railways have take npeople to work and play, timber to ports, gold to markets and produce and livestock to the broader population. Times change, and where some railways have fallen out of favour thanks to improved road links and trucks, another useful resource has taken their place: rail trails.
One of the best known rail trails in the cycling world is the 152km Otago Central Rail Trail in New Zealand. But we have a longer rail trail that is closer to a larger population – right here in Australia. The Brisbane Valley Rail Trail is 161km long, stretching from Wulkaraka on the outskirts of Ipswich, all the way to Yarraman in the Cooyar range. The rail line was completed in 1913, although work started in 1884 on the twisty route out from Wulkaraka, where expensive bridges and cuttings were avoided by a serpentine route to Fernvale. The rail line was used to transport livestock and produce, and a lot of Hoop Pine from the upper reaches. The rail line was shut in 1991, after being closed in sections from 1967. But a new age would approach.
The BVRT goes from Wulkuraka to Yarraman, and can be ridden in both directions.
Rail corridors connect townships with low gradient, weatherproof surfaces. And once the tracks are lifted, disused rail lines make the perfect recreational infrastructure. They're ideal for horse riding, walking, family rides, bikepacking, endurance events, adaptive cycling, school groups, tourist groups, and even for linking mountain bike trail networks.
At 161km long, the Brisbane Valley Rail Trail (BVRT) is currently the longest rail trail in Australia, and quite diverse from one end to the other. While the stretch from Fernvale to Lowood was opened in 2003, the complete rail trail has only been finished for a few years now. There's been many councils, governments and businesses involved, and when riding the BVRT with Troy Szczurkowski and Taylor Charlton, I caught up with Paul Heymans, President of the Friends of the Brisbane Valley Rail Trail at Esk, I found out a little bit more about the project while we both enjoyed a mid-morning coffee.
There's plenty of places to stop for fuel along the way.
"We did the campaign for getting the rail trail completed, we've been doing this for 7 years," Paul explained. While sections were opened, the rail corridor needed to be open end to end to really be a drawcard. "When we first started there were two sections that were incomplete: Ipswich to Wonora and more importantly, Toogoolawah through to Moore. We campaigned for two or three years to get these completed.
Initially there were concerns about security risks from landowners, and the biosecurity threat to farms – both of which never eventuated. While not all councils were onboard at first, the past few years have seen many rapid changes and increased funding to improve the trail surface, sign posting and infrastructure along the route.
Old stations provide a shaded place to stop and rest.
"Via direct and indirect results of our campaigning there has been over $20 million spent on it. We started out campaigning for $1.4 million so I don't think we've done too badly!" Paul adds. Although getting people aware of the trail was a challenge at first.
"Early on, one of the problems was no one was using the rail trail – no one had heard of it. So we started organising cycling events for the trail. We didn't have any money for marketing, we just wanted people to come out and ride on the trail. And we continue to do that and the trail is humming. 
The events have been a great way to get more people aware of the trail. The most impressive event is the BVRT E2Ex2. Riders start at Toogoolawah, ride to Wulkuraka, turn around, ride all the way to Yarraman, then turn back to Toogoolawah, completing over 320km! You can just do the E2E or shorter distances if you prefer.
The BVRT E2E is growing in popularity.
Having ridden on the BVRT a few times over the past three years, the increased use is readily apparent, with direct results for the towns as well. Sometimes you'll ride on concrete near the towns, where you'll see the trail being used by local families for exercise. But most of the trail is double track or like a smooth fire trail – perfect for riding with friends and enjoying conversation and views at the same time, with little concern for any vehicles.
"There's about 160km where you can ride and be completely relaxed without needing to worry about cars except where you cross the roads. Since gravel riding has taken off, you really see a lot of gravel bikes on the trail."
161km is quite a distance, and on my first visit to the trail we parked at Wulkuraka and booked a room at the pub at Yarraman. We rode out, washed our clothes, had a counter meal, fell asleep and rode back the next day. But there are ways to add on to the trail if you want to have a really, really big adventure.
Local towns along the route are embracing the BVRT.
"There's a move between councils to connect the rail trail from Caboolture to Kilcoy, but much of the land from the rail corridor has been sold off," Paul told me. "But there's a conversation about a connection via back roads and forestry tracks. We already have a connecting route from the BVRT and Kilkivan to Kingaroy Rail Trail (KKRT). A lot of people are using it and really like it."
We finish our coffees at Esk in the spring sunshine, and Taylor and Troy and I head north to Linville. The Linville Hotel has had a very nice makeover and is a worthwhile pit stop, or start and finish location. Our ride took us up the range, through cattle properties and into the forest, where we looked across to hoop pine on the far ridges to our right – ones that escaped the axe. There are huge plantations to the west as well, with giant forests filled with the Australian native tree. We stopped in Blackbutt for a pie before turning around for the downhill run back to the pub.
Troy reckons the pies are pretty good.
Our ride picked some of our favourite sections, and having ridden the BVRT out and back on my first visit, my preference now is to visit to ride the part I'd like to do that day. Although I sense sometime soon I may revisit so I can enjoy a pub meal at the end of a long day, ready to do it all again the next.
My BVRT: Anna Beck:
"I'd done parts of the BVRT on epic rides before, as it's a great way to link up some cool locations. But the E2Ex2 in 2020 was the first time I'd done the whole thing... so I did it twice!"
"It's a really good resource. I wouldn't go there for crazy mountain biking, but in terms of recreational riding away from traffic that is 160km long – it's pretty cool. It's a great way to get some base miles in or a social ride, or a pub crawl between towns. There's lots of ways to use it. I've seen families, groups of mates, students, racers – it's a really diverse crowd of people who use the trail, along with walkers, horse riders, and people with their dogs."
Some parts of the trail that pass through towns have been paved.
My BVRT: Imogen Smith
"The BVRT is an opportunity to go on a journey. It's about seeing another side of south east Queensland and being able to explore in a challenging, safe and fun environment. Personally, I love going through all the small towns, farmland and countryside. I really like seeing that way of life and being immersed in it, and feeling a part of it."
"There's a lot of history on the trail, and being on the rail line that played an important role in the timber, farming and agricultural history of Queensland is really cool. So there's lots of things to keep you entertained and engaged while you're riding. You get to see a side of Queensland that we don't normally see – and it's the rail trail that takes you there."
The trail users of the BVRT are diverse!
My BVRT: Troy Szczurkowski
"It's a fantastic resource for my family. We can come out here and ride in an environment where there are no vehicular threats. But if I'm solo, it's a great preparation area for me for racing the Iditarod 1000 in Alaska. Having over 160km of trail to train on day or night in a safe environment is reassuring for my wife, but fantastic for me."
"What really stands out is the development in the towns, and the way the towns have seen the benefit to the community. It has allowed a lot of businesses to flourish and create new pathways for income, with shuttle services, accommodation and food. Already some towns are looking at mountain biking options that are very close to the trail. They have the benefit that there is already established accommodation.With the rail trail, some great mountain bike trails, and good food options all in the one spot it should be really appealing.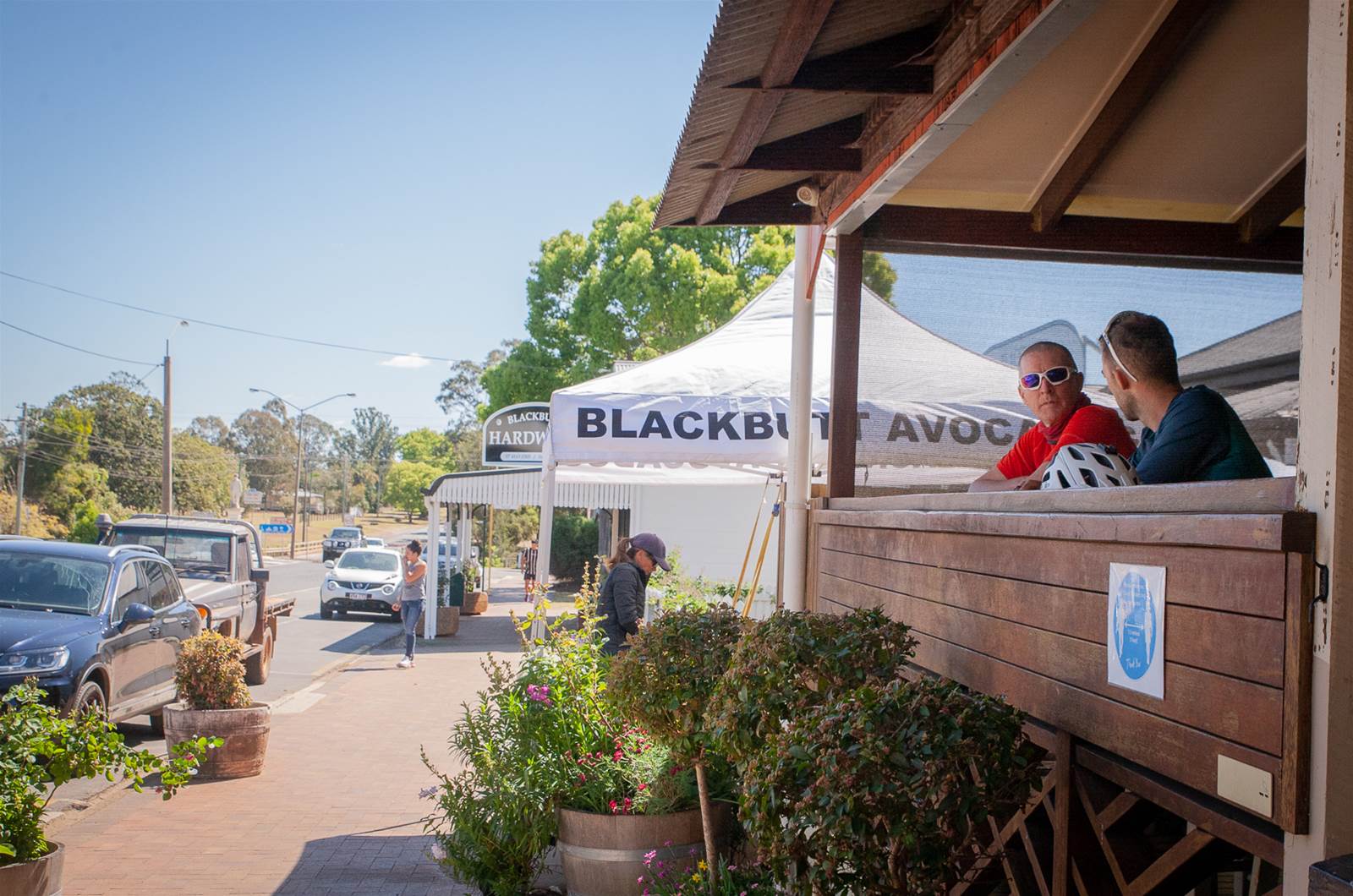 The local towns have embraced the BVRT.
My BVRT: Iain Trueman
"The trail sat static for a long time. The station here in Esk was dilapidated and falling down. There was a push from the local community to get it up and running and council finally got on board."
"Initially some sections were a bit rough, but over the past couple of years we've seen a huge increase in use, with riders stopped at the pubs and cafes in town. I usually walk on the rail trail twice a day, and I try to get out on the bike once or twice a fortnight as well. I used to meet up with a bunch of blokes and go out for half an hour, back for half an hour and sit down and have a cup of coffee."
"We never had a bike shop before, now there's one in Esk and one in Toogoolawah. Out There Cycling are the guys with the mini bus transporting people around. So it's created job opportunities as well as injecting tourism dollars into the town. It's added value to the entire township. You can get up, go for a walk, a run or a bike ride. It's really good."
Esk Station has been refurbished, and the whole town has felt the effect of the BVRT.
Essential details for the Brisbane Valley Rail Trail:
Bike shops and transport:
Out There Cycling have a store in Esk and one in Toogoolawah. They do bike hire, shuttles, airport transfers, bike services and they also have guided rides. It's worth noting that you can even hire adaptive bikes and tag alongs for kids.
Where to stay:
That's up to you! Towns like Esk, Toogoolawah, Linville, Blackbutt and Yarraman are some of the more popular places to stay. Being a little further along the route they all offer a great experience of a Queensland country town.
A stop at the Linville Hotel is a must.
What bike do I need?
A cross-country or trail bike has to be the leading option for efficiency and comfort. But you can also ride the BVRT on a cyclocross bike or gravel. That said, we've seen balance bikes, touring bikes, long travel eMTBs and all sorts of bikes on the BVRT.
How far do I need to ride?

Just like a train, you can hop on and hop off the Brisbane Valley Rail Trail at any station – or any road crossing as well. Borallon Station Road to Fernvale is really close to Ipswich and well covered in the trees for a 22km round trip. Linville to Blackbutt return offers a bit of a climb, a rural setting, and plenty of forest to ride through with a few options for side trips, all in a 46km round trip. Plus, the run back down the range makes for an easy run home after lunch at Blackbutt.
The BVRT offers flexibility to ride the distance of your choosing.
Must see:
The native plantings heading north out of Lowood, thanks to Pete's Nursery, are very pretty. And the Yimbun rail tunnel is a highlight for some. The ride through the cuttings out of Linville and up into the forest before Benarkin is really scenic, while the ride from Blackbutt to Yarraman feels a world apart from much of the trail. Each section has something unique – visit the BVRT website for more details.

For more information head to brisbanevalleyrailtrail.com.au
Australian Mountain Bike